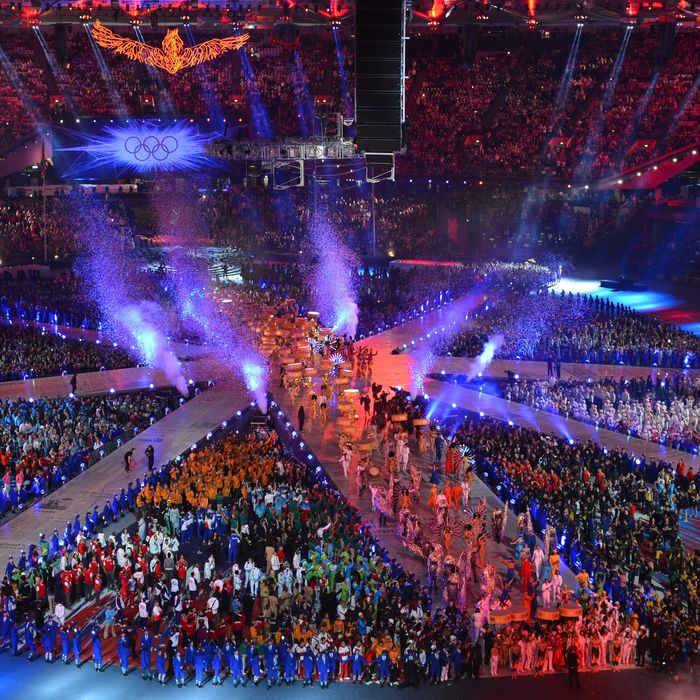 Photo: SAEED KHAN/AFP/Getty Images
Was the closing ceremony of the 2012 Olympic Games awful or amazing? I vote both.
As a gathering of pop music talent, it was impressive, and as a display of  "What the hell, we're done, let's party!" energy — as well as a checklist of 21st century hipster touchstones — I found it irresistible, even though I made fun of it from start to finish. That the production seemed to invite mockery — and built self-mockery into certain numbers — made the whole thing more lovable, or at the very least immense yet harmless.
The ceremony started with an out-of-shape Batman and Robin stumbling out of an exploding car (a reference to the long-running sitcom Only Fools and Horses while an animated Michael Caine mask barked one of Caine's lines from The Italian Job: "You're only supposed to blow the bloody doors off!" Imagine the next U.S.-based Olympic games starting its ceremony by re-creating a moment from Seinfeld's "The Contest" while a bust of John Wayne as True Grit's Rooster Cogburn barks "Fill your hand, you son of a bitch!" That's how "inside" this sketch was. Bravo, I sez.
The rest of the show was a slow-motion eruption of kitsch and a sampler of 50 years of native music, fashion, film, TV, and comedy. If you tuned out before the official handover to 2016's host city, Rio de Janeiro – complete with an extended musical preview that was as sensual and controlled as London's closing ceremony was nutty and raucous — you might have gone to sleep thinking that this was, in its way, one for the ages.
Annie Lennox, the Spice Girls, and Brian May shared the same broadcast with Tinie Tempah, Taio Cruz, and Jessie J (the show MVP, I think). There was an elaborate tribute to Those Magnificent Men in Their Flying Machines, a tuxedoed men's choir performing the Olympic anthem, Fatboy Slim deejaying from inside the brainpan of a giant transparent inflatable octopus. Throughout, Ryan Seacrest's "duh" narration was forever telling us things we could see or Google for ourselves. (George Michael used to be the front man for Wham!, apparently.)
The ghosts of John Lennon and Freddie Mercury showed up via JumboTron. Lennon got an emotional blackmail assist, courtesy of a living sculpture that formed his face and a Liverpool children's choir singing "Imagine." Mercury's old Queen-mate May honored him with a glam-rock-metal guitar run-up to "We Will Rock You" that deserved a gold medal for chutzpah. He was clad in a monogrammed leather ensemble complete with cape, his haggard face framed by a Muppety spray of grandpa frizz. Too bad his performance, however spirited, reinforced one of the immutable laws of physics: Nobody can follow Freddie Mercury, even when he's dead.
Oasis's Liam Gallagher (with his new band Beady Eye) botched the band's biggest hit, "Wonderwall," so badly that I had to leave the room until he was done. He sounded like me imitating Bob Dylan, which might be the worst thing I can say about anybody. (In fairness, the Olympic committee originally asked Liam's brother Noel to sing the song, but he turned them down for reasons that only Noel Gallagher understands.) Russell Brand, an alleged comic actor I like to picture being mauled by ferrets, managed to be almost sweet when he entered the stadium atop a psychedelically painted Magic Bus while singing "Imagination" from Willy Wonka and the Chocolate Factory (pity that cult classic's director, Mel Stuart, died last Thursday). But then he lost me by screeching the lyrics to "I Am the Walrus" into a bullhorn while ringed by faux-hippie merry pranksters, Hare Krishnas, and go-go dancers. The reverent tribute to David Bowie's chameleonic image-shifting made it seem as though he, too, were dead, as opposed to sitting this one out. The Bowie interlude transitioned into a fashion show backed, not amazingly, by Bowie's "Fashion." Trucks rolled into the stadium bearing billboards of Naomi Campbell, Kate Moss, and other supermodels we were about to see, who then spilled onto the catwalk in clothes by Erdem, Vivienne Westwood, Burbery, Christopher Kane, Alexander McQueen, and Victoria Beckham. (Beckham, née Posh, also appeared in the Spice Girls' number.)
The high point might have been Eric Idle leading a sing-along to "Always Look on the Bright Side of Life" from Monty Python's Life of Brian, which as you'll recall was originally performed on film by improbably cheerful crucifixion victims. Idle sang the line, "Life's a piece of shit" in front of 80,000 spectators and three-quarters-of-a-billion viewers; in sheer vastness of reach, this was an epic display of English cheek. (NBC bleeped the curse word, of course.) There wasn't a moment that wasn't in questionable taste; not only did the broadcast refuse to trouble itself over this, it claimed splendid-tawdry opulence, irreverence, and surrealism as defining aspects of U.K. pop culture. It was the least starchy closing ceremony in my lifetime: Dozens of stars and thousands of backup performers dancing, singing, and clowning as they mentally counted down the minutes until they could get snockered. The most informal touch was the most moving: The athletes arrived on field in unison rather than filing in nation by nation. Imagine there are no countries; it isn't hard to do.