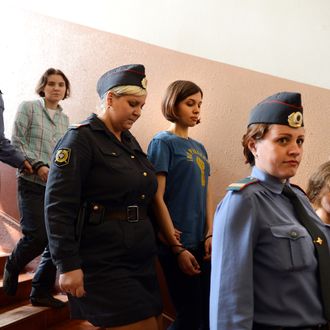 Members of the all-girl punk band "Pussy Riot" Nadezhda Tolokonnikova (C), Maria Alyokhina (R) and Yekaterina Samutsevich (L) are escorted by plicewomen inside a court building in Moscow on Agust 17, 2012. A Moscow court will pass judgement Friday on three women from a tiny punk band who captured global attention by defying the Russian authorities and ridiculing President Vladimir Putin in a church. Pussy Riot release rallies have stretched from Sydney to New York as a growing list of celebrities joined ex-Beatle Paul McCartney and pop icon Madonna in a campaign directed against Putin's crackdown on most dissent.
Photo: NATALIA KOLESNIKOVA/AFP/Getty Images
Earlier this morning, three members of Russian feminist punk collective Pussy Riot were sentenced to two years in prison for a protest staged against Vladimir Putin. (The official crime was "hooliganism motivated by religious hatred.") In response, the band has released a new song titled "Putin Lights Up the Fires"; it's in Russian, but you will understand its spirit.