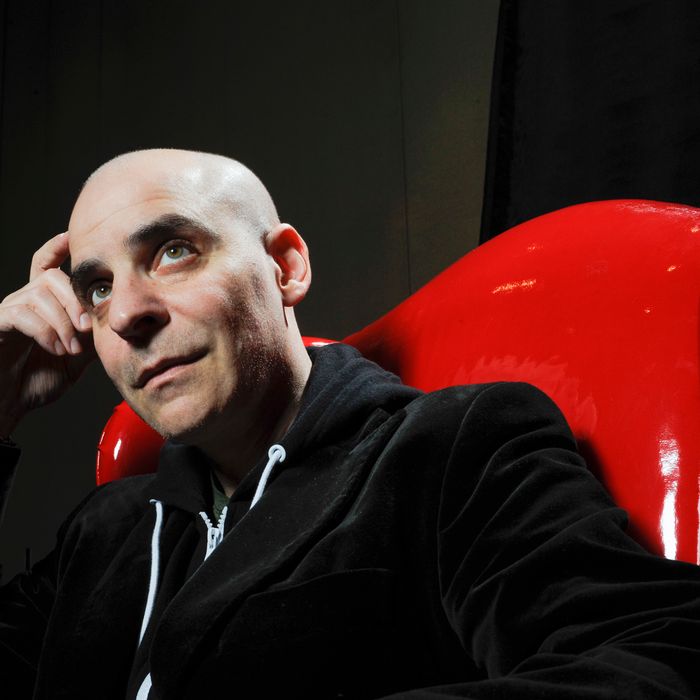 David Rakoff Portrait of author, essayist, and actor David Rakoff at Wordstock Literary Festival in Portland, Oregon, USA on October 09, 2010 in Portland, Oregon.
Photo: Anthony Pidgeon/Getty Images
On Thursday afternoon, I had a sense of foreboding about my friend, the writer and performer David Rakoff, who had been battling cancer. I checked his Facebook page: His wall was pouring with notes of love and appreciation and cheer from his many, many friends, trying to rally his spirit. He'd just gone into hospice care the previous week, I learned — he was nearing the end. And so it happened, hours later, that at age 47, David Rakoff passed. Though David's illness had figured into his later essays — a sarcoma was found in his neck while he was writing his last collection, Half-Empty — his death was no less of a shock to anyone who knew him, personally, or through his work. Because underneath his trademark pessimism and world-weariness was a resilient strain of hopefulness: Rakoff would often joke that his cancer was like Whack-a-Mole — and, though exasperated by and exhausted from having to play the endless, anxiety-inducing game, for most of the three years it was popping up here, then there, he managed to thwack it down.
I felt very fortunate to know David, and more fortunate still to have met him at a particularly crucial juncture in his life, in 1994, around the time he was taking steps to pursue his artistic talents. The question at the time seemed to be which one of his many talents — he wrote, he acted, he made art (lithographs, montages, exquisite drawings.) We were at HarperCollins Publishers — I was 23, he on the verge of turning 30 — and I immediately became smitten with him, not least of all because of his mischievous smile that was always ready with a heartfelt compliment or a searing witticism. Dark hair neatly combed out of his cleanly shaven face (years later, his hairline would switch places: bald head, bushy beard), David wore a daily uniform of a flannel shirt, white T-shirt underneath, slim-fitting jeans, and black boots, a look that struck me then as a fastidious lumberjack (I realize in retrospect he was more evocative of his proletarian spirit, not a secret desire to chop wood) — an outdoorsman exterior belying a defiantly indoorsman spirit. (The opening line in the first essay of his debut collection, Fraud, declares: "I do not go outdoors … As far as I'm concerned, the whole point of living in New York City is indoors. You want greenery? Order the spinach." Maybe I wasn't so off the mark.) David was transitioning out of Harper's editorial department (brief HarperCollins C.V.: He was the assistant to then-editor-in-chief Susan Moldow, now the publisher of Scribner; he got promoted and worked for legendary literary editor Aaron Asher's eponymous imprint) to take on a simpler, more time-manageable role writing press releases for the company, so he could have more flexibility to write, go to auditions, perform in plays.
But he remained essential to — and inextricable from — the office culture. Editors still solicited his opinions on manuscripts. He made interminable meetings bearable: We all jockeyed to sit next to him in the conference room, to watch as he pulled the pen or pencil from behind his ear, and sketch on his ever-present notepad: exquisite pears and gleaming hammers and winsome self-caricatures. Birthdays felt like Christmas — even for the Jews — if we were lucky enough to be presented with one of his handmade gifts like a cigar box painted with pears and hammers, perhaps scrawled with an epigraph, and embellished with ephemera that would have made Joseph Cornell envious (See http://rorevans.tumblr.com for examples of his work). And while receiving an invitation to see a colleague perform usually fills a person with dread, a casual mention from David (master of the understatement) that he was doing a little something — he was cast in several delightfully deranged plays written by David and Amy Sedaris, a.k.a. "the Talent Family," among them, the Obie Award–winning One Woman Shoe and The Little Freida Mysteries, which earned him critical praise in the New York Times and Newsday — would galvanize the Harper troops and fill the seats. Being at HarperCollins with David was like getting a sneak preview of our friend's evolution into the artist the rest of the world would fall in love with in just a few short years. The one who'd become a best-selling author of three collections of self-deprecatingly funny, deeply humane essays, and win the Thurber Prize for American Humor in 2010. Become one of the most beloved voices on NPR's "This American Life." Win an Oscar ("Oscar winner-adjacent, as they say in real estate," he jokingly corrected me, when I congratulated him) for The New Tenants, a mordantly funny twenty-minute live-action short film he adapted for the screen and in which he starred, about a New York rental from hell.
I remember thinking how brave David was, to leave the safety of book editing and realize the daring artist he was. Yes his persona, on the page and on the radio waves — even in person — was as "polymorphously phobic, scared of everything," and he shielded himself with his rapier wit and urbane comforts and "effete lexicon." I once saw him seized by paroxysms of terror, his trembling hand reaching out to pet the friendly, patient Samoyad of a mutual friend — he was determined to face his fear to defuse the anxiety.  It was a question he'd continually revisit in his work, can facing your fears defuse them? Nope. But it's good that you tried.
But a coward would have avoided the dog altogether. Stayed in a comfortable-enough job only dreaming of what could have been. The risks David took in life are reflected humbly with his unflinching storytelling — he was bold enough to portray himself as an elitist and a neurotic and a pessimist. But he married these qualities to a rare brand of joy and romance that enabled him to push past his comfort zone and open himself up to being enlightened by people and experiences he'd ordinarily never encounter. Until I read the final essay, "Another Shoe," from Half Empty, I didn't understand where he found the strength or resolve to do it, and then to fight cancer again and again (beginning with his bout of Hodgkins disease, when he was 22, which he jokingly dismissed as being "so highly curable that I like to refer to it as the dilettante cancer").  As he writes: "Fear lays waste to one's best reserves. It foments rot in my stores of grain, eats away at my timbers. If I dwell on the possibility that I might by dead by 47, I can't really find a useful 'therefore' in that. Therefore I will train for the marathon, confess the long-unspoken torch cared for X, etc … But true fear — which, luck of the draw, doesn't ambush me much as it might or as much as I thought it would — just leaves me frozen; amotivated and stunned." If there is anything that can ease the heartbreak and grief of David Rakoff's illness and death — and the eeriness of his unwitting prophesy — it is perhaps his assurance that terror of his imminent mortality did not consume him.