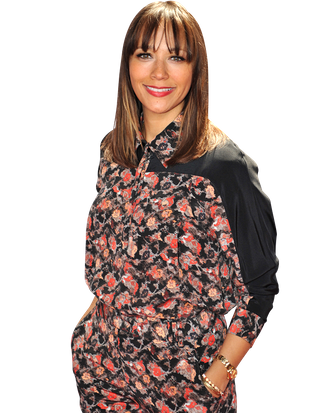 Rashida Jones.
Photo: STAN HONDA/AFP/Getty Images
Rashida Jones is many things — a beloved member of the Parks and Rec ensemble, a queen of deadpan comedy, a Harvard grad, a fan of puppies — but she hasn't yet appeared as a true leading lady, until now. In Celeste and Jesse Forever, a Sundance hit which she co-wrote with Will McCormack, Jones handles the bulk of the screen time — and a heavy emotional journey — as half of a separated couple who remain best friends (Andy Samberg plays her other half). Jones chatted with Vulture about her first screenwriting adventure, breaking out of the sidekick box, and she and McCormack's penchant for, uh, defiling vegetables.
I was just looking at your Twitter, and I see you've decided to post a childhood picture of yourself every day until the movie comes out. From picture number one, I would venture that you share something with me: We have both looked the same for our entire lives.
Do I look the same? I feel like I had really beady eyes when I was really little. And I had less teeth, for sure.
I love the combo of scrunchie and school-uniform blazer you're wearing in picture number one. Formal yet relaxed!
Oh my god. Just wait, by the way. It hasn't even begun. Look for the pictures in the next couple of days. Wait till I get to 12 and 13. I'm doing a lot of damage for my self-image. It's not what I was wearing, cause I had a uniform — it's the hair choices, plus the braces, and the lipstick colors get real.  And the mock turtleneck. Those were super trendy. I'm teasing this for you.
So, this movie: I enjoyed it, but I have to tell you, for the first twenty minutes, my friends and I were like, "Oh my god, we hate these two!"
I know, it's annoying. You know, I grew up on romantic comedies, and it's hard to find a new way to tell that story. We're never gonna be cynic-proof with anything, but Will [McCormack] and I both wanted to make a movie that we would see and feel surprised by. In doing that, we tried to appropriate some conventions and then spin them. One way to do that is to make you think you're dealing with this adorable, irritating couple, and then pull that rug out.
When they make the heart sign at each other, it's particularly cringe-worthy …
Oh, it's actually a C and a J, but it does look like a broken heart, you're right!
I totally thought it was two halves of a heart.
That's good, too, though. That works.
You and Will are actually exes. Was it your experience together that drove you to write the film, or did you realize along the way that it mirrored real life?
You know, we dated for such a short time; the dynamic between Celeste and Jesse is very much how Will and I interact with each other, minus the divorce and the breaking up. We kind of bypassed that and went right to the irritating friendship. So that's true to life. But the story of being in this long-term relationship that forms you and trying to salvage the best parts of it by just seamlessly transitioning into the friendship and not really dealing with the worst parts of it felt like a bit of a trend with our friends. We thought there was a lot to mine there.
When you're writing with a friend, I can imagine it could be difficult to get anything done …
We do sometimes go on jags where we jerk off vegetables and then, like, four hours have gone by. And we've done nothing, but there's a lot of, like, chafed Asian cucumbers. [Laughs.] Now we're professional writers — but when we were writing this movie, we weren't; we were just two friends writing about something nobody cared about, nobody even knew was happening, and we had all the time in the world. The satisfaction was just to know we accomplished something, i.e., finish the damn script. Now it's more about the fact that we have deadlines and people are paying us to write stuff. We can afford to be less immature now, which kinda sucks. [Laughs.]
There are so many little inside jokes Celeste and Jesse have; did you take specific things from other couples you knew?
Yeah, a lot of stuff is things Will and I do, i.e., giving pleasure to tiny inanimate objects. That's us, we do that. We really wanted to highlight the friendship elements, because we hope you feel confused about whether or not to root for them as a couple. I think the way to do that is to make them seem connected in a way that they're not going to get with anybody else.
I feel like many of us who have enjoyed you throughout the years have been waiting for a good starring role for you, and it turns out you wrote it for yourself. Were there things you wanted to play that you weren't seeing in parts you were up for?
Yeah, you know, I probably wouldn't have been cast in this movie. I probably would've had an audition, it would've been good, and then it would've gone to somebody else. I've been lucky enough; you get successful in Hollywood and you get put in a little box, that's almost a measure of success, and then you have to chisel your way out of the box on your own, or else you'll just be in the box forever and you'll die in the box. That sounds totally sad. That's not what I meant. What I meant was: I felt like I kind of needed to do what I could to not be relegated to this kind of dependable, sweet sidekick, you know? And by the way, I love playing that character; I get to work with the greatest comedians in the world and be the sounding board and straight man — I love it. But I wanted to do something else, and I also feel like that's one aspect of my personality — although hopefully I'm not as unlikeable as Celeste, it's definitely a part of my personality that felt worth expressing and highlighting and magnifying.