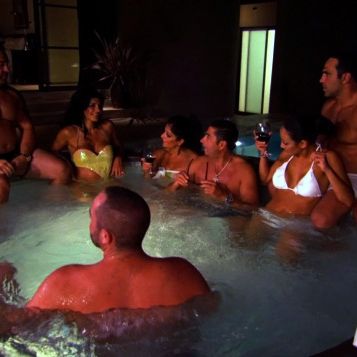 In case you forgot the events of last week's episode, if you can call them "events" so much as "incidents of wine-fueled, low-IQ'ed derpery," Teresa left Kathy and Rich out of her wine toast and everyone pooped. But this episode really revolves around the show's Riddler and Batman, the frying pan and the fire, the Cro-Magnon-looking, delusional Yin and the menopausal meatball-contest-winning Yang: Tre and Caroline Manzo.
Joe Gorga, who refers to himself as the matriarch of the family, suggest they hit the hot tub, and the first one to follow him is Juicy Joe. As everyone frolicks outside, a sour-faced, wined-drunk Kathy rolls up and pointedly says she doesn't want to ruin the family love. Tre points out that she didn't thank Kathy because Kathy didn't do anything, while Caroline had a birthday, she repaired her relationship with Joe Gorga and Melissa, and Jacqueline and Chris organized this whole bloody post-abortion clot of a trip.
Tre is wearing a swimsuit that appears to be Sheryl Crow's 2005 Grammy dress with sparkles hot-glued on by half-blind orphans in a sweltering camel nation. Kathy attempts to explain why she was hurt by being left out of Tre's toast. "I know in my heart that I didn't do anything," Tre says. Why does anyone bother? Talking to this woman is like banging your head against a wall made of ignorance, self-absorption, and Teflon.
"Quiet, they're talking about us," Caroline mutters like a crone. Jacqueline appears to be semi-napping, undoubtedly in the midst of a wine coma. Tre says that she was closer to Caroline's sister Dina. Caroline is mad and considers pushing Tre underwater.
Chris Laurita looks like he wants to poop on everyone.
"You can't forget the old [friends] along the way," Kathy tells Tre. Along the way to what? The allusions to Tre "forgetting the little people" or whatever are peppered throughout this episode and are immensely confusing. Meanwhile, the men smoke cigars and attempt to tune out their wives. This show's depiction of marriage is pitch black.
Tre infiltrates Camp Laurita/Gorga/Manzo with a Fran Drescher–ish "Hiiiiiiiiiiyee." When she voices her desire to become friends with Caroline again, El Manzo calls bullshit on it. And then they have the same old fight: Tre has a tabloid deal, she doesn't, she does, she doesn't, why is her forehead so tiny, it hurts my brain?!
More specifically, the following Mamet-like dumbassery occurs:
Tre
I love you.
Caroline
You're lying.
Tre
I'm not lying.
Caroline
You have a seven-cover deal.
Tre
You're lying.
Caroline
You're lying.
Tre
I'm not lying.
Caroline
You are lying to my face right now.
At which point Caroline calls Tre a "fraud" and a "disgrace." We find out over on the men's side that Teresa planted a (false) story in a July In Touch about possibly having a baby boy, and Joe Guidice's attitude is more or less "So what? Your wives would do it too." We learn here that Jacqueline was offered $50,000 by a magazine to write a story about Tre and turned it down. We also learn that Juicy Joe called Chris Laurita "shady" to some businessman and they fight for two seconds but then make up. They all kiss each other. More than they need to, really.
Tre turns down a bend in the road and resorts to Ophelia-style non-sequiturs when Caroline says to her face that she used to tell her to stop hanging out with the rest of the women to prove her friendship: "Just because your family has problems," Tre blurts out. Irrelevant?
Manzo sick burn: "Hanging out with your family was the biggest blessing because all the things that didn't make sense began to make sense." Oww.
Eventually, Joe Guidice yells "Caroline!" from across the room, and Chris Manzo poises for attack ("If he fucking hurts my mother, I'll fucking jump across the room and hit that motherfucker.")
Albert Manzo does not seem to belong on this show, and not only because his flesh is not the sickly orange of a hormone-grown low-end grocery carrot: "I usually just sit in the back and pretend to be sleeping or not paying attention." Eventually, Lauren comes to her mom's aid.
At one point Teresa grabs Kathy's face for emphasis. Richie does this.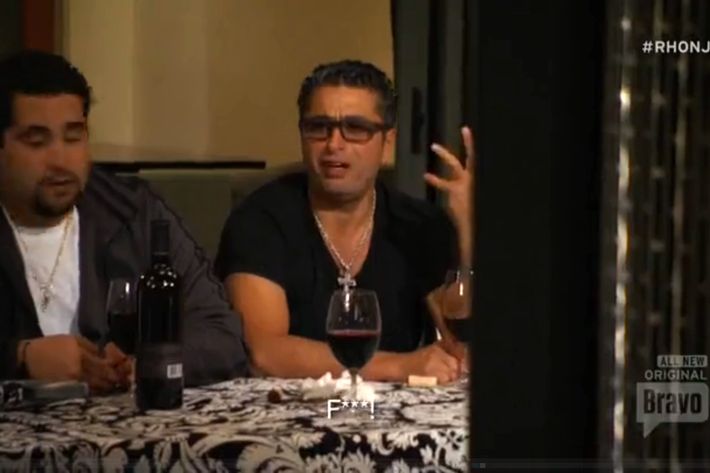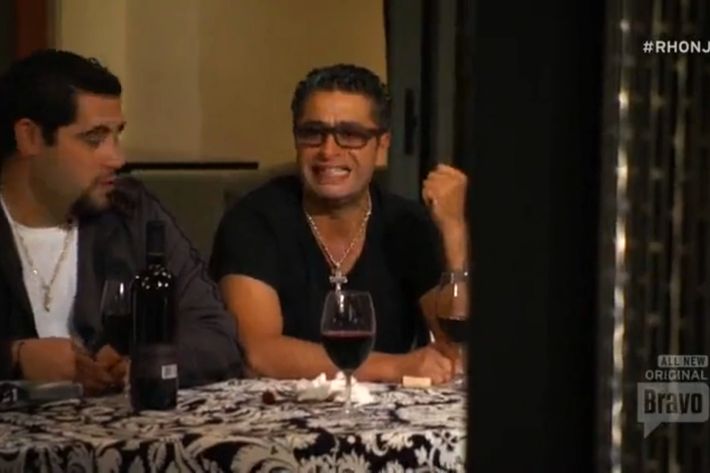 "I don't even know how to lie," Tre says, and everyone basically snarfs. At least, I snarfed. This fight about old shit has actually been going on for half an hour now, and my brain cells are depleting worse than if I hooked myself up to an IV of 151 rum.
"He was an instigur." Tre says at one point. Pauses, thinks. "He was an instigator."
Finally Juicy Joe puts an end to all of this by announcing he has important business to attend to and the Giudices must depart. Tre shrieks something intellegible.
"She's such a piece of shit," says Lauren. "Why did you two start talking?" Melissa asks Caroline, incredulous. "Don't talk!" Melissa wins for the only sane line uttered this week.
Like that moment in Fatal Attraction when the erstwhile-drowned Glenn Close springs up from the full bathtub, Tre pops back in for one final round of brief crazy, then she leaves. Joe Gorga says that he'll continue to try to support Tre emotionally, blood being thicker than water and all, and the Gorgas prepare to leave as well.
The funniest thing about the Kathy face-grabbing incident is that every time Kathy says that she didn't like it, Tre does it again. Caroline cries in an empty room. Yahtzee.