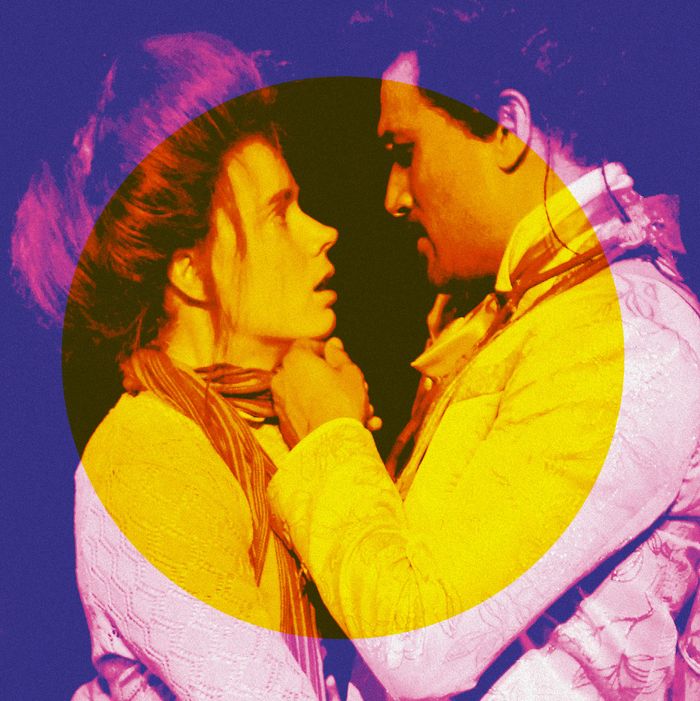 Amy Adams and Ivan Hernandez in
Into the Woods
.
Photo: Joan Marcus
"I buried her in a footprint," whimpers ashen Jack (Gideon Glick), speaking of a fallen main character who's been crushed by an angry giant, a giant Jack himself incited. Not everyone's built to survive Into the Woods, a hero's ­journey with no designated hero—no hero at all, really, unless one is selected or elects herself, by sheer force of will. In the deeply bewitching, occasionally befuddling new production at the Delacorte, imported from Regent's Park Open Air Theatre in London and reworked to round out this summer's Shakespeare in the Park program, nobody steps forward for the job. Characters fall, fail, get up again, or simply die trying, dreams deferred and missions unfulfilled. There's a lot of room for failure under this great mythopoetic canopy of interwoven fairy tales and fairy-tale annotations and fairy-tale burlesques, a masterpiece as ostensibly hectic as it is intrinsically mathematical. Woods is the crossroads where James Lapine apparently decided to match his composer-collaborator Stephen Sondheim puzzle for puzzle, deploying a witty mash-up of fairy-tale tropes and saddling them with poignant modern problems. (Infertility, loneliness, urges Oedipal and Babbittish, intergenerational blame, etc.) In this busy, ambitious reboot — a revival, yes, but also a reply, yawped across a generational chasm — there are actor failures and director failures. There are triumphs, too, some so small you barely notice, some that bring you to your feet. This whole operation feels a little buried in its own footprint. Yet the cumulative result is inescapably magical.
Director Timothy Sheader, unsatisfied with the show's already-Byzantine web of musically and narratively interlinked characters, begins by adding a new level of complexity. The Narrator, written as a detached older gentleman, has been extracted and replaced by a young boy (played by Noah Radcliffe on the night I attended; he alternates performances with Jack Broderick). The boy's had a fight with his father and run away; we know this because of some clumsy memory-echoes that come booming from the speakers. The story he's telling is his own — in more ways than one, it turns out — and he's got a knapsack full of dolls, Trolls, Barbies, and such, to act it out. As he does so, the actors emerge from a sort of Swiss Family Bettelheim tree-towers play set (prettily if somewhat fussily realized by John Lee Beatty and Soutra Gilmour) to become human-scale versions of the boy's plastic poppets.
At this point in the evening, I'll admit, I was all white knuckles, bracing for the worst. Sheader seems like the kind of avidly imaginative kid who left his toys moldering in the backyard when he was finished with his day's imaginings, and his Little Boy Lost gets underfoot pretty quickly, both physically and dramaturgically. He's supposed to be directing traffic, but he's clearly impeding it. (And there's a lot of traffic — maybe even a little too much — thanks to co-director Liam Steel's busy movement and a staging plan that calls for three levels of herky-jerky comings and goings. For a while, I entertained my own Grimm fantasy about nailing every­body's feet to the floor.) The story he's telling is simply not a story by a child. We have evil stepsisters in fetish-wear, a sexy bike messenger, refugees from the Village Halloween parade—I'm all for urbanity-meets-myth, but who the hell is this kid, the preadolescent Bob Fosse? Sheader is, in the best and worst ways, a grown man playing with dolls. He is, to a certain extent, rebutting and resisting the Jung-lite therapy-culture of Boomerdom, which gave us Into the Woods in the first place. He feels like he belongs to the ­pharmaco-determinist generation, for whom life really is "made of moments." I respect Sheader's cleverness and his cojones, but there's a show-offy, giant-killing quality here that can't be disguised. ­NarraBoy is a queasy sort of gamble, on the razor's edge of a rewrite. Over time, though, it pays off (especially in the ­second act, where it becomes a passive element), in ways I didn't expect and won't reveal here.
Gradually, Sheader's simple instinct for play eclipses his desire to impress, and the show relaxes into itself. Well, relax is a strong word. Into the Woods, like any Sondheim musical worth its sixteenth-notes, requires our full attention and then some, with heart and head in ticktock counterpoint: ears akimbo, please, for the rapid-fire rhymes of the Witch (played by the towering Donna Murphy, the show's primary structural member). Murphy, whether by design or by accident, essentially sweeps our wee narrator from view in the first act. She is a vision in compost, her witch-drag not so much cronelike as it is insectoid and of-the-soil. (And her second-act return to the Earth is altogether seismic — the culmination of a night of superb puppetry by Rachael ­Canning and some inspired costume ­design by Emily Rebholz.)
Alas, some dolls simply don't play well with other dolls. Amy Adams, as the ­gimlet-eyed Baker's Wife — bent on reversing the Witch's curse that's rendered her husband infertile — is in sweet, strong voice here, and her wide-eyed appeal is at full luminescence. But she has absolutely no edge, and is upstaged by her hairdo, a massive sticky bun that makes her ­famous peepers recede. And she's stuck in a bad marriage to Denis O'Hare's Baker. O'Hare is so muted and realistic — the Baker-and-spouse are designed to be the most bourgeois, most grounded, most accessible characters in the piece — he comes off downcast, marble-mouthed, and self-regarding, as if fighting his way out of a wet paper bag. Sheader seems not to have noticed. (The lovely and golden-throated Jessie Mueller, as Cinderella, has a similar but not nearly as severe problem; her character spends most of the show intimidated, and much of her performance is oddly muted.)
The show survives this and several other stumbles — survives and even thrives. In these Woods, whole limbs can die off and grow back; the trunk, made of sturdy math and sturdier music, stays healthy. Even the dissonances in a Sondheim show promise an orderly, if not benevolent universe, and new green shoots pop up all the time. We're treated to an absolutely revelatory performance from Sarah Stiles, a durable little rumble-pack of a performer who fleshes out the character-role of Little Red Ridinghood. Her "Hello Little Girl" with the Wolf (Ivan Hernandez) is the show's first strong indication that It's All Going to Be Okay. Maybe she's yet another generation's point-of-entry into Into the Woods. Just don't call her a hero. Even a kid knows nowadays: We don't do those in this neck of the woods.
Into the Woods by Stephen Sondheim and James Lapine. Delacorte Theater. Through September 1.
This story appeared in the August 20, 2012 issue of New York Magazine.