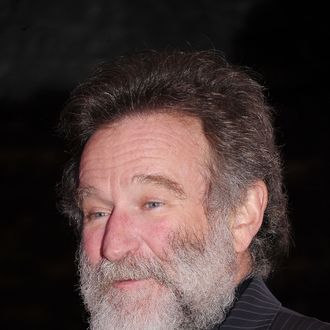 Robin Williams's beard.
Photo: Michael Loccisano/2011 Getty Images
A whole mess of casting news blips itself onto our radar every day. It's often interesting, sometimes unexpected. But almost never is it the possibility of Robin Williams becoming a television actor again, 30 years post-Mork & Mindy. David E. Kelley — the Emmy-winning creator/writer behind L.A. Law, Ally McBeal, The Practice, Boston Legal, and even more shows than that — is working on a new series with Williams attached. The show, being eyed by CBS at the moment, is a single-camera comedy set at an ad agency (The Office meets Mad Men?); Williams would play an executive operating in the same workplace as his daughter. (How about real-life daughter Zelda Williams?) This raises so many questions. Why now? Why not after the double feature of meh that was 1998's Patch Adams and '99's Bicentennial Man? Or the back-to-back blahhh of 2006's RV and '07's License to Wed? Why didn't Williams and Bobcat Goldthwait parlay World's Greatest Dad into a TV show? Why was Robin Williams so great and beardy on Louie a couple weeks ago? He has to slip in a "nanu-nanu" on this new show, right?