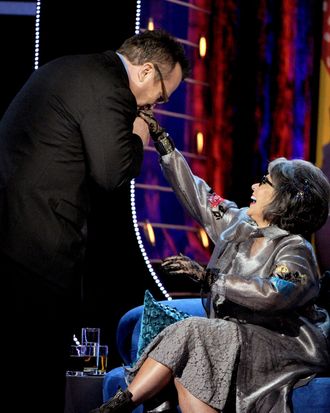 Tom Arnold, Roseanne Barr.
Photo: Kevin Winter/Getty Images
When Roseanne Barr's ex Tom Arnold showed up to on Saturday night to help roast the 59-year-old actress, comedienne, and presidential candidate for her upcoming Comedy Central special, Barr feigned surprise … but later, she'd tell Vulture that she was in on the joke. Considering how ugly their split was eighteen years ago, Arnold's digs were pretty benign, ranging from jokes about the multiple personalities she's claimed to have ("When I was with her, she had 27. And only two of them liked me. One was a small German boy") to her weight ("She actually had 'Property of Tom Arnold' tattooed on her hip, which made me the fourth largest property owner in California"). But at the end of his set, Arnold turned downright sincere, calling Barr his own personal Johnny Carson and thanking her "from the bottom of my heart" for launching his career.
Barr said it was the first time the two had been in the same room since their divorce. "I'm glad it happened. It was a good chance to show people how to move past old shit," she said backstage after the taping. "I thought he was real brave to show up. I did assure him that it wouldn't be a horror for him. I gave him my word, and I kept it. And he was good."
But what of the other reunion Barr had planned with her one-time TV husband John Goodman? This spring, NBC passed on the pair's pilot Downwardly Mobile, which would have starred Barr and Goodman as characters living in a trailer park, and unfortunately, Barr won't be shopping it elsewhere. "That's gone. Ship's sailed," she said. "It just wasn't the right time, the right place, the right anything." Barr didn't sound too sad about the pass. "I trust that things happen for good," Barr said. "There's no question I am old now and have bad hips. I don't know if I could walk around like that again or work that hard. But it was fun making the pilot. The cool thing was working with John Goodman again. Maybe I only needed to do that one time." Sigh.
Comedy Central's Roast of Roseanne will air on August 12 at 10 p.m.