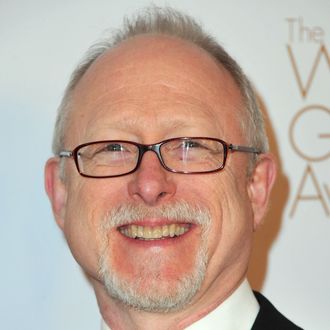 Robert Schenkkan
Photo: Alberto E. Rodriguez/Getty Images
Studio executives often talk about "elevating" material so that it transcends its genre. Perhaps that's what's at work behind Universal Pictures' interesting hire of Pulitzer Prize–winning playwright Robert Schenkkan to adapt Andrew Pyper's not-yet-published novel The Demonologist for the studio.
Then again, as Canada's more-literary answer to Stephen King, Pyper is already well-regarded for taking what might be ordinary procedural thrillers and sending them around the bend, deep into psychological terror, as he did with his first novel, Lost Girls, and most recently with last year's The Guardians.
We are especially heartened that besides the Pulitzer-plated script, Vulture also hears that Robert Zemeckis is producing the film through his ImageMovers production company. No director is yet attached to the project, which the studio optioned last February.
The Demonologist follows a Columbia University professor who specializes in demonic literature but himself is a profound skeptic of the occult. But when his 12-year-old daughter winds up in the grip of the actual underworld, he must use his expertise in the signs and symbols of Milton's Paradise Lost as a guide to rescue her.
In the meantime, if the suspense is killing you, Simon & Schuster is planning to publish The Demonologist on March 5, 2013, in North America. As Milton might say, "Hail, horrors, hail!"