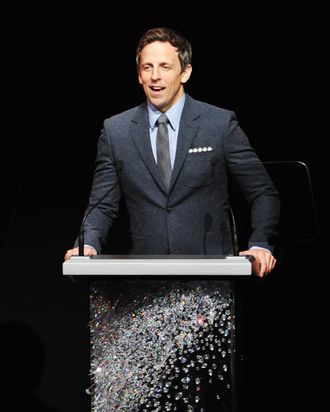 Host Seth Meyers speaks on stage at the 2012 CFDA Fashion Awards at Alice Tully Hall on June 4, 2012 in New York City.
Photo: Theo Wargo/Getty Images
Seth Meyers and his brother Josh Meyers are developing a mutli-camera sitcom about, yes, brothers, for NBC. Aw, so cute. Family-set sitcoms account for a bunch of the new comedies this coming season — How to Live With Your Parents for the Rest of Your Life, The Family Tools, The New Normal, Ben & Kate, The Neighbors, Guys With Kids, and Malibu Country are all joining the lineup, and we're still in the throes of the post–Modern Family network comedy era. Families! They drive you crazy, but you know them anyway!