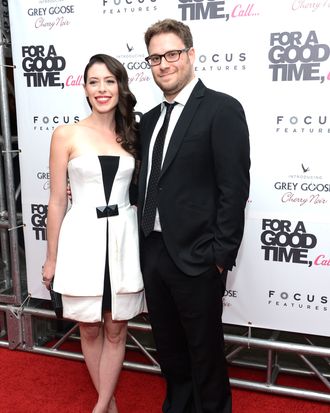 Seth Rogen.
Photo: Jason Kempin/Getty Images
In For a Good Time, Call — the raunchy sex-operator comedy written by and starring Seth Rogen's wife, Lauren Miller — Rogen makes quite the cameo as a caller who has a three-way phoner with Miller's character and her roomie, played by Ari Graynor. "She asked me [to do it] one night when we were getting ready for bed," Rogen tells us at the premiere party at Ajna Bar last night. "And I think I just said, 'Yes.' I hope I just said yes. That's how it works, right? What did she tell you?" (Same thing, but with the cute detail that they were brushing their teeth at the time.) "I was honored," he told us. But when it actually came time to shoot the scene, things got a little awkward.
"I have to say: I've done some pretty risqué shit in movies, but I don't think I've ever jerked off in a movie before," he told us. "And it really threw me for a loop. If you look, I'm not really moving my arm that much. I was a little squeamish about doing it hard. [Ken] Marino [who also cameos] is going for it; he went full jerk. [Laughs] I was more gentle. It was embarrassing, a little bit." So no plans for future threesomes with his wife, then, on-screen or otherwise? "I don't think so," he laughs. "I could get in trouble just for answering this question. No — it's really funny in the movie, and it's the closest to a threesome that I'll ever get."
As for whether we can expect to see Lauren cameo in his forthcoming directorial debut, The End of the World, he tells us, "No, she's not in that. She's been in little things [of mine] here and there, like 50/50. But she didn't do that one. You know why? Because I play myself in the movie, and I'm not married in that movie, so in the reality of the movie, Lauren doesn't exist. [Laughs] It's a good thing, believe me. For this movie, she wouldn't have wanted to." Unless she were to play a corpse in a corner, we suggest. "Then you have to deal with the issue that my wife is dead, and no one wants to watch that," he says. Fair enough — but since we're on the subject: Who would make the best corpse?
"That's a good question," Rogen says. "Probably Michael Cera."