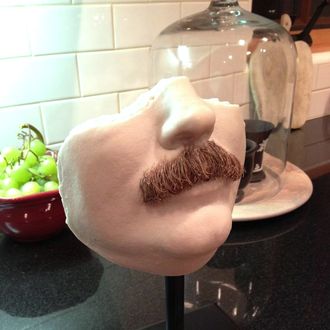 Charity auctions are commonplace in Hollywood, but next week, something incredible will be up for bid: Ron Swanson's Mustache. That is not a misprint. On Thursday, August 23, some incredibly lucky soul will have possession of the most incredible piece of TV foliage since the Magnum, P.I era. Do not worry: No government employees were harmed in pursuit of this charitable goal.
To help out pediatric cancer charity Because of Ezra, Swanson's real-life alter-ego Nick Offerman went to the trouble (and expense) of having the 'stache he grew and sported during the most recent season of Parks and Recreation professionally shaved. The holy hair was then meticulously reassembled into mustache form and placed upon the upper-lip of an exact replica of Swanson/Offerman's noggin. And then, in order to protect the precious asset in question, Offerman spent a few grand more to enclose this modern shrine behind museum-quality glass. At Thursday's Beverly Hills event, bidding will commence on what is being called The Nick Offerman Mustachium. "My mustache and I are tickled pink to have the opportunity to help raise some funds for this great charity," Offerman told Vulture via e-mail. "My mature bush is also available by private auction, but only serious bidders (Zuckerberg or Romney) need apply."
The Because of Ezra foundation is certainly a good cause. Designed to help children suffering from solid-mass pediatric cancers, it was founded after web businessman Kyle Matthews and his wife Robyn lost their young son Ezra to pediatric cancer. Hollywood talent agency UTA and a bunch of TV industry execs (as well as HBO, CBS and FX) have helped spearhead the annual fundraiser. If you're in LA, you can still buy tickets for the event here. And if you're not? There's still time to jump on a plane and make a bid in person, because: RON EFFING SWANSON'S MUSTACHE.  
UPDATE: Can't make it to the auction in person? Send an email to  offermanmustache@gmail.com for info on how you might yet end up owning the Nick Offerman Mustachium.