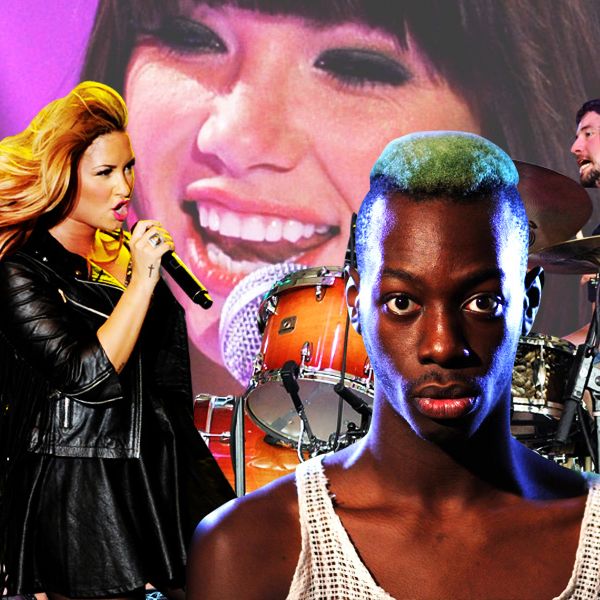 Today, Carly Rae Jepsen celebrates her ninth consecutive week at No. 1 on the Billboard "Hot 100" — a streak that bests Gotye (along with anyone else on the charts in 2012) and confirms what most of you knew in your hearts last April: "Call Me Maybe" is the 2012 Song of Summer. Of course it is! That song was strategically engineered in some mystical Canadian summer-jam lab and injected into our collective bloodstream. We never stood a chance. But it is August now, and the "Call Me Maybe" fatigue is perhaps setting in, and we have a whole month to go before the summer is out. So! Let us now anoint a Second Song of Summer, because we can (and because lies are bad). Vulture has a few suggestions below, but please, weigh in: This is a collective effort.
Demi Lovato, "Give Your Heart a Break"
Confession time: Vulture, like the rest of America, slept on this one a little. We should have known better: "Skyscraper," the first single off off Unbroken, is a genuinely affecting popspirational anthem (look; she's crying). But "Give Your Heart a Break" started heating up right around the same time as "Call Me Maybe," and frankly, there wasn't time. This is a solid, cheery tween-plus number, though, with notes of Vanessa Carlton, "Clocks," and "Viva La Vida."
Flo Rida, "Whistle"
This is the obligatory Top 40 inclusion, because it's currently No. 3 on Billboard and will probably climb higher. Also: never bet against whistling (literal or otherwise).
Frank Ocean, "Sweet Life"
Happily, the gentle Frank Ocean has been one of the bigger music names this summer, and not just because of his coming-out — Channel Orange was plain excellent. "Sweet Life" gets the nod here because "Bad Religion" isn't really a party rock anthem, in the tradition of Song of Summer (and "Thinkin Bout You" is technically too old), but you can substitute in at will.
Le1F, "Wut"
Maybe you enjoyed God Forgives, I Don't! Maybe you are still content to blast "Mercy," the official Rap Song of Summer. Vulture is feeling more festive, so we're rolling with this guy.
Japandroids, "Continuous Thunder"
What, you don't have a heart?
We'd also like to throw some Honorable Mentions to Charli XCX's "You're the One" and Usher's "Twisted," because those songs are enjoyable. Okay, it's your turn!