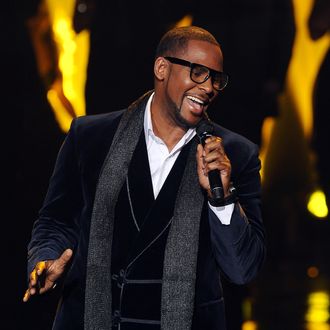 Singer R. Kelly performs onstage at FOX's 'The X Factor' Top 3 Live Performance Show on December 21, 2011 in Hollywood, California. THE X FACTOR Finale airs Wed., Dec. 21 and Thurs., Dec. 22 on FOX.
Photo: Ray Mickshaw/FOX
Kellz was apparently never paid for the upcoming dates, and so the Love Letter Cruise 2012 has been canceled. "R Kelly had been looking forward to the cruise and is ready, willing, and able to perform for fans," his rep told TMZ, in case you were worried about his throat. Anyway, today is a sad day for people who want to see R&B singers perform in exotic locations.