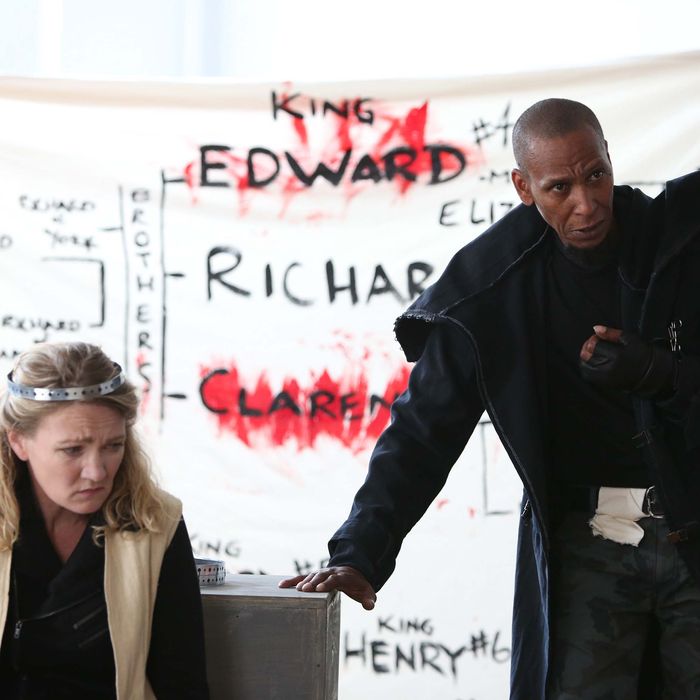 The Public Theater's Mobile Shakespeare Unit: Richard III
Photo: Joan Marcus
Harrison, TX
This trio of vintage Horton Foote one-acts — The Midnight Caller, The One-Armed Man, The Blind Date — ranges in tone from gothic melodrama to parlor comedy, but the spotlight belongs to Midnight (also notable as the play that brought an unknown named Robert Duvall to Foote's attention). Do-no-wrong dialogue melodist Pam MacKinnon, one of the American theater's most exciting directors, has assembled a near-perfect ensemble, including the charming, funny Andrea Lynn Green as Cutie, a young, would-be spinster, the unflappable Hallie Foote as the proprietor, and the great, great Jayne Houdyshell as their de facto matriarch, Miss Rowena.
The backdrop is a quietly desperate all-women's boarding house, serene in its stasis, destabilized by the coming of a divorced man (Jeremy Bobb) and a "fallen" woman (Jenny Dare Paulin). Censorious Alma Jean (Mary Bacon) protests, Cutie bursts spontaneously into tears, but it's Miss Rowena, accompanying herself on rocking chair, who finally and fantastically breaks our hearts, delivering the night's benediction. From outside comes the distant, muffled call of a raving male lover, crying out for a woman who's since moved on. The terror of life settles over us as gently as a creeping Texas twilight. This is black magic, delivered with courtly, country politeness.

Harrison, TX is playing at 59E59 Theaters through September 15.
Richard III
It's an election year, and even Richard of Gloucester (wraithlike Ron Cephas Jones) is doing town halls. The Public has revived Joe Papp's pentameter-to-the-people "Mobile Shakespeare" troupe: Now, after a whirlwind tour of the city's prisons and eldercare facilities, Shakespeare's most ruthless political climber returns to his home court on Lafayette Street for a tutorial in how nasty, brutish, and short (95 minutes!) the Bard can be. Anne Dehnert's sleek and thrilling no-frills production — direct but not denatured or over-annotated — is performed like a wind sprint. There's no lighting design, no amplification, no gimmicks beyond a handful of well-timed sound effects, and no effects of any kind, save Jones's lean and hungry Richard. He's one of the city's finest character actors (as well as one of our preternaturally lankiest), a walking, stalking special effect. Cool-eyed underplayer Michael Crane is a subtle and complex Buckingham, chief abettor of Richard's plots. Suzanne Bertish is a thunderous Margaret, the deposed witch queen of the old Lancaster regime. This Richard III is a high-velocity slaughterhouse, no time for dilly-dallying! Much like Richard himself, the production comes alive in motion and cannot abide a pause. Don't know about you, but I appreciate breakneck speed that actually breaks necks.

Richard III is at the Public Theater through August 25.

Shakespeare in the Parking Lot's Coriolanus
SitPL may not deliver the most consistently sophisticated Shakespeare on the block, or even in the area code, but it is unmistakably on the block. (And, as advertised, in a functioning parking lot). There's nothing like seeing a tragedy-of-the-polity — personal pride versus community madness, the mercurial rabble against the aloof patricians — enacted right smack in the midst of the big dirty polity itself, with horns honking, cars coming and going, the occasional random passersby circulating around the (barely) designated theater space. Hamilton Clancy has chosen a none-too-subtle Occupy theme for Shakespeare's tale of a proud upperclass general (Arash Mokhtar, sporting the vaguest hint of Stallone) who just can't bring himself to work the crowd. But the real star of this Coriolanus is the Lower East Side itself, in all of its trans-gentrified scuzziness.    

Coriolanus is free and playing its final performances in a parking lot at the corner of Broome and Ludlow Streets this weekend.