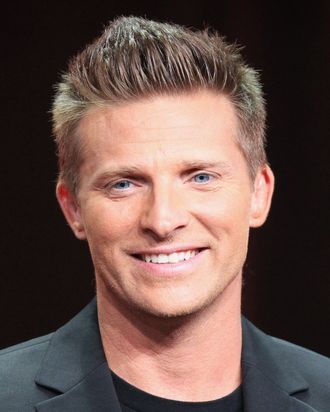 Actor Steve Burton speaks onstage at the 'General Hospital' panel during day 6 of the Disney ABCTelevision Group portion of the 2012 Summer TCA Tour at The Beverly Hilton Hotel on July 26, 2012 in Beverly Hills, California.
Photo: Frederick M. Brown/Getty Images
General Hospital is losing one of its longest-running and most important characters: Steve Burton, who has played Jason Morgan since 1991, will tape his last episode in September, he tells TV Guide. Duhn-duhn-duuuuhn. "I have no complaints, no negative feelings at all," he says, "but it's time to go." Burton's exit comes not long after GH's long-time executive producer Jill Farren Phelps was pushed out, and it looks like the two of them, plus James Franco, are working on a new show together. According to Burton, Franco had so much fun working on Phelps's Hollywood Heights that he "want[ed] to make one of his own novellas." Such is Franco! "Jill will EP it, I'll produce and star in it and so will James," Burton says. Take comfort, Port Charles residents.