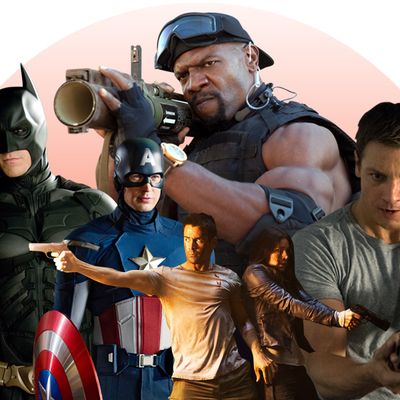 "No guns," Batman admonishes in The Dark Knight Rises, "No killing."
The irony of his warning would soon become apparent as the summer's biggest movie event became forever associated with the largest mass shooting in the nation's history. Even though TDKR would go on to become the year's second-highest grossing film, the massacre in Aurora, Colorado cast a pall over the entire summer's action movies, if not its entire box office. Even The Expendables sequel took a hit owing to jitteriness over a — phony, it turned out — bomb threat. The $100 million film has generated just $120 million in receipts worldwide thus far, and its $52.2 million ten-day total lags behind the original film's $65.4 million over the same period.
But it wasn't just the sorrow and horror and fear of another shooting incident that kept crowds away. Something has been amiss with the entire action genre for some time now, and this summer put it into sharp relief: Aside from the massive successes of The Avengers ($617 million domestically), The Dark Knight Rises ($423 million domestically) and The Amazing Spider-Man (to a lesser degree, at $258 million), there were numerous misfires and near-misses. As one studio chief put it succinctly, "There is a staggering amount of money being lost this summer." But first, a look at what went right.
For years now, Marvel has been shrewdly laying the groundwork for The Avengers by reviving individual characters like Thor and Captain America in stand-alone pictures with famously frugal budgets. (And even more infamously onerous options: Marvel is understood to have gotten a six-picture commitment from Captain America star Chris Evans, for example.) Each release helped prime the pump for Joss Whedon's juggernaut.
Unlike Marvel, Warner Bros. also hoped to mine lesser-known characters, but did so with one-off attempts that proved disastrous. (Catwoman, anyone?) Fortunately for the studio, it was also willing to take an enormous risk by granting auteur filmmaker Chrisopher Nolan control over the studio's once-lucrative-but-by-then-moldering Batman franchise. Since then, Nolan has become the de facto director-in-chief at Warner Bros., granted an extraordinary amount of autonomy over not just the Batman films' production and development but also effective control over the entire DC Comics stable: One agency insider tells Vulture that a freeze has been placed on all development of any individual DC Comics character films until Nolan renders his judgment on how an Avengers-like Justice League film might be put together.
Never mind that The Dark Knight Rises's whopping two-hour-and-44-minute run-time meant that it had to forgo as many showings as The Avengers (itself "just" two hours and 23 minutes) — the point was, people wanted to see both films, and multiple times at that, which is far more than can be said for the summer's other pile of wrecked, reductive, and derivative action movies. On the extreme end of the spectrum, there was Universal's quarter-billion-dollar Battleship (which erased all of Comcast's quarterly profits, and then some, grossing just $65 million domestically) and Sony's Total Recall, which has more or less parked at just $55 million domestically headed into its fifth week of release.
"I looked at this summer, and I saw red ink running down the aisles of movie theaters," said one horrified studio chief.
Indeed, even those action and genre movies that fared slightly better than those outright disasters could hardly be called smash hits. For example, Universal's Snow White and the Huntsman is, at best, a break-even proposition, insiders say. So, too, with the studio's fourth iteration of the Jason Bourne spy series, The Bourne Legacy. A $130 million film has grossed just $130 million worldwide to date, making true director Paul Greengrass's comments about a fourth Bourne film being more aptly titled, "The Bourne Redundancy."
Sony's Men in Black 3, likewise, is a mixed bag: It's not just that it cost a quarter of a billion dollars just to make, but Will Smith's outsize profit participation deal plus Steven Spielberg's executive producing fee, plus other participations, and shutting down in the middle of production to fix, er, write the script means that MIB 3 will be unlikely to generate massive profits for Sony Pictures — even with a hefty $621 million worldwide gross.
Though every summer raises this question, we must again wonder: Even with the demands of a global marketplace, why must everything be based upon a board game or a television show or even another movie just like it?
One marketing chief turned consultant says that, if this summer proved anything, the "If you liked X, you'll love Y" approach to blockbuster building has failed utterly. "This all says that the public is bored with the tired, old development process."
Or as our original studio chief notes, "What they don't realize is, people are responding to originality, but it's in their living rooms. I've heard more adults talking about the marathons they'd done of Homeland than of any movie this summer. Audiences are going to find originality where it's being served — it's just that lately, it's not in the movie theater."
Grade: C+