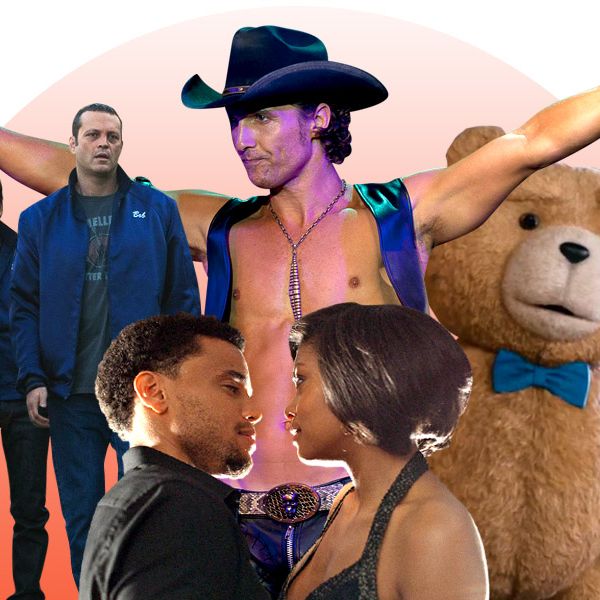 Photo: Claudette Barius /Warner Bros, Sue Gordon/Twentieth Century Fox, Ron Batzdorff/Screen Gems Productions, Universal Pictures
Tragedy is when something bad happens to you. Comedy is when it happens to someone else. If that comic maxim holds true, then the summer of 2012 was Hollywood at its most bipolar, since the fate of this season's comedies had execs vacillating between laughter and tears. On the bright side: Original, adult-themed comedies like Ted and Magic Mike continued the genre's R-rated renaissance. At the same time, though, some of our biggest comic stars endured tragic flops, suggesting that the genre once perceived to be the last refuge of the movie star may now be hostile territory.
But first, let's look at the overperformers. Ted proved to be this summer's wildest success story, grossing $213 million, an amount that far outpaced expensive tentpoles like Men in Black 3, Snow White and the Huntsman, and Prometheus. Vulture recently spoke to a higher-up at Universal who said that even he was surprised by how huge the movie was, but should we really be shocked by overperforming R-rated comedies anymore? Every summer seems to boast at least one or two, whether it's The Hangover or Bridesmaids, and virtually all of this year's major comedies bore the restricted rating, from Ted to 21 Jump Street to Magic Mike. That isn't to say that the rating is an instant boost, since several family-friendly comedy stars went into R-rated territory this year with diminishing returns (we'll get to that later); still, when a comedy like Ted or Magic Mike is sold principally on its novel premise, that R-rating can help ensure that the humor isn't watered down into something familiar.
Speaking of familiarity: The biggest comic stars this year weren't the usual suspects like Stiller and Sandler. Instead, Mark Wahlberg and Channing Tatum dominated the genre, and as each man played putatively against type —  the tough, handsome action star doing comedy — the audience discovered with pleasure that, actually, they can do it all. Tatum in particular had a breakout 2012 by proving that he's in on the joke and willing to poke fun at his still-nascent persona: You think he's just a dumb jock? Well, let him satirize that archetype in 21 Jump Street. Would his leading-man bona fides be forever tainted by a cheesy run as a male stripper in his teens? Well, Tatum took that backstory head on in Magic Mike, not just neutralizing the issue but bending it to work in his favor. It was like a many months-long version of the sort of Saturday Night Live monologue where the star pokes fun at himself and wins endearing points in the process. (And in case the point wasn't explicit enough, Tatum literally did just that when hosting SNL during his 21 Jump Street promo tour.)
Ted and Magic Mike both benefited from ace marketing campaigns, too. More valuable to Ted than even Wahlberg may have been its writer-director Seth MacFarlane, since Universal specifically billed the movie as "the first motion picture from the creator of Family Guy." The tagline gave Ted the feeling of a big event both familiar and new: That guy whose show you've loved for so long? He's never made a movie until now! Meanwhile, Magic Mike was an instant hype machine from the moment it was announced, and Warner Bros. didn't have to do much to stir the excitement; still, the studio wisely pivoted away from marketing the film as a romantic drama, eventually selling it as a fun, giddy, flesh-filled romp. (The teaser trailer sold Olivia Munn and Cody Horn, but in the full trailer, shirtless Joe Manganiello and Matt Bomer had stolen the ladies' title cards.) Here, too, the feeling that this was a Zeitgeist-churning event movie helped pack theaters full on opening weekend.
Meanwhile, Think Like a Man, which debuted in late April, continued to spend the summer adding to its impressive grosses, eventually totaling $91.5 million at the box office. (That's a better figure than Wrath of the Titans, Dark Shadows, or Battleship.) Though it's the only comic success this year with a PG-13 rating, it, too, was aimed at adults. In fact, so many studios were eager to capitalize on the new boom in adult-themed comedies that they may have left out younger viewers, which brings us to our flops section …
In years past, you could count on stars like Adam Sandler, Ben Stiller, and Will Ferrell to star in PG-13 comic blockbusters, but this summer, they left younger fans behind, to their detriment. Sandler's That's My Boy looked like something solidly within his wheelhouse, but all his other Happy Madison blockbusters have been PG-13; when he went R-rated for this one, the result was a $36.9 million bomb, his biggest big-studio flop since 2000's Little Nicky. Meanwhile, Stiller has been straining to break out of his family-friendly Night at the Museum/Meet the Fockers niche for a while, but aside from Tropic Thunder, he hasn't had a recent R-rated success, and the poorly reviewed The Watch didn't turn the tide with its meager $33 million. And while Ferrell has always had an erratic résumé — high highs like The Other Guys and Step Brothers, low lows like Land of the Lost and Semi-Pro —  The Campaign has come in well below studio hopes at $55 million, hampered by an R rating the movie barely takes advantage of.
Still, we urge a little caution when evaluating these results. Yes, it's unnerving that these big stars flopped so hard, and spring comedies starring the likes of Jennifer Aniston, Paul Rudd, and Jason Segel bit the dust, too. But are audiences rejecting these big stars out of hand, or have they simply become more discerning? The top comedies of the year — Ted, 21 Jump Street, and Magic Mike — all have something pretty essential in common: They're good to great! Audiences were able to sense that, just as they probably sensed that The Watch, What to Expect When You're Expecting, and A Thousand Words wouldn't make anybody's all-time best list. It's easy to say that audiences have become so picky that they've moved on from A-list stars, but maybe it would help if those A-list stars became a little pickier themselves.