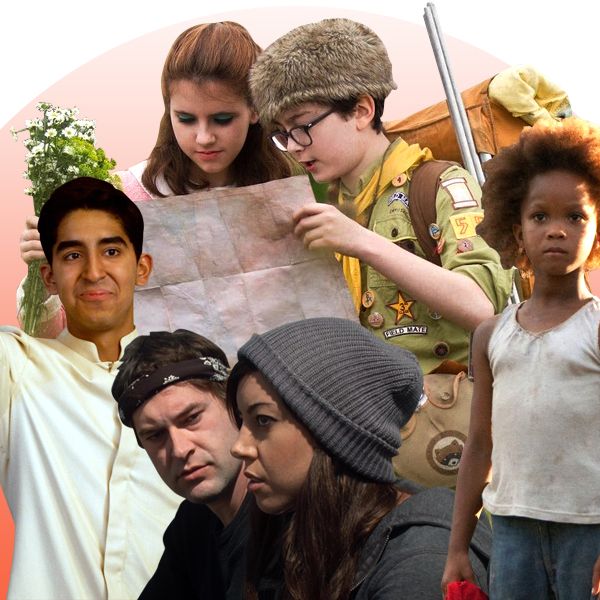 Photo: Ishika Mohan/Twentieth Century Fox, Focus Features, Mary Cybulski/Cinereach Ltd, FilmDistrict
"Everything will be all right in the end," assures Sonny, the beleaguered proprietor of The Best Exotic Marigold Hotel, quickly adding: "If it's not all right, then it's not the end."
Well, maybe so in Jaipur, but in Hollywood, summer is all over but the cryin' — and unlike the big studios, specialized divisions actually have dry hankies, having made out fairly well since the summer-movie season launched in May. The reason for this has as much to do with what independent film did right as what the big studios got wrong. The two major success stories of the past three months were Wes Anderson's Moonrise Kingdom, released by Focus Features, and Fox Searchlight's The Best Exotic Marigold Hotel. Both succeeded, but in rather different ways.
John Madden's bittersweet drama "got out early, and got the older audience," explained one admiring distribution capo, with Searchlight releasing the film on May 5, when the young'uns were busy clawing one another's eyes out to be first in line to see The Avengers. The brilliance of such counterprogramming meant that it wasn't just "a smart alternative to bubblegum fare," but just about the only film in release with appeal for the massive baby-boomer crowd. It also meant that by arriving early, it was able to secure more theaters, even in commercial houses, which accounted for roughly 40 percent of its haul, according to our source. "If they'd held it to the end of the year, they'd have gotten buried." Instead, it grossed $131 million globally.
By comparison, Focus Features' Moonrise Kingdom, which has hauled a more modest $56 million worldwide, opened later, on May 25, and made almost all of its money — roughly 80 percent — in very upscale art houses, not multiplexes.
The decision to release both these films early in the summer was a shrewd financial one, but not one without a sizable opportunity cost. "You have to be willing to check your ego at the door," says our distribution chief. "Because it takes you out of awards play for Oscars." (That remains to be seen, of course, but the fall-prestige movie rush is just around the corner — and it's easy for early releases to get buried and forgotten.)
The season also saw underperformers, like Fox Searchlight's Ruby Sparks, which, despite tremendous reviews — 80 percent of critics rated it favorably, a number consistent with audience exit-polling — and a platform release strategy that should have built on positive word-of-mouth, has stalled at $1.8 million.
Why? This is one of the summer's more vexing questions in this category. Perhaps it was because it's an art-house film aimed at younger audiences and with a younger cast. But then again, Searchlight has had huge success with smart indies aimed at younger, summer audiences — think of Little Miss Sunshine, or more recently (500) Days of Summer. "We've racked our brains," says Ruby Sparks's producer, Albert Berger. "It's possible the date might have something to do with it. We're in a sandwich here, where we came out four days after The Dark Knight Rises and two days before the Olympics."
What should have been a clever counter-programming to the populist Batman franchise might have been hurt both by moviegoers' now-documented reluctance to go to the theater to see any film in the immediate aftermath of the Aurora, Colo. massacre, as well as the smashing success of the Olympics on NBC.
The Games may have been unkind to Ruby, but they couldn't take the blame for the performance of several other films. Some are easy to dismiss, like Sony Pictures Classics' To Rome With Love ($15.5 million), Woody Allen's follow-up to last summer's career box-office peak, Midnight in Paris. While anticipation and goodwill were high, both critics and audiences found it wanting. After scoring one of the best openings for any Sundance 2012 film, Safety Not Guaranteed, the well-reviewed sci-fi comedy about a time-travel classified ad, looked as though it would succeed more broadly, since it initially performed well at less-than-prime theaters. Instead, it petered out at under $3.7 million, a respectable sleeper hit for a cast of lesser-known actors, but hardly a breakout success.
Beasts of the Southern Wild, on the other hand, one of the most promising American directing debuts in years, roared out of the gate with a $169,000 gross off of four theaters and in the seven weeks since expanded to more than 300 theaters before dropping to just under 250. Its current gross stands at about $8.3 million, on a $1.3 million budget — making the film a hit, though its magical-realism tone means that its prospects with general audiences will continue to be somewhat limited.
Less clear at this point is the fate of Sony Pictures Classics' Sundance acquisition Celeste and Jesse Forever, which opened to one of the best limited-release debuts of the year; Sony plans to expand the film more broadly though the rest of August, but it's only made $600,000 in three weeks of release. Still, compared with the major studio releases of the summer — John Carter, Battleship, Total Recall — even indie's failings seem like runaway successes.
Grade: B+