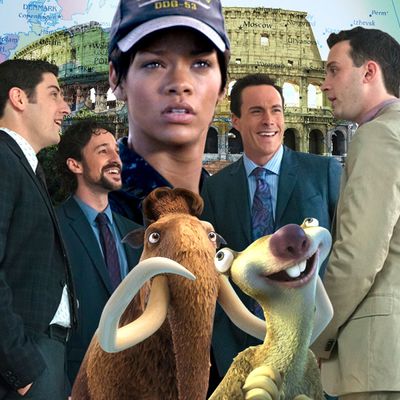 It's hard to miss the box office figures that crown a new blockbuster winner every weekend, but do you know how those same summer movies have been doing overseas? You might be surprised: Yes, The Avengers and The Dark Knight Rises lead foreign grosses, too, but several movies that flopped Stateside have flourished abroad, while some franchises that have diminished here with every passing sequel are hotter than ever when you go overseas. Vulture took a look at the current box office scores outside of the United States (with an assist from Box Office Mojo) to flag some of this summer's most surprising success stories. What movies grew even richer in the translation? Here's what we learned.
Ice Age is the world's biggest animation franchise.
When it comes to foreign grosses, what's the highest-grossing animated film of all time? If you expect it to be a modern classic from Disney or Pixar, you're wrong: Instead, it's 2009's Ice Age: Dawn of the Dinosaurs, which took in a whopping $690.1 million overseas. This year's sequel Ice Age: Continental Drift did franchise-low business in the States (grossing just $150.1 million so far since its July 13 release), but its foreign tally is currently a formidable $646.3 million and counting. Give it a little while longer, and the movie will outgross Toy Story 3 abroad. At least that simple dialogue from Drake and Nicki Minaj is easy to dub over.
Action movies travel well, as long as you can sell special effects.
The early spring/summer season brought two costly disappointments in the U.S.: John Carter took in just $73.1 million, while Battleship sunk even lower to $65.2 million. Overseas, though, the effects-filled sci-fi films fared better, and Battleship actually topped Carter abroad, $237.6 million to $209.7 million. In fact, most of this year's big action movies more than doubled their domestic grosses overseas … except for The Hunger Games. Based on a Stateside literary phenomenon, the film is a massive $407.7 million grosser here and our third biggest film of the year, but abroad, it ranks at No. 9 (just above Battleship) with $277.1 million. That figure is nothing to sneeze at, but Lionsgate was surely hoping for an overseas success equivalent to other book-to-film franchises like Harry Potter and Twilight, both of which make even more money abroad than they do here.
Men in Black 3 did better than you thought.
Will Smith's latest sci-fi comedy did just okay domestically, bringing in $178.1 million, a figure dwarfed by its mammoth budget. Luckily, its overseas take more than made up for that, since MIB3 grossed a franchise-best $443.4 million in other countries. That's even more than The Amazing Spider-Man (a much bigger hit than MIB3 in the U.S.) has made so far in foreign markets.
American Pie? More like Worldwide Pie.
Conventional wisdom has it that U.S. comedies don't do quite as well overseas, but don't tell that to Jason Biggs and company: Though American Reunion brought in just $56.8 million here, it made $176.8 million abroad. $176.8 million, people. Pie-screwing jokes need no translation! Don't be shocked when Universal greenlights the next slice of Pie … especially if it just happens to be an American Trip to the U.K. or Germany, to name just two markets where this franchise is still red-hot.
Foreign audiences still love that big boat.
Since Titanic was the first megahit to truly establish the potency of the worldwide movie marketplace, it seems only fair that the film's 3-D re-release this year would put another $343.6 million in the till. What's even more impressive, though, is that only a sliver of that came from the United States: just 16.8 percent of the box office, or $57.9 million. It's clear that foreign audiences have no desire to let go of Skinny Leo.