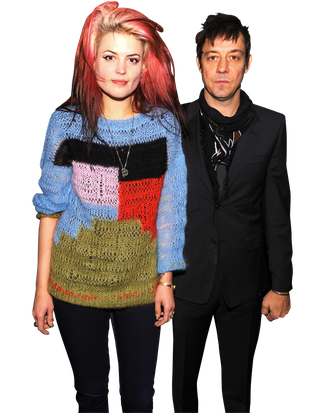 Alison Mosshart and Jamie Hince.
Photo: Dimitrios Kambouris/Getty Images
Preternaturally cool garage rock duo the Kills just celebrated their ten-year anniversary as a band, but it feels like they're just getting started. Unlike some of their fast-out-of-the-gate peers, singer Alison Mosshart and guitarist Jamie Hince have taken their time on their rise from anonymous if dapper newbies to (still dapper) bona fide rock stars, sampling all the rock world has had to offer along the way. Last year they put out their fourth album, Blood Pressures, and played some of the biggest venues of their career. Now, on September 4, they'll release a new book of photos, Dream & Drive, taken by longtime friend and partner in crime Kenneth Cappello (see an exclusive first look at one of the images, below). We sat down with the duo to discuss the project, Hince's fascination with eyelash curlers, and nostalgia.
Congratulations on your anniversary. Does it feel like no time at all or like you've been a band forever?
Hince: It comes 'round really quick. People come to gigs and they were born in 1996 and you're like, Wait, wait where is your mum?
Why share your arsenal of memories in a book?
Mosshart: My memory isn't that great, especially from long ago, and so much does happen every day. And we are usually waking up in a different place every day — it becomes a bit of a blur. When you see a photographic image, you remember the smell of the room, the gig, and the people that were there — maybe a conversation you had at the bar and the hotel that you stayed at. I think that means it's a good photo.
Hince: Those moments when you're onstage performing, those are the things you telescope together as memories, but when you look at the details, at the things that have been eclipsed by those show moments — things like being bored on a bed somewhere, sitting backstage with a crappy can of beer or a coffee cup for an ashtray. Those things get deglamorizing somehow, and it's just beautiful to see Kenneth shine a big old flash on those moments.
Are there any images you genuinely didn't remember?
Hince: Yes! There's one that didn't actually make the book that Kenneth reminded me of when we were in L.A. It's a shot of me and him, and he's holding up some Banana Boat sun cream and I've got a big white towel hanging out of my nose. I could not think why I'd done it or where it was.
Mosshart: I know that picture! I think I took that picture … do you both have cigars?
Hince: Yes.
Mosshart: Maybe I used his camera, but I remember that because I was, like, pissing my pants.
Is there a particular reason now seemed like the right time for this book?
Mosshart: It's taken a long time to make the book, appropriately, the way we wanted to make it. Present it with the level of quality we wanted.
Hince: Yeah, it could have come out as a paperback pamphlet five years ago.
Mosshart: There are times it would have made more sense, like on the anniversary or around Christmas, but it just came out when we finally got everything just the way we wanted it.
Hince: It came out shortly after our ten-year anniversary, so in that respect it's bound to be a little retrospective. There's always going to be some nostalgia. There's a weird paranoia about nostalgia because everyone knows the peak of rock and roll was shortly after it was invented. Rock and roll has been so referential for so long, there seems to be this paranoia about it being too obviously nostalgic and I just think, Well, it is nostalgic, you know? That's part of getting lost in that whirlwind of rock-and-roll romance.
Mosshart: It will always be important because there will always be someone who hasn't heard it yet and there will always be new people coming into the world.
Like your fans, born in 1996 …
Hince: Their minds are going to be blown by looking at, like, the phones we had.
Mosshart: My mind is blown by looking at the little Nokia that's in one of the shots.
Hince: There's a phone on a table in one of the shots and you don't even notice it, but you can tell some kid will be like, "What the fuck is that?" It looks like a book.
Tell me a bit about the evolution of your relationship with the photographer.
Hince: Early on, we didn't have a drummer, so we'd be asked, "Are you going to get other musicians? Is anyone else going to join the band?" I always had it in my head that I didn't want to expand the band with instruments, I wanted to expand it with photographers and writers. When we first started, we dreamt up this character Kid Tsunami. He was going to be this guy who was going to document us forever, and then we kind of grew up and forgot about that, but Kenneth kind of became Kid Tsunami.
So tell me, Jamie, about the photo of you with the eyelash curler: Is this standard beauty procedure for you?
Hince: That's one of my favorites, just cause of the color — that red. I saw a picture of a girl using an eyelash curler when I was a kid and I thought it was some sort of torture device, the eye guillotine. I thought it was some, like, Buñuel outtake or something. Fascinating things, fucking hell, why would you want to do that? So I thought I'd try it out, see what the fuss was about.
Exclusive first look at one of the images: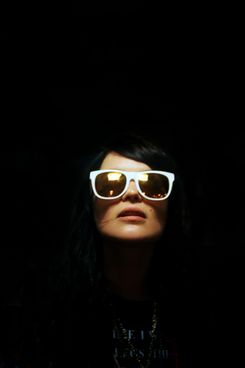 Plus, three more: