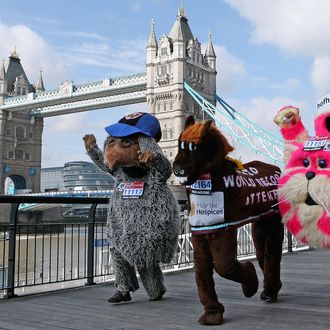 A giant set of Olympic rings are displayed from Tower Bridge on June 27, 2012 in London, England. The rings weigh over three tonnes and measure over 25 metres wide by 11.5 metres tall; they will be illuminated in a light-show every evening during the Games.
Photo: Andrew Redington/2012 Getty Images
Kate Bush! Madness! The Pet Shop Boys! Paul McCartney, again! That is in addition to confirmed performances from the Who, Muse, George Michael, Beady Eye, One Direction, and, oh yes, the Spice Girls. So this should be almost as fun as the Opening Ceremonies, minus Kenneth Branagh's Abe Lincoln impression. Fingers crossed for more farm animals, though.