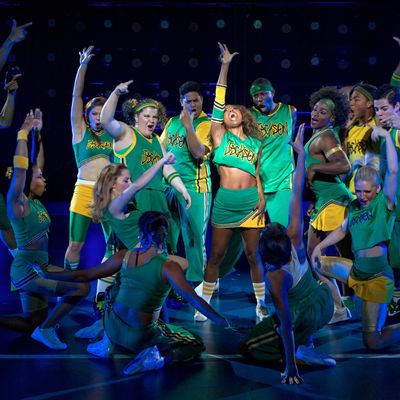 Bring It On: The Musical.
Photo: Joan Marcus
After ghosts and vampires, there are few things seasoned Broadwaygoers fear more than "cheer-face." We're all still smarting from the dumbassery of last winter's cheerleader spoofsical Lysistrata Jones, a perfectly flimsy little summer diversion dragged from its natural Off Broadway habitat kicking and screaming, hauled uptown, and dunked in the abyss of the Walter Kerr — where it quickly and predictably perished. Now up steps Bring It On: The Musical, based (very, very loosely) on the good-natured pom-pom procedural and Kirsten Dunst teen comedy from 2000. The basics: Campbell, a lily-white queen-bee cheer captain (Taylor Louderman) at wealthy Truman High, gets redistricted into a struggling inner-city school, where she transforms the homegrown hip-hop crew into a rival cheer-squad to challenge her old, privileged alma mater. Wincing already? I was — and not just at the prospect of all that sticky "spirit," but also at the culture-clash storyline, historically cringe-worthy territory for Broadway (i.e., the last spot on earth where suburban whites attempting urban slang is considered grounds for unconditional hilarity). I braced, I flinched, and then, to my surprise and delight … I applauded. Repeatedly. Bring It On certainly gives fierce face, but it also backs up that glittering grill with just enough sinew and substance — musical, physical and textual — to put it in trophy contention as a worthy, weightless delight, a guilty pleasure you needn't feel too guilty about.
Perhaps that's not too surprising, given the creative team on deck. After all, if Tom Kitt (Next to Normal), Lin-Manuel Miranda (In the Heights) and Amanda Green (the much-anticipated Hands on a Hard Body) can't engineer a contemporary dance-pop musical comedy, with significant assists from Jeff Whitty's tangy libretto, then no one can. Bring It On isn't exactly a hook factory; its tunes are swirling, sinuous Top-40ish stuff, with no hugely distinctive riffage. But the rhythmic and harmonic textures created by Kitt, Miranda, and arranger Alex Lacamoire (another Heights veteran) are an unmistakable advance on the pop-Broadway norm. Muscular beat-driven tapestries ("Do Your Own Thing," "Friday Night Jackson") sit serenely alongside character songs ("It Ain't No Thing") and yearning balladry ("One Perfect Moment"): It's music that fits the subject, more of a phalanx than a score. This music is obviously the product of teamthink, but it's just as obvious that the team in question is a team, not a loose quorum of contractees. Only with discipline and coordination does a show arrive at a crunk-and-grind featuring a leprechaun mascot—which doubles as a credible love-at-first-sight montage. 
The team also gets a series of enormous lifts, literal and less so, from its director, Heights choreographer Andy Blankenbuehler. He keeps Bring It On's veins running with Red Bull. But the energy here is controlled, not manic or desperate or cheaply giddy, and while the basket-tosses and zero-G somersaults certainly keep our hearts lodged firmly in our throats, the show doesn't overrely on its stunts, though they are patently sensational. (To paraphrase the film, this ensemble doesn't lack for "cheersperience": Just behind the leads, you're looking at a deep bench of cheer-weaned gymnasts, acrobats and dancers, who spend an inordinate amount of stage time several yards above the stage.) This deceptively simple show has many cunning ways of defying gravity, none of them mechanical. This is indeed stage spectacle with many moving parts, only this time — wonderfully, refreshingly — nearly all of them are human. 
It's nearly impossible to overcredit this thrilling young cast, most of them Broadway newcomers. Louderman is given a lot to chew on with Campbell, who's neither the white hat she first appears to be, nor the pity puddle she might've melted into, in lesser hands. As her foil, Danielle, Adrienne Warren manages to wriggle out of the nobility tomb that the upright, uncompromisingly "real" black girl is often sealed inside: Her part's a tad soft, but her charisma and at-ease proficiency make the roles shortcomings difficult to notice. As for show-stealers, well, it's a talent melee: Whitty's expansive, badinage-filigreed script—a complete rewrite of the movie's plot—gives generous stage time and plentiful spotlight moments to an array of supporting characters, most of which would read as mere stock-role throwaways if the show's chemistry were even a hair off. Ryann Redmond slays us as Bridget, a nerdy, big-boned laugh-track of a cheer-wannabe who ends up with her own storyline. Gregory Haney is handed a Cadillac of an opportunity in La Cienega, a transgendered inner-city dance-diva, and he puts the pedal to the metal. And then there's Elle McLemore's Eva, a tiny "flyer" (the waif atop those human pyramids) with an enormous secret (and a showstopper of a second-act song). I'm barely scratching the surface here: This is a uniformly strong troupe, and they move like a single organism. I thought I'd outgrown pep rallies — I've thought this, I suppose, since age 15. This one rallied me. Perhaps basket tosses look even higher when expectations are in the basement. Or perhaps this is just a very fine show that knows what it is, uses what it's got, and doesn't have time for any second thoughts.

Bring It On: The Musical is at the St. James Theatre.