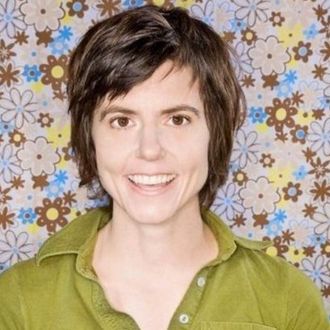 "I haven't gotten biospies yet, which I'm planning on doing," said 41-year-old comedienne Tig Notaro midway through her explanation of a jarring visit to the doctor. That was July 31, on Notaro's "Professor Blastoff" podcast. "I want to, like, reiterate: I am not saying that I have cancer. I am saying I got not-great news yesterday."
Fast forward to this past Friday, August 3. "Tragedy + time = comedy. But I don't have the benefit of time. So I'm just going to tell you the tragedy and know that everything is going to be okay," writes comedian and writer Kira Hesser on her blog. "So began Tig Notaro's set last night at her show 'Tig and friends' at the Largo. Actually, that wasn't the beginning of her set. It began when Ed Helms welcomed her to the stage and she crossed over, took the microphone, and said 'Thank you, thank you, I have cancer, thank you, I have cancer, really, thank you.'"
The rest of Hesser's account is commensurately riveting. Notaro apparently wove through a set that did nothing but focus directly on this dire news — cancer in both breasts — and its ludicrous timing. Notaro was recently hospitalized and lost 30 pounds to pneumonia and a bacterial infection, her mother died from a fall, and Notaro and her girlfriend split. And that's only the bad stuff; Notato has been on fire professionally, getting cast in a Sarah Silverman project (although NBC didn't pick it up), rocking an appearance on Conan, and now making a cross-country move to New York for fellow comic Amy Schumer's new Comedy Central series. Such low lows, such high highs, and now, cancer.
"For the first half of her set, even though she was telling the story in perfect grace and humor, I couldn't laugh," Hesser reports. "For the second half, for the first time in my life, as far as I can recall, I genuinely laughed and cried at the exact same time, bewildered at the tragedy and the remarkably calm, clever prism through which she assessed her terrible set of circumstances."
At one grim point, Notaro slowed to see if the crowd preferred she switch into jokier territory. "There were several 'NOs' and one insistent loud male voice who cried out 'NO. ABSOLUTELY NOT. THIS IS FUCKING INCREDIBLE.' [Notaro] looked genuinely taken aback, and relieved. She'd managed to make the tragic not only palatable but overwhelmingly engaging."
Notaro received a long standing ovation and Twitter accolades from the other comedians present, including Louis C.K., who performed a surprise set later on ("in 27 years doing this, I've seen a handful of truly great, masterful standup sets. One was Tig Notaro last night at Largo"), Bill Burr, who also did his act ("Just saw Tig Notaro at Largo … made me feel like I was an open miker. Absolute genius!"), and Ed Helms ("Tig Notaro just blew my mind at Largo. One of the most amazing stand-up sets I've ever seen").
After a couple of vile, headline-snatching onstage incidents in comedy clubs lately, it's heartening to remember exactly how deft comedians can be at transforming tragedy into not only something more than a potshot, but something communally inspiring. Good luck, Tig.