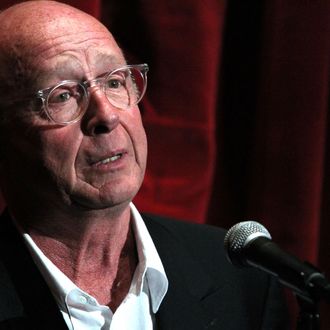 Tony Scott.
Photo: Alexandra Wyman/2010 Getty Images
Director Tony Scott scaled the Vincent Thomas Bridge in California and jumped to his death on Sunday afternoon, the Daily Breeze reports and the L.A. County coroner's office confirms to The Wrap. The 68-year-old English director's action-laden, Denzel Washington–frequented canon includes True Romance, Top Gun, Man on Fire, the Taking of Pelham 1-2-3 remake, and 2010's Unstoppable.
Scott "climbed a fence on the south side of the bridge's apex and leapt off 'without hesitation' around 12:30 p.m., according to the Coroner's Department and port police," writes the Daily Breeze. The L.A. Times reports that there was a note listing Scott's contact information in his Toyota Prius, which was parked on the side of the bridge. Later authorities found a suicide note in his office.
Scott's first feature film was 1983's The Hunger, one of very few times he utilized a fellow Brit — David Bowie — as his lead. In addition to signing on to helm Fox's Narco Sub, Scott was expected to be involved in the three-decades-later Top Gun sequel, possibly as director. Along with his director brother Ridley, Tony produced shows like The Good Wife and Numb3rs under the Scott Free Productions banner. Scott is survived by his third wife, Donna Scott, and their twin sons. A spokesman for the family confirmed the news and asked "that their privacy be respected at this time."
UPDATE: ABC News is reporting that Scott had inoperable brain cancer, which may offer a clue to the director's surprising suicide. Coroners will perform an autopsy on the director later today.