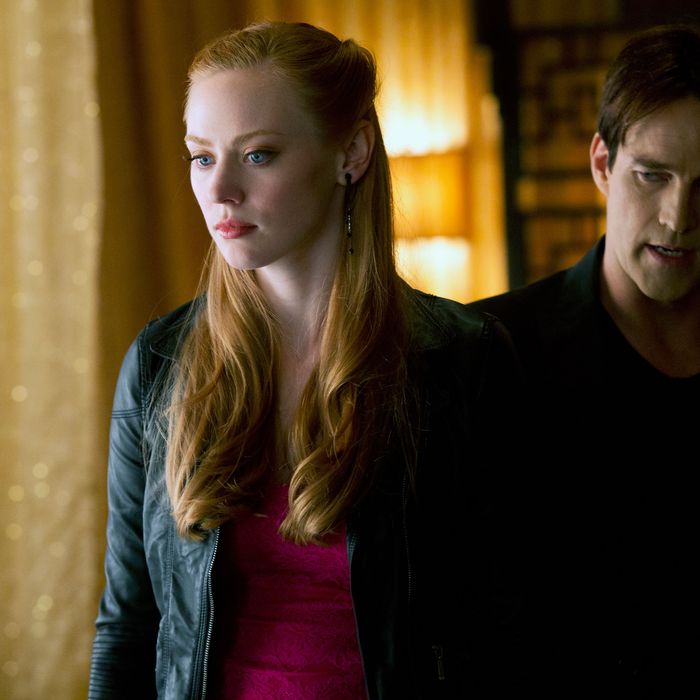 Photo: John P. Johnson/HBO
In this season's penultimate episode, we finally got an intervention on behalf of the U.S. government. We saw lots of nudie people in cages. Nora and Salome helped showcase the full range of Bebe fall 2010 collection. Something … happened at that faerie club. (I don't know, I've been drinking ever since, trying to wet brain the memory of that away.)
Barring some huge, season finale plot twist, Bill is actually into the whole Lilith thing, which, yikes. But good on you, Sookie. If anybody ever breaks up with you and turns to murderous religious fanaticism as a coping mechanism, you're doing something right.
Are you guys ready for the war on women? I mean vampires? I mean irritating, forced current-event parallels? Anyhow, let's do this. What did we gawp in disbelief at this week, guys?
Bill is Tempted to Drink All Lillith's Blood
Man, how many times has this happened to you with your roommate's leftovers? Sorry about your lo mein, man, a blood goddess appeared and made me drink the whole thing.
Alcide Chops Wood
"Joe Manganiello chopping wood." Thanks to all of you who decoupaged this onto your vision boards.
Luna and Sam, Naked Again
Look, they've both got beautiful bodies, but maybe their parents would eventually like to watch the show.
Tara Says She and Pam Are Not Going to Date
We'll just see about that. In the meantime? I like Jessica and Tara's nascent little friendship. It's sweet.
Andy's Halfling Baby
CALL MAURY ANDY. CALL MAURY!
Pam Does the Books at Fangtasia
What a responsible business owner! It was brief, but I cherished this moment of realism.
The U.S. Government Shows Up
Wow. So we finally get some insight into where the hell the feds have been this whole time. And I guess that they're like, "This is what happens when you mix church and state!" Ho ho ho, subtle.
Russell and Steve Feed on Gamma Kappa Tau
I loved all of the chancellors' faces when General Cavanagh told them about this. They were like, "Huh huh huh." Incidentally, my favorite gay porn is I Can't Believe I Ate the Whole Frat.
Ke$ha, Jon Cougar Mellencamp, Boyz II Men
Holy what. I don't. I can't. I have no English for this.
Alcide's Dad
Do you think they'll have him in T-1000 mode, but sitting on cinder blocks in the yard of the trailer? Ha ha, just a little Jeff Foxworthy humor for you. Seriously though, I'm not sure why he's here or where this is going but I do love to see Matthew Fox's old Lost-flashback wig getting work. Robert Patrick: the death knell for your favorite supernatural television dramas.
Jason Has Super-strength
Barring everybody's favorite gay vampire power couple, I think Jason has really been the most likable character on the show this season. But Jessica drank a lot of his blood and he just sort of pops right up. No cookies and juice? Bologna, I say.
Rosalyn's Sense of Smell
I guess it was interesting to see Rosalyn have a point at all, but as a deus ex machina, the Toucan Sam thing was a little bizarre, no?
The "Vampires Suck" Graffito
Wow, Banksy, is that you?
The Extended Closeup on Campbell's Vegetable Beef Stew
♪ ♫ Microwave soup, microwave soup / product placement for microwave soup. ♪ ♫
Nora Talking During Sex With Eric
Oh my God, have you seen who you're having sex with? SHUT UPPPPPP.
Eric Flies
OH, really, this again? I thought this was going to be an abandoned plot thread but apparently we're going with it. Jesus Christ.
"God is a Vampire"
Hey, Billy Corrigan's writing for True Blood right now.
Allegory Overload
Remember when Tara was like, "They can keep their laws OFF my body" and Pam was like, "The government can do whatever it wants to your body?" Wow. Wow wow wow. True Blood scribes, I love you, but somebody should visit to the writers' room and do some forced ultrasounds of your heads.
Joe Manganiello's Body
I hate to harp on this but … Did you guys look at it? Did you? Did you? I did.
Hopefully next week we'll see La La for more than a brief second ("I'm a bitch, not a snitch. Wait, did I really have to come in to work today to say that one line?" —Nelsan Ellis.) Are you guys ready for one more episode? I sure am! Welp, off to bury myself in dirt til next Sunday.