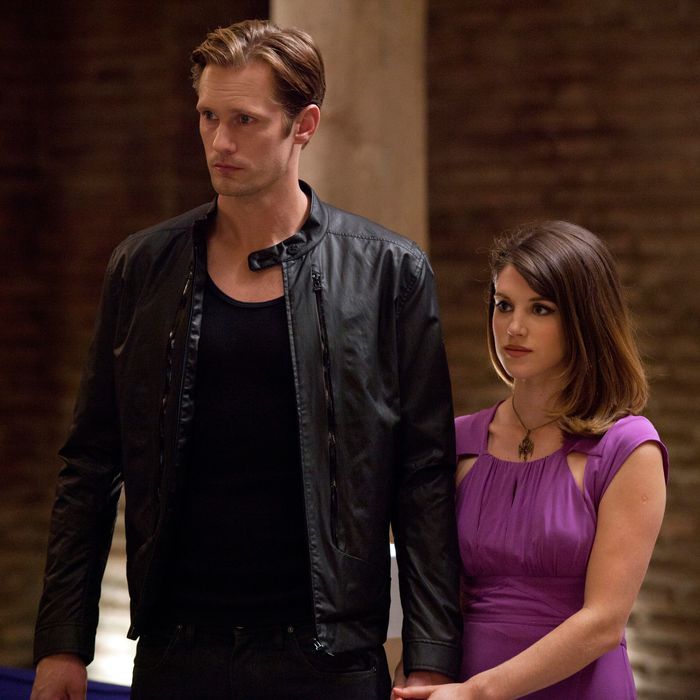 Photo: John P. Johnson/HBO
We're getting closer and closer to the end of the season, so we're seeing some of the story lines get nicely wrapped up. This week we bade a fond farewell to Patrick, met the "dragon" Sweetie Des Arts, and had the stage set for the coming Humans versus Supes Armageddon or whatever. Of course, there were lots of boobs and wieners.
As usual, we'll pick out a few of the crazier things from this week's episode. Grab an Oxycontin-ginger and let's watch the True Blood factories burn together. What a bummer that they'll never be lofts.
Russell Gets Steve a Puppy
It's okay, she came with a name but she'll never know if you change it. Maybe something from To Kill a Mockingbird? That's what Jake Gyllenhaal did with his puggles.
Jessica Doesn't Poop
Of course not, she's pretty.
Steve's Prayer
This was pretty accurate. Like at Thanksgiving, when your grandma is like, "Who wants to say the prayer?" or if you're hippies, what you're grateful for. (Barf, right?) Steve's blasphemous little couplet was cute, but I really wish Eric had gone with rub a dub dub, thanks for the grub, you can see this guy's chub.
Poor That Guy, Though, Right?
I don't mean the character who got eaten in that scene, I mean the actor. You're just living your life, being Simon Pegg's stunt double, and then all of a sudden you're lying on a table in front of a bunch of series regulars who, of course, are being "total pros" and asking if you're comfortable and stuff — but God, this is not how you wanted to get on HBO.
Eric and Molly vs. the World
I like the dynamic these two have going on. It's very Eugene Levy–and–Samuel L. Jackson in The Man. Just please don't let them have sex. Corrina Corrina was like yesterday for most of us.
"I Ain't Whoopi Goldberg in Ghost."
AREN'T YOU, LAFAYETTE?
Russell Feeds the Werewolves
How nice to go to a party and be your own covered dish.
Tara's Text
The next time a creepy married dude texts you, you know what to say.
The Sad and Lonely Death of Noel
Terry wasted him and then Iraqi lady shotgunned his corpse with demon smoke. Oh well, Scott Foley. Maybe do an arc on Franklin and Bash?
Terry and Arlene
At least until Steve and Russell get together, these two are the best couple on this show. Nice teamwork, you two.
Bill's Newfound Piety
I had a friend in high school who ate a shroom chalupa and was convinced that he lived a selfish life devoid of meaning and went to church for a whole week before his brain chemistry normalized. I think he may have tried to sign up for the Peace Corps. Stay off drugs, kids.
Sam and Luna, Shifter Detectives
While it's nice to see them using their powers constructively, it's a little Robin Williams's genie at times. "Ever been a fly on the wall?" asks Sam, turning into a fly. Cool, now shape-shift into Groucho Marx and a wise-cracking seventies pimp.
The I
I like that they used the same filter that lends such blurry charm to promos for that Matthew Perry show, but what on earth was the utility of this bizarre werewolf breakfast club moment? I guess that teenage girls watching would go, "Hmmm, maybe I should be nice to the kid in the windbreaker with the huge eyebrows. He grows up hot."
Pam's Picture With Eric
Where was this taken? Some kind of VC Andrews photo booth for weird transitions?
Sweetie Des Arts's Backstory
The Woman Whose Husband Left Her for a Raccoon is my favorite Oliver Sacks Book.
Sam Trammell's Naked Roundhouse Kick
How many teamsters have seen this guy's exit chute? I bet he has fun and gets paid well, but I wonder if he's ever like, "I went to Brown."
The Fact That Denis O'Hare and I Aren't Friends Yet
Least believable thing ever! Last night on Twitter he was like, "So sorry Into the Woods got rained out last night!" And I was like, "Right? Want to come over and eat pizza?" Nothing! Not even like a weak RT that I could screenshot and put on Facebook with a caption about how I can die happy now or something.
The True Blood Monopoly
This brings up an interesting thing: There's NO True Blood competitor? I mean, remember when Snapple was huge? There was immediately, like, Sobe, Arizona, Fruitopia. I mean, I get that synthetic blood is probably highly chemically complex and proprietary, but where's the Fruitopia factory explosion?
Okay, guys! Tune in next week ,when we'll find out why Bill sucks so much now. Hopefully!