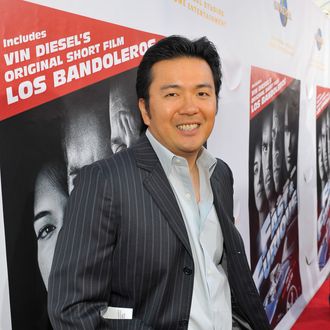 Photo: Charley Gallay/Getty Images
Twenty years have passed since the acquittal of four LAPD officers charged with beating Rodney King touched off riots that killed 53 people, injured 2,000, and cost $1 billion in property damage, but Hollywood may finally be getting around to telling its version of the story: Vulture hears exclusively that Fast Five director Justin Lin is in negotiations with Universal Pictures to direct L.A. Riots for Imagine Entertainment principals Ron Howard and Brian Grazer.
The project had first been set up at the studio half a dozen years ago with director Spike Lee, with a script from Red Tails screenwriter John Ridley, but it's unclear if Lin will be using Ridley's draft or starting anew. (Seeing as this year's sleeper Red Tails was originally intended for release the same year as the L.A. riots, we're not recommending anyone hold their breath.)
Certainly, though, the story of the L.A. Riots is suddenly timely again, with King's drowning death just this summer and the Trayvon Martin murder trial still simmering in Seminole County, Florida.
Lin is currently in the middle of shooting a sixth installment of the Fast and Furious franchise (scheduled for release on May 24, 2013), and clearly, Universal is seeking to keep him happy by allowing him to tackle a topic that's quite a bit more serious. Still, it will be interesting to see what kind of film (and what size) Universal will allow Lin to make, for as one talent agent observed, "They didn't want to make this movie for $35 million with Spike [Lee] four years ago, and with the way the business has changed, I can't imagine they're going to spend even $20 million to make it now." (Or, as Lee told MTV News in 2009, "We didn't get the money that we needed to make the movie I wanted to make. How can you scale back the LA riots?!")
In recent years, King (who won a $3.8 million settlement from the City of Los Angeles but later went broke starting a record label) had focused more on his own personal demons than on the LAPD misdeeds that made him infamous: He published a memoir of addiction and recovery, The Riot Within, just this past spring, after having appeared on the second season of Celebrity Rehab with Dr. Drew on VH1 in 2008.