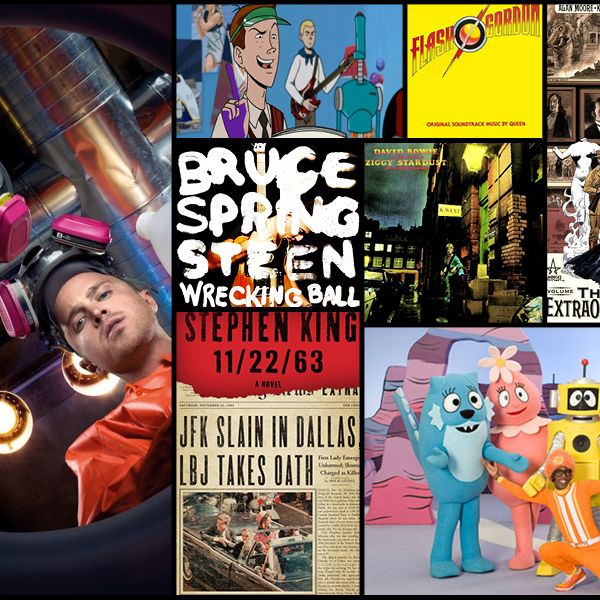 For our recurring feature the Vulture Diaries, we will be asking prominent creative types (authors, directors, actors, musicians, etc.) to keep track of their cultural consumption in a given week. This week, we have Adam Horowitz and Edward Kitsis, who went on to create the ABC show Once Upon a Time (which returns September 30) following their writing work on all six seasons of Lost. (The pair also wrote the film Tron: Legacy and developed the animated series Tron: Uprising, which airs Thursdays on DisneyXD.) The two are Breaking Bad fans, so spoilers follow for that show.
Day One, Eddy
12:20 a.m. I'm looking for something to watch on television, rather than one of the 400 things I already have DVR'd. And that's when I discover channel 20, a.k.a. the greatest channel ever. The station plays the original Batman, Mission: Impossible, and Kojak. I'm immediately sucked in. The show that took me down the rabbit hole? Thriller. It's an anthology series from 1961 that's hosted by Boris Karloff. This episode is called "The Weird Tailor," and it's about a father that wants to bring his son back from the dead by making a magical suit. The episode is dark, creepy, and ends with a fantastic twist where, instead of the son, a mannequin named Hans is brought to life. Sorry if I spoiled it, but the show has been on for 50 years so I'm not really that sorry.
7:30 a.m. I start the day the same way I have started every day since I was 13: I read Doonesbury. Then I read the calendar section of the L.A. Times and the front section of the New York Times before my 4-year-old son greets me, asking if it's "wake-up time."
8 a.m. Every morning after breakfast I watch a TV show with my son. Today's selection is Yo Gabba Gabba. I'm pretty obsessed with it. The idea that the entire world takes place inside of a boombox owned by a D.J.? Genius. The musical guest is MGMT and they sing a song called "Art Is Everywhere." The band is dressed in hippie, Seussian viking costumes, floating on a ship and painting the world with weaponlike paintbrushes to let us know that art really is everywhere. This is exactly the kind of positive message I can get behind, and it gives me the strength I need to start a new episode today at work.
10:15 a.m. Ginnifer Goodwin recently turned me on to this game on my iPhone called Draw Something and I'm hooked. It's my turn, and I have to draw a picture of Mozart while she guesses what I'm drawing. I feel like I nailed the hair with a great ponytail wig, but the piano was weak. We'll see if she gets it.
10:25 a.m. She got it. I then guess her drawing, which is a Whopper hamburger. Well played, Ginny. Well played.
1:15 p.m. I whip out my current copy of The Economist. I love The Economist. It's my treat on a long plane ride. I bought this one for my most recent flight home from Vancouver, but never really got to it on the plane. Now it's staring at me, stressing me out. I'm fairly sure that if I don't read every article I won't know anything that's going on in the world. I pick one article today so I feel up to date. Ten minutes reading about the Euro crisis and I throw the magazine in the trash.
7:30 p.m. I call this time "re-entry." It's the transition period between coming home from work and actually settling into my home life. I put on my headphones and take a "man walk," as my wife calls it. I like to use that time to think about the day and the story we are working on in the writers' room. I let my mind drift for an hour before I can settle into the night.
Tonight's playlist:
"Warm in the Winter" by Glass Candy
"Only in My Dreams" by Ariel Pink's Haunted Graffiti
"Hollywood Forever Cemetery Sings" by Father John Misty
"Love on My Brain" by Jim Ford
"Cindy Incidentally" by the Faces
"She's So Tough" by Mink DeVille
"Charley's Girl" by Lou Reed
"Running Back" by Thin Lizzy
"This Flight Tonight" by Joni Mitchell
"Sweet Tuesday Morning" by Badfinger
"Beware of Darkness" by George Harrison
11 p.m. I turn on the Venture Brothers. It's my favorite animated show. I love the sense of humor and parody, and yet the stories are emotional and I really get lost in them. Plus, there are a ton of Bowie references. Tonight's episode is called "Ice Station Impossible." Dr. Venture has to take a drug test to get into the think tank run by Dr. Impossible (who is a parody of Mr. Fantastic from the Fantastic Four).
Day Two, Adam
6:38 a.m. I wake up and play a game I play every morning as I await the sounds of my twin 3-and-a-half-year-old daughters stirring in the other room. I call it nightstand roulette. Stacks of various items accumulate on my night stand. I reach over and grab …
… The League of Extraordinary Gentleman graphic novel. This Alan Moore classic was given to me by one of my co-workers, writer-producer Andrew Chambliss. I read a few pages of the first issue. It is … extraordinary. Alan Quartermain? Dr. Jekyll/Mr. Hyde? What better way to wake up? The mash-up quality is appealing to me … the kinda storytelling I love. What's amazing to me about League is that it is so DENSE. Every panel, every page, is filled with intricate detail. Beyond the striking art, there are stories within stories. Humbling talent is on display here. And then — the cries begin …  I trudge to the other room and begin the morning ritual of dressing/feeding/etc.
9:04 a.m. On the treadmill at the gym. I've forgotten my iPod, so I have no music to listen to. Instead, I'm forced to stare up at the TVs hanging in a row. On the one closest to me (meaning the one I can watch without wearing my glasses, which I've also left in the car) is TNT. They know drama there. And right now there's a Las Vegas rerun on …  No sound, but I'm reading the subtitles … apparently a ring of card counters has targeted the Montecito. Jimmy Caan is none too pleased.
10:08 a.m. At the office, my day begins with catching up on e-mails and a little web surfing before hitting the writers' room. I stop at Backstreets.com, the Bruce Springsteen fan site. I'm a huge Boss fan. Have been since I was a kid in the eighties. I've seen him live dozens of times … an incredible experience — there's really no live performer like him. Today's the day the next leg of his tour is announced … and like I planned it myself, Bruce has scheduled his L.A. date for my birthday in December. I call the wife. She feigns enthusiasm but agrees to celebrate with me at the Honda Center in Anaheim.
12:54 p.m. We break for lunch. I stop in on one of my favorite websites, Grantland.com. It's an incredible site that spans pretty much all my passions — movies, TV, sports, music, and pop culture in general. The site was started by Bill Simmons, an excellent writer. (The Yankee fan in me cringes — he's a Boston guy.) Today I read an article called "Climbing Out of the NFL Abyss" by Bill Barnwell. It has exceptional insight and analysis on the trend of the last twenty years where subpar NFL teams with losing records turn it around seemingly overnight. Also reminds me that my Fantasy Football draft is in about a month. I've got the second pick. Does Foster drop? If not, do I go RB or QB? Rodgers, maybe? If any of my competitors are reading this, perhaps I am psyching you out …
8:44 p.m. Kids are asleep-ish. Wife and I settle down for our newest obsession — Breaking Bad. Yeah, I know, I'm late to the party, but it was one of those shows where the train left the station and I didn't want to jump in midseason so late in the run. But as a writer in the entertainment biz, all I've heard is how brilliant it is and I know I must catch up. So enter Netflix streaming — my new best friend. Turns out the show has been UNDERsold to me. It is beyond brilliant. It's a staggering achievement of storytelling. In a week, we've burned through nearly two seasons. Tonight, we watch the final two episodes of season two. And, spoiler alert, the end of the Krysten Ritter arc is jaw dropping. And not just for the whole grieving-father-plane-crash thing … yeah, that was amazing … but simply on a character level I'm blown away by what they achieved. Ritter's character, when introduced, was this sympathetic girl next door whom you were hoping would help Jesse. And then, deftly, the writers flipped everything on its head so that by the end, when she was a junkie again, you're with Walt as he watches her OD and realize that it may just be the best thing for all of them. Chilling stuff.
Day Three, Eddy
10:14 a.m. I indulge in my favorite weekly ritual: the Saturday morning walk. Yes, another man walk. In this iPod age, I've become a playlist junkie. Once a week, I try to listen to a complete album. Today's choice is David Bowie's life-changing The Rise and Fall of Ziggy Stardust and the Spiders From Mars. Few albums have inspired me like this one. I listened to it a lot when I was in Vancouver shooting the pilot of Once Upon a Time. I like to think the show is really a Bowie song told through fairy tales. The 40th anniversary remaster of the album came out today. I've bought the other two anniversary albums, but if you label it "re-master" I'll buy it. I'm powerless. I love the album because it's haunting, romantic, and epic. Right now I am thinking about Rumpelstiltskin, and who is more Ziggy Stardust than Rumpelstiltskin? 
1:27 p.m. Adam and I have a meeting Monday with our costume designer, Eduardo, so I need to find photos to inspire me (steal) for the show. My wife Jen and I check out some of our favorite blogs to be inspired by (steal from): henneli.com, theyallhateus.com, sartorialist.com.
Then we flip through the pages of Nylon magazine. I love Nylon. It reminds me of Sassy magazine from when I was in high school. I was really into indie rock and Sassy was one of the first magazines to cover it. It also had a cool vibe and my dream was to date a girl who read Sassy. Alas, that was a dream never realized.
5:40 p.m. Went to see Ted. My wife and I are huge Seth MacFarlane fans. The movie was like a Seth MacFarlane fairy tale that played out exactly as I wanted it to — with a teddy bear and a bong. The side effect of this movie is that I can't stop listening to the Flash Gordon soundtrack, which I will unashamedly admit that I already own.
11:20 p.m. I recorded Peter Gunn on channel 20, my new favorite. I have never seen the show before now, but it's a half-hour drama created by Blake Edwards. It's a great film noir. The dialogue is snappy and there are lots of bizarre moments. The character of Peter Gunn is like Don Draper, but instead of making me cry about a Kodak carousel, he solves crimes. And on top of all that, Henry Mancini does the score. My favorite part is the credit at the end. It says, "Mr. Stevens's suits are made by Don Richards." I don't know who Don Richards is, but damn I want a suit by him.
Day Four, Adam
8:20 a.m. After feeding my girls breakfast, they beg me for "One Olivia," which is their way of asking to watch their favorite show, Olivia. It's an animated show about a little girl-pig and her family. Today's episode involves Olivia making a surprise dinner for her mommy's birthday with the help of her two brothers. The show is pretty clever in that it knows EXACTLY who watches (toddler girls) and constructs a perfect character/surrogate in the protagonist, Olivia. She's got a bit of edge to her. She loses patience with her brothers and her parents. It's actually kinda real, but funny. Good stuff.
9:40 a.m. Treadmill. This time with iPod. In honor of my Bruce mood as of late, I listen to his latest album, Wrecking Ball. He balances the bleak with the boisterous and it's a good listen. At 62, he can still crank out a relevant album that's also catchy.
1:40 p.m. Nap time. Not for me, but my girls. This lull in the day on the weekends between one and three is when actual reading can occur. I reach for the nightstand. This time I draw The New Yorker. And (notice a theme yet?) I quickly flip to David Remnick's profile of Springsteen. It's pretty riveting. The behind-scenes and backstage look at what it's like prepping for a tour on the magnitude of what Bruce pulls off is fascinating. Everything is scripted, even the audibles he calls onstage when he mixes up the set list. It turns out you can't wing a three-and-a-half-hour show.
5:10 p.m. Sunday evening treat … wife and I get a sitter. Hit the multiplex. Oliver Stone's latest, Savages. Gotta say I have a great time with this one. It's kinda loony and over-the-top, but it does exactly what I want from a film — it feels specific. There's nothing generic about this movie. There is a director here with a vision and he's gonna pummel you with his searing imagery until your understand that this is how he sees the world. For a two-hour-plus movie, it flies by.
9:04 p.m. End of the week TV. I'm two behind on Aaron Sorkin's Newsroom, but my Breaking Bad kick has put everything else on the backburner. We're about four episodes into season three now. Walt and Skyler's marriage problems are taking center stage. And it continues to up the ante with each new installment. Giancarlo Esposito (who did a few episodes of Once for us) is becoming more central to the show. He's a special actor. But then so is everyone in this cast. There's a point where professional jealousy gives way to simple enjoyment. I'm there now. These folks are playing at another level and I just feel lucky to live in a world with Breaking Bad.
Day Five, Eddy
1:30 p.m. It's Monday lunch and I'm thinking about Henry. Henry is the 11-year-old on our show. So for inspiration, I log onto plaidstallions.com. It's the most incredible website showcasing toys from the seventies. The coolest thing I find is the 1978 Kenner catalogue for Star Wars toys. This occupies the rest of my lunch hour.
7:53 p.m. Reentry: Long day in the room and I need to let my mind wander. Tonight's playlist is all Grateful Dead. Yes, I'm a Deadhead. I look for something from my favorite year, 1973, when they were gooey and jazzy and just all around in the zone. Tonight's pick is the second set from the November 11 show at Winterland.
9 p.m. Watching the episode of Breaking Bad that I recorded last night. It's so damn good. It's so good that I'm depressed that I'll never be that good. I don't even want to talk about it.
Day Six, Adam
6:28 a.m. Grab my iPad off the nightstand. Hit my Kindle app. Look for something to read. I love short stories, particularly when we're in the middle of production on the show. I like to read novels in long stretches so that I'm not reading a massive story piecemeal. But those kind of extended reading stretches are hard to come by during the work week, so I've become addicted to short stories — something I can consume whole in a brief time. Today I pick "The Adjustment Team" by Phillip K. Dick. I've been meaning to read it for ages now. Also, I have always been a PKD fan (check out The Man in the High Castle if you get a chance — one of my favorite of his novels, a cool alternate history of the post-WWII world). Anyway, I power through the story. Love it. It's a story of a simple man who becomes aware of higher truth that is manipulating his, and all of our, lives. Heady stuff.
7:14 p.m. Whew. Today was an intense work day. Not a lot of time for recreational culture consumption. So now it's me and the girls. Bedtime story. We go with Let's Go Yankees by Yogi Berra. It's a stirring yarn about a family that decides to go to see a Yankee game at Yankee Stadium in the Bronx. The family cheers for the Yankees. The Yankees win the game. The family goes home. Positively Aristotelian in its structure.
7:22 p.m. Story time is over, but the girls plead with me to "show something" on my iPad. They love watching videos on it. Tonight's request, Spider-Man. Ever since the ad campaign for the new movie version, The Amazing Spider-Man, started up they've been obsessed with it. They see the billboards everywhere as they go to preschool. But I don't think they're quite ready for the level of intensity that movie provides; therefore, I've taken to showing them a YouTube video of the old seventies animated show intro with that catchy theme song: "Spider-man, Spider-man. Does whatever a spider can." They sing along. It's pretty damn cute.
10:58 p.m. Finish two more episodes of Breaking Bad. Hank just got shot in the parking lot. Wow.
Day Seven, Eddy
8 a.m. In an effort to get my son to like all the things that I did at his age, I log on to YouTube and introduce him to Spider-Man on The Electric Company. He decides he'd rather go back to watching Max & Ruby. I read the paper.
1:20 p.m. I'm on Yatzer. It's a website I love that combines some of my favorite things — art, travel, and design — all in one place. I am always looking for inspiration. I click on "photo" and check out the spatial elegies of Massimo Listri. This collection of photographs is a set of amazing interiors shot throughout Europe (palaces, etc.). I will totally steal these ideas.
1:45 p.m. My oldest and dearest friend, Craig, sends me a coffee-table book for which he wrote the foreword. It's called Live… Suburbia. It's a collection of personal photos and stories about subcultures throughout the years. But really it's the ones from the eighties that most interest me. Being from the suburbs of Minneapolis, this reminds me so much of my youth. I fancied myself a skate punk in the eighties (until I got my driver's license). But after looking at the pictures of the headbangers, it seems like they definitely had more fun. Thinking back, I wonder if I wasn't in the wrong scene. If only I liked Iron Maiden more …
4:30 p.m. On a break from the writers' room I check my e-mail, and I see one with a link to "The Bubble Series" by Melvin Sokolsky. It's a collection of photographs of models floating through the city in bubbles. It represents everything I love in the world. It combines fine art, the fantastic, and the sixties — three of my favorite things, all in one bubble that looks like it floated out of the TV series The Prisoner.
Day Seven, Adam
6:08 p.m. Remember when I said I can't read novels mid-week during production? There's something called the Stephen King exception. While flipping through my Kindle App at work, I notice that I purchased his recent novel 11/22/63 a few months back and haven't gotten to it yet. Overwhelmed by guilt, I decide to dive in. 853 pages. I. Can. Do. This. It's a story about a time traveler and the Kennedy assassination. Time travel is a bit of a thing for me. I love the concept of it, but I also find the notion of paradox fascinating. And as someone who endeavors to tell stories for a living, I find tales with time travel to be the most challenging to execute in a satisfying manner. But if anyone can, it's Stephen King. I get about twenty pages into it when I realize I gotta leave the office or I'll miss bedtime with the kids. Those first twenty pages do their job, sucking me into the story of an English teacher in late-fifties Maine. No one creates characters as quickly and vividly as King can. That said, how this fella relates to Kennedy I don't know yet, but I'm game to find out. Side note: best novel I've ever read incorporating time travel? The Time Traveler's Wife by Audrey Niffenegger. It actually makes sense. And I mean that as the highest compliment possible. It's a beautiful depiction of non-paradoxical time travel. Heart wrenching.
7:16 p.m. Time to brush teeth. Getting young girls to want to brush their teeth has been a challenge. It's forced me to come up with a creative solution.  And it's a solution, like most of my work, that comes right out of my formative years in the early eighties. When I was a kid, I was deathly afraid of hideous creatures called the Cavity Creeps. Thanks to YouTube, I'm able to pull up videos of those old animated Crest commercials where deformed monsters called Cavity Creeps attack the gleaming ivory walls of Toothopolis as they chant "we make holes in teeth." These cartoons are soooo early eighties, it's fantastic. The retro animation takes me right back to my childhood, and my girls are delighted to see the pulses of Crest toothpaste destroying the monsters. They scurry off to the bathroom, happy to prevent the Cavity Creeps from making holes in THEIR teeth.
7:44 p.m. With the girls asleep, those Cavity Creeps commercials have reminded me of something else from my youth. With the magic of Google, I do a quick search and find old concert video of an eighties hardcore band called Murphy's Law. They did an intense song way back when based on the Cavity Creeps commercials. I pull it up, show my wife. It's in that eighties hardcore/punk style and really not for kids (check out the lyrics, you'll see what I mean). But it immediately takes me back to my high school years when I'd see Murphy's Law and other bands of the ilk (Bad Brains, Fishbone, Sick of It All, among others) at the old CBGBs in my hometown of New York City. Every Sunday they used to have what was then called Hardcore Matinees. It was essentially a late afternoon show where the under-21 set could get kicked in the face by combat boots from errant crowd surfers while listening to some pretty awesome music. CBGB is now sadly gone. But even if it were still around, my wife gently reminds me that this is probably not something I'd be doing anymore. But I still cherish the memories. Thanks, YouTube!
8:15 p.m. We start another Breaking Bad. Panic grips me. We're almost in season four. Within a week, we should be caught up. Then what do I do?  I don't want this show to end.