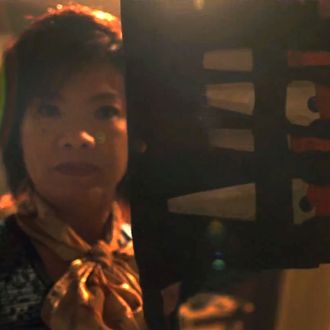 Every few weeks, our music critic unplugs his headphones and weighs in on the songs bouncing about his brain. This week's list has an Aesop Rock jam, with appropriately kickass video, and a truly punk punk song — we're talking under three minutes here. (Abebe is also keeping a rolling list of his favorite songs of the year, on Spotify. Listen to it here.)
Marques Toliver's "Magic Look"
His debut album should arrive this fall, and you can more or less count on its being monumentally beautiful — mannered violin figures, a pristine voice, and a way of writing songs that seems to take all that classicism and shoot it through with gospel. Just about every song he records turns out beautiful; "beauty" does not seem to be the challenge for this guy.
Sleepies' "Seriously"
"I take this all very seriously," their singer drawls, sounding like someone who … does not necessarily take this all very seriously. Those of you who follow New York's guitar bands and indie-rockers may have noticed this type of thinking making a small comeback — weirdo punk-rock, slacker fuzz-bombs, bands that seem more interested in disaffected noise than dreamy burbling. Sleepies bring something deliciously off-kilter to that table; they also make it sound fun and funny, not grim.
(Listen to "Seriously" here)
Ikonika's "Take Pictures"
This British producer (real name Sara Abdel-Hamid) has spent years now pulling off an elegant trick, one that amazes me every time. The sounds she works with are cold, spare, and geometric — limit most producers to this palette, and the music you'd get would be a little frosty and mechanistic. Hers is anything but: It's fluid and playful, with melodies peeking out of strange corners and a rich sense of human consciousness animating the whole thing.
Aesop Rock's "ZZZ Top"
There are a lot of reasons Aesop Rock's managed to carve out a nice long career as an underground rapper, well beyond those turn-of-the-millennium days when spitting wordy puzzle-rhymes over abstracted beats was the Cool New Thing. Let me just point toward my favorite of those reasons: Aesop Rock is really good at sounding grumpy. (Bonus: The "ZZZ Top" video is one long martial-arts fight scene.)
Jesca Hoop's "Born To"
Hoop's a Californian who's been recording for a little under a decade — which is weird, because whenever I put on "Born To," I feel like it should be a great forgotten 1989 college-radio hit, played right between the R.E.M. and the Sinead O'Connor. (Mix rootsy drive, polished pop, mandolin, and keening, weirdly enunciated vocals … yes, it's a little like "Losing My Religion" and "Mandinka" on a date.) It's not a sound you hear often these days, which turns out to be the intriguing thing about Hoop's latest album — nearly every song manages to drift into some subtly unexpected corner of pop.