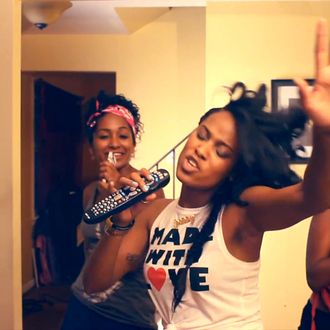 Every few weeks, our music critic unplugs his headphones and weighs in on the songs bouncing about his brain. This week's list includes a chugging cover of a Radiohead song by that crazy glam rock-y band from 2003. (Abebe is also keeping a rolling list of his favorite songs of the year on Spotify. Listen to it here.)
The Darkness's "Street Spirit"
I can't speculate as to what precise mix of devotion and cheek the Darkness had in mind when covering Radiohead's spectral old ballad "Street Spirit" in their signature glam metal — the winking interpolation of "Just" after the first chorus comes off as cheeky devotion, if anything. But credit to them for their ear on this: The song sounds great this way, and the cover's as solid as it is clever.
Jade Alston's "Sober"
"Sober" was one of the better tracks from this Philadelphia singer's late-2011 EP, Single on a Saturday Night — just the kind of casually energetic R&B charmer that lets an artist shine like a pop star without having to awkwardly pretend she's one already. Now it comes with a video to capture that feel, Risky Business sock slide and all.
Savages' "Husbands"
The world produces plenty of dour, chilly, frantic post-punk acts that don't do much beyond sparking nerdy conversations about what other dour, chilly, frantic post-punk acts they sound like. London's Savages are not one of those, especially not on "Husbands": The track's so rich, tense, and fervent that little else seems important.
Flying Lotus's "Between Friends," featuring Earl Sweatshirt and Captain Murphy
This small treat, from the Adult Swim Singles Series, pairs an L.A. production mystic with a tricksy consonance-loving rapper for a terrifically heavy-lidded track — and once you're done thinking through the minor mystery of who exactly is playing "Captain Murphy," you're free to zone out on the woozy soup of sound at the end.
Heavenly Beat's "Faithless"
John Peña wasn't being obscure when he named this project Heavenly Beat: The indie-pop tunes on his first LP, Talent, have an easy sigh and a sunny, homespun quality to them, and they're difficult to hear without imagining the someplace very, very pleasant — clear blue pools, shady seaside homes — where they'd be best appreciated.