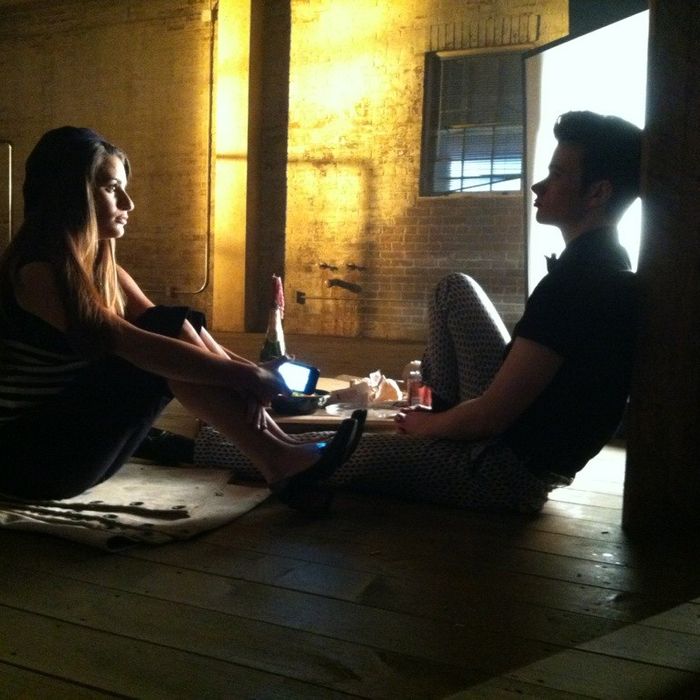 On Vulture's visit to Paramount's Glee soundstage last week, all signs suggested that the upcoming fourth season is shaping itself into the spin-off that never was, with new NYC sets erected to accommodate the split-off storylines of McKinley grads Kurt (Chris Colfer) and Rachel (Lea Michele), which will now make up at least half of the show. On a brief tour of all things East Coast, we saw the spacious loft with exposed-brick walls where — spoiler alert! — soon-to-be-roomies Rachel and Kurt will live. When the season begins, Rachel will already be struggling in a sea of superstars at the fictional New York Academy of the Dramatic Arts (for which there is a fancy dance-studio set), and Kurt, bored and aimless in Ohio, will wind up in New York as an intern at Vogue.com. They'll decide to bunk together somewhere in Brooklyn (probably Bushwick given Glee boss Ryan Murphy's Girls fixation) and Rachel will trade in her schoolgirl skirts and knee-highs for something edgier and fashion-forward (thanks to an assist from Kurt's Vogue mentor Isabelle Klempt, played by Sarah Jessica Parker.)
It's a big leap for the Broadway-obsessed BFFs, but also for Glee as it heads into what is arguably a make-or-break season. When the series returns to Fox on Thursday, September 13, it will be airing on a new night, in a new 9 o'clock timeslot, and — the most risky gambit of all — episodes will be split between The Rachel and Kurt Show in New York and the kids who have yet to graduate back at McKinley High School. As we wandered around the just-built New York sets, we noted the casualties of the experimental "show within a show" format: Mr. Schuester's apartment has been taken down for the time being, and McKinley's teacher's lounge has shrunk in size, though the latter won't be noticeable to viewers. The stories of the adult characters will be less of a focal point (as much as Sue Sylvester with a baby can be) and, as Murphy warned us back in May, half of the graduates won't be back except for holidays and other major events. Even Finn and Santana — characters who aren't in Ohio or New York — will be used very sparingly in the first four episodes.
In their new dominant locale, Rachel and Kurt will do some heavy-duty post-grad growing up. We observed Lea Michele performing a slinky version of Britney Spears's "Oops! I Did it Again." (Making sure this is not interpreted as a teenybopper number, early in the song a hunky young dude grabbed Michele from behind and his hands headed downtown. Oops.) The number, a part of the show's second tribute to Spears, is meant to prove to Rachel's nasty dance instructor Cassandra July (played by Kate Hudson) that she can raunch it up with the best of them. "I do have it in me to be sexy," Rachel says in the scene. "Sexy enough to play Evita. And Roxie. And Charity." The guy with his paws all over her is Dean Geyer, whose character Brody is a NYADA classmate she's recruited to help heat up the Fosse-esque routine. He also has the hots for her, and that helps with the choreography, which includes some suggestive humping, her from atop a table and him from underneath it. (Finally, all that "Push It" training has paid off!)
"New York's cooler, the stakes are a little higher. It's a completely different world from the original Glee," Geyer told us between rehearsals. "Rachel has to adapt quickly." Hence, all the bumping and grinding. "Yeah, it's a little racy. That's the difference between the old Glee and the new college Glee. It's a little more controversial." Well, not all of it. On a separate Ohio-set soundstage, Darren Criss was getting ready to sing "Everybody Wants to Rule the World" because Blaine's big dilemma in the beginning of the season will be keeping busy without Kurt (so glad we've almost made it / so sad they had to fade it — awww) and when we wandered back to Brittany's bedroom in Ohio, the track for Spears's super sad break-up song "Everytime" kicked in. There was Heather Morris lying face-down on her bed, miserable without Santana, who's far away and cheerleading for the University of Louisville. Oh sweet, teenage agony. Some things on Glee will never change.