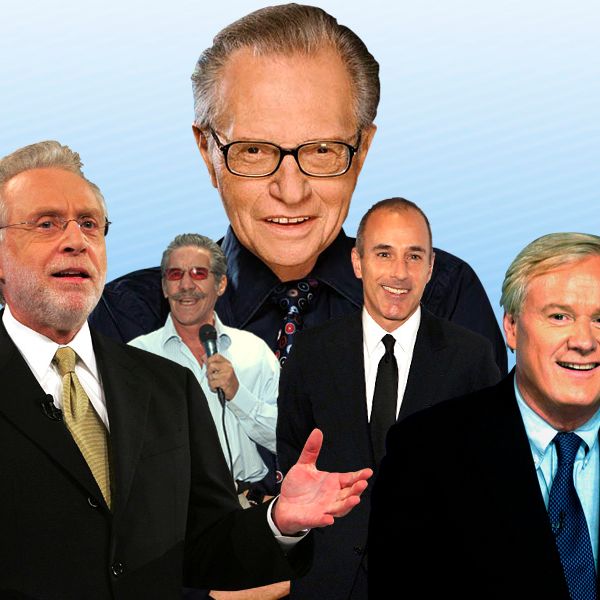 Jodie Foster's 1997 alien hunter pic Contact lists 80 people in its cast on IMDB. Nearly a quarter of them were CNN employees. Warner Bros. cast them to help pimp the network, a fellow Time Warner entity, and add some realism to a plot that included such fantastical elements as aliens and Matthew McConaughey in a shirt. The result, at CNN at least, was abject horror. The news network's president Tom Johnson publicly declared his regret just four days after the movie came out. And in the San Francisco Chronicle Wolf Blitzer self-righteously said he but declined a part because he "just didn't think it was the right thing to do."
Fifteen years later something has changed, because Blitzer makes his big screen debut in The Campaign. Still, the man with TV news's most cinematic name has a long way to go to catch up with his colleagues, some of whom should probably join SAG. But which TV news personality has been most willing to pretend they're one of the pretty people? Let's find out.
Larry King: 18
Movies Appeared In: Swing Vote, Mr. 3000, The Stepford Wives, John Q, America's Sweethearts, The Kid, The Contender, Enemy of the State, Bulworth, Primary Colors, The Jackal, Contact, The Long Kiss Goodnight, Dave, Open Season, Crazy People, The Exorcist III, Ghostbusters
With almost 20 film appearances as himself, CNN's grand poo-bah is the Samuel L. Jackson of cameo-making news folk—he'll be in anything. And he'll keep at it as long as scripts include characters that need to be interviewed on TV.
Chris Matthews: 7
Movies Appeared In: The Campaign, The Ides of March, Dave, State of Play, Man of the Year, Morning Glory, Swing Vote
Any regular Hardball viewer knows Matthews is a bigger ham than Porky the Pig. So if listening to a President Obama speech sends a thrill up his leg, imagine what shooting a movie does. Or maybe don't.
Geraldo Rivera: 7
Movies Appeared In: All About Steve, Primary Colors, Contact, Grumpier Old Men, Cop Land, Meet Wally Sparks, Hard to Kill
In the 1995 movie Grumpier Old Men, the title referred to characters played by Walter Matthau and Jack Lemmon. Geraldo just played himself, the sensationalist talk show host. But the guy is seriously grumpy.
James Carville: 6
Movies Appeared In: Man of the Year, The Muppets, The Adjustment Bureau, Swing Vote, Wedding Crashers, Old School
You're thinking, "Wait, wasn't Carville also in The Lord of the Rings?" He was not.
Bill Maher: 5
Movies Appeared In: The Campaign, Swing Vote, Primary Colors, Pauly Shore Is Dead, EDtv
He's one of the only people alive who can play himself as a political pundit or a stand-up comic. Of course, Larry King is trying to change that.
Mary Hart: 5
Movies Appeared In: The Great Buck Howard, Swing Vote, I-See-You.com, Stuck on You, Love Affair
The female news personality who's made the most cameos once insured her legs for a million dollars.
Leeza Gibbons: 4
Movies Appeared In: The Player, Last Action Hero, Soapdish, He Said, She Said
Another woman, another blonde Entertainment Tonight host. This reflects very poorly on you, Hollywood.
Howard Cosell: 4
Movies Appeared In: Broadway Danny Rose, Johnny Be Good, Bananas, Two-Minute Warning
His play-by-play call of Fielding Mellish's honeymoon night will go down as one of the best episodes of Wild World of Sex ever.
John McLaughlin: 4
Movies Appeared In: Independence Day, Mission Impossible, Getting Away with Murder, Dave
It's been 16 years since the 85-year-old McLaughlin was in a movie. It's probably time for a new agent.
John Tesh: 3
Movies Appeared In: He Said, She Said, Soapdish, Love Affair
He's gotten to play himself in three movies and host Entertainment Tonight for ten years, but John Tesh will never do anything as great as this.
Charlie Rose: 3
Movies Appeared In: The Ides of March, Primary Colors, The Door in the Floor
Unfortunately, when Rose appears in movies he plays the long-winded interviewer, not the notorious cad.
Bryant Gumbel: 3
Movies Appeared In: The Weather Man, Contact, The Hard Way
The lesser of the two Gumbels manages to have more film appearances than his chubbier, friendlier brother.
Bill O'Reilly: 3
Movies Appeared In: Transformers: Dark of the Moon, Iron Man 2, Keeping Up with the Steins
Know how to make one of the most maddening men on TV even worse? Let Michael Bay direct him.
Matt Lauer: 3
Movies Appeared In: Tower Heist, Land of the Lost, The Beaver
Expect The Today Show host to continue climbing this list as he becomes the go-to cameo for any script with a newsmaking character. We predict he will inherit the mantle from Larry King.
The Others

Christiane Amanpour (Iron Man 2, The Pink Panther 2), Dennis Miller (The Campaign, Thank You For Smoking), Mika Brezezinki (The Campaign, I Don't Know How She Does It), Lawrence O'Donnell (The Campaign, Swing Vote), Piers Morgan, Joe Scarborough, Wolf Blitzer (The Campaign).