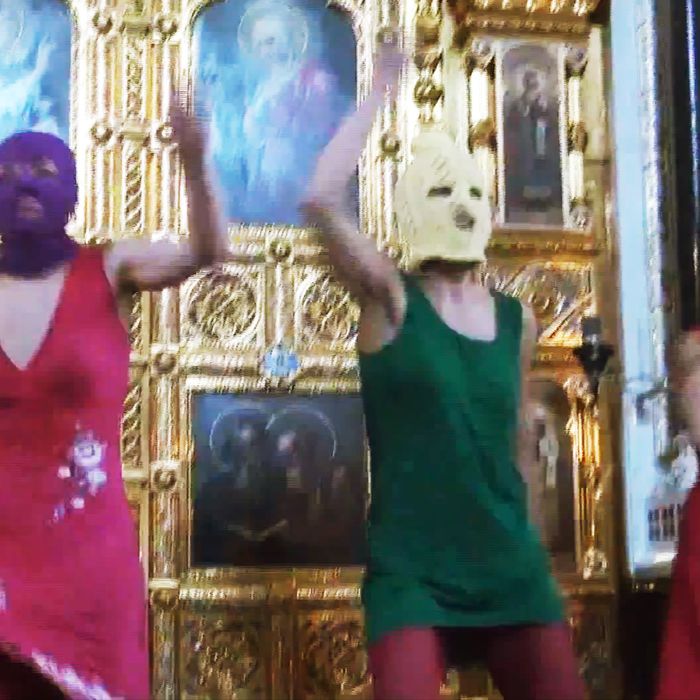 Plenty of western art-lovers, punks, and music fans were a little taken with Pussy Riot before this summer. That is, before three of the Russian group's many members became defendants in an internationally newsworthy trial; before they were convicted of "hooliganism motivated by religious hatred"; before they were sentenced to two years' imprisonment, all over a forty-second performance in a church.
One reason they captivated westerners is very straightforward: If you collected a dozen American underground comic artists and asked them to invent a clutch of feminist-punk-activist heroes, they'd probably be thrilled to come up with Pussy Riot, right down to — especially down to — the collective's visual aesthetics. Their balaclavas make the group anonymous and therefore interchangeable, while bright colors drain them of a little menace; they look defiant but cheerful, constructive. Neon dresses and tights give the members matching silhouettes — the same shape as the internationally recognized signage pictogram for "women." The name nods to the American riot grrrls of the 90s, the colors and poses to the revolution-you-can-dance-to ethos that emerged a decade later. The guerilla performance tactics — materializing in public venues for extremely brief blasts of agit-prop noise theater, packaged into online videos — echo those of street artists, culture jammers, Situationist pranksters. The women read American and French thinkers, Judith Butler and Simone de Beauvoir and Michel Foucault. They listen to old English punk bands. They bring the postures of punk and the valor of activism — kicks, shouts, defiance — into a realm where they feel less like a stylized routine, more like something born of urgency and risk. An English interview in Vice revealed sharp, educated twenty-something women, not unlike their art-punk-feminist peers and counterparts in cities like New York and D.C. It's as if they leaped from the dream-world of a well-read Huggy Bear obsessive.
"I think they kind of get the western market much better than every mainstream [Russian] pop singer who's trying to record an album in English," says Michael Idov — a Russian-American who's currently living in Moscow, editing GQ Russia. For the record, he's chuckling when he says this (Pussy Riot aren't technically a band), but the group's references connect well to western art and activism, and the package makes immediate sense to a large number of people when images are wired across the ocean to the U.S. For Russians, the format may be more alien. "I'd say they work in a purely western idiom," says Idov. "That's part of why they're so well-received in the west: They're 100% recognizable. For me, looking through their performances, the main feeling they evoke in me is full-on nostalgia for being at the University of Michigan, because that's the kind of innocuous shit that was going on every day on the campus grounds. To me that's what it is. People in Russia feel a little differently." How differently? "The vast majority of Russians," he reports, "actually do want to see them in jail."

That makes sense, given that the trio's trial was hasty and theatrical in a way that seemed aimed squarely at the Russian public, and unperturbed by mounting international disapproval. The three women, Nadezhda Tolokonnikova, Yekaterina Samutsevich, and Maria Alekhina, were among a group of Pussy Rioters who, in February, performed "Punk Prayer," an appeal to the church to rid itself of Vladimir Putin and for the Virgin Mary to embrace feminism, in the Cathedral of Christ the Savior. ("When people look at it they don't really see a church," says Idov. "They see a ministry building, in the government sense — the Department of Religious Affairs, or something.") The trial offered several opportunities for pious witnesses to exhibit something akin to post-traumatic stress disorder over having been present for this event (or just having watched it on YouTube), and few opportunities for investigating whether the group's motives were actually rooted in "religious hatred."  The guilty verdict concluded that their motive for religious hatred lies, per the Guardian's translation, in "being feminists who consider men and women equal." As the women read their final statements, the glass case that Russian defendants are kept in during trial seemed like a bubble of clarity: the women inside speaking with earnest dignity, while everyone outside worked through strange knots of pretense and illogic.

This is another scene that could hardly be better scripted to captivate the international imagination. A form of performance and activism that might, in the U.S., lead straight back to a poorly attended suggested-donation show in a basement (or, at worst, a trespassing charge and community service) has placed three bright young women in a dramatic conflict with the Russian state and the Orthodox church on a grand international scale, with vocal support pouring in from Amnesty International, from pop stars like Madonna and Paul McCartney and Bjork, and from western activists who, given a dramatic and inspiring reminder of purpose, organized actions at home. This attention was not necessarily a bad thing for Putin or his government, which has focused its pre-electoral campaign on exploiting animosity between workers and Russia's intellectual class. Even in an American political context, you can imagine the ease with which a group like Pussy Riot might be painted as cosmopolitan elites whose quote-unquote "art" provokes hard-working everyday people; even in a nation that's profoundly internalized freedom of expression, such arguments remain a familiar rejoinder to protest. 

"[Alexei] Navalny, the unofficial head of the new wing of the opposition — I was very happy to see him take this on," says Idov. "He tried to be a witness for the defense; he didn't get to speak. He tweeted a lot about them. He came to the sentencing. I was happy to see that because he's a populist, and if you're a populist politician who's trying to broaden his base, Pussy Riot are not a popular cause to pick up. But he also split hairs about how he doesn't approve of the performance; he thinks the judgment was harsh. If you're looking for people to say 'they're fucking awesome, their performance was cool,' there are very few people in Russia who would say that."

There are now plenty abroad, and the other members of Pussy Riot seem exceedingly canny about how to deal with that. After yesterday's verdict, they debuted, through the Guardian, an actual single, "Putin Lights Up the Fires." It's a very good punk song: tight, catchy, impassioned, and a little bit triumphant, as if it knows full well it will be one of few pieces of Russian-made popular music huge swathes of the world will hear this year — a very, very different sound from the functional, inelegant agit-prop shouts that backed the group's public actions before. And the accompanying Guardian-edited video leans in on the full viral potential of those anonymous outfits, offers press shots of mediagenic Tolokonnikova with a fist in the air, and adds footage of masked Pussy Riot supporters staging actions around the world. It gathers a huge handful of a western activist/feminist/punk's touchstones in one place, with an urgency and vitality that seemed a little vexed and faded in their countries of origin, and offers a warm invitation into the anonymous cosmopolitan collective. Also, the lead vocal's terrific.