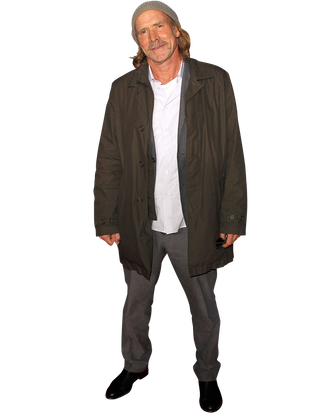 Will Patton.
Photo: Frederick M. Brown/Getty Images
As Captain Weaver of the 2nd Massachusetts Militia Regiment, Will Patton is the glue holding Falling Skies together: When he collapsed from an alien bite in a recent episode, even Noah Wyle's character admitted he couldn't lead without him. When the show returns to TNT on August 5, Weaver will take his troupe of battle-hardened survivors to Charleston, the hoped-for new seat of a restored American government in their alien-invaded world, in a story arc that will feature guest stars Terry O'Quinn (Lost) and Matt Frewer (Max Headroom). As the results of that exodus unfold, Patton himself will be leaving South Carolina to embark on the show's third season, but he took a moment before his trek to chat with Vulture about naming aliens, avoiding aliens, and basically starving himself.
Where are you right now?
I'm usually in New York, but I'm in South Carolina right now. Sometimes I come down here, and right this second, I have a moment because we don't start filming the third season until August 22. And the week before that, I'll start the drive to Vancouver.
Why not fly?
I prefer driving. I really enjoy checking out the country and exploring. And it's a good prep, just to sort of center myself and get away from everything. When you're out there on a highway, you just let things roll through you and kind of prepare without all the distractions. And it's so much easier than all the airplane stuff, because you have kind of your own house that you're traveling with, and you don't have to worry about anyone checking your luggage, limiting your fluids, your weapons.
Are you still on your postapocalyptic diet, or do you get to eat between seasons?
How did you know about that? [Laughs.] That's true; Noah and I try to starve ourselves a bit to thin ourselves out. I'm beginning to struggle with it; it's easier for Noah. He's a thinner guy, anyway. But yeah, Weaver shouldn't look like he's eating a lot of comfort foods, so I cannot be indulgent. He's in a dire situation, so to even look like he's had a little bit of excess would be a lie. And I'm a person who loves to eat, so it can be a problem. I could conceivably turn into an Orson Welles body if I could eat what I wanted. But it's good to stay on the lean side. I don't want to play fat cops for the rest of my life.
Do you ever tease Noah about how he's always facing off with someone in charge named Weaver? Because on ER, he had Dr. Kerry Weaver, and now he has you as Captain Daniel Weaver.
[Laughs.] He's a funny guy, and he would probably like that, but we don't have enough time to tease each other. The schedule of the show is like shooting an action movie, and the stakes are always so high, that we don't have room for anything like that. Although when Weaver was bitten by the harness, and his whole body transformed? That took hours of makeup. I wasn't crazy about that, but I loved that the special-effects makeup people played the MC5 and Iggy Pop in there. So, when I came out of there, all veiny, Noah teased me, "You look like Iggy." [Laughs.]
Weaver seems to be easing up this season with the 2nd Mass.
These days, yeah, and our roles are reversing. It's like Tom's become tougher and Weaver's become more open, which is interesting. People ask me how I would deal with it, if it were really me, and I wonder, how would any of us deal with it if we were suddenly in command? It's an enormous thing. I've been reading The Mask of Command by John Keegan, which talks about how great leaders put on a mask in order to lead. Weaver is a real human being who has to deal with this and step up to this position and figure out the places where he can't be nice anymore. People aren't going to like me for these decisions. And it can get really lonely when you have to make these tough calls to say, no matter what, you're going to keep these people together. And then I start to feel genuinely responsible for these people, especially the kids. I start to take that on and see how they're doing. I guess I got a little of that in Remember the Titans, at a certain point.
How are your survival skills?
I've dealt with a lot of guns over my career, so I'm getting better and better with firearms. Our military adviser is always teaching me more. And the first year on the show, I read every book there was on war, especially a lot of Vietnam stuff. That's some really strong material that pertains to our time.
So, you're becoming more like the professor!
Just between you and me, yes. [Laughs.] I wouldn't want the 2nd Mass people to know about that. Then they'll start making jokes and getting lax and everything would fall apart.
There are a lot of new aliens this season, especially the last episode. Do you have names for some of these new creatures?
I don't think we've named them all yet. I think the ones that are like a swarm of spiders are crawlies.
And what about the ones that can crawl in your eyes, roll up like a ball, bore through glass, and fly away?
I don't know, but if you come up with a name for them, can I steal it? [Laughs.] I love this part of it though. When I was a kid, my sister and I used to watch all the crazy black-and-white sci-fi movies that were on at five in the morning, and that part of this show is so much a part of me, that it makes me laugh. It can get very far out. [Loud clanging noises interrupt us.]
What was that?
I think that's somebody building a house.
Okay, because it sounded like a mech!
I know, didn't it? I hope it wasn't a mech on the way to stop us.