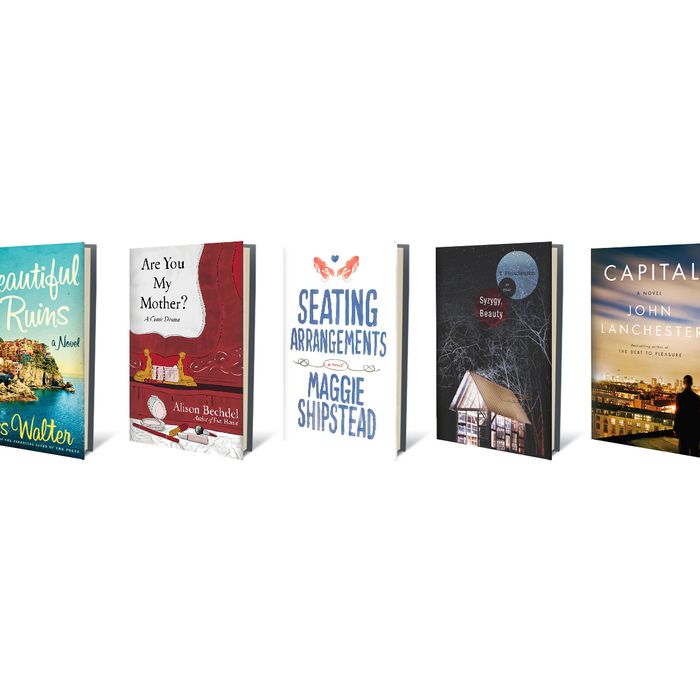 You've got about seventeen days until Labor Day weekend, the last great hurrah of this and every summer. And we know you've been meaning to read a book, just one book. Well, we've got you covered. Here are a solid dozen titles that run the gamut — high and low, fat and slim, light and dark.
If you like turning pages …
Gone Girl by Gillian Flynn
This is probably the one book you've heard about this summer — and it lives up to the hype. Creepy good with one of the more excellent twists you're likely to come across anywhere, Gone Girl is simultaneously a murder mystery and a story of the most effed-up marriage you can imagine. Or can't imagine — it's that clever.
If you like Hollywood and Italy and pretty things …
Beautiful Ruins by Jess Walter
At the beginning of this dazzling new novel, it's 1962 and a young Italian meets a beautiful actress who stays at his inn for three days. He is forever smitten. Years later, the same Italian innkeeper shows up in California, looking for the woman he fell for. A story of both old and new Hollywood, this needs to be at the top of your to-be-read pile. As our protagonist moves between the past and the present, Ruins becomes an enchanting look at dreams and hopes, stories and cinema, forgiveness and second chances.
If you like reading the big serious fiction book of the season …
Capital by John Lanchester
A sprawling societal novel that focuses on the residents of Pepys Road in London. Set in 2008 during the financial crisis, Capital is an insightful look at the everyday lives of a smattering of different people. The writing seems effortless, and the characters are ones you easily become attached to.
If you like Cormac McCarthy …
The Dog Stars by Peter Heller
A postapocalyptic novel that's reminiscent of McCarthy's The Road, what with the poetic prose and vivid landscape. Hig and his dog Jasper are some of the only survivors of a major flu that has wiped out most of the population. They live in an airport and at one point Hig decides to venture out to try to find more people. Sentences like these will give you much to meditate on: "So I wonder what it is this need to tell. To animate somehow the deathly stillness of the profoundest beauty. Breathe life in the telling." Fair warning: Don't read this novel on the subway if you might feel ashamed about crying in front of strangers. If you're cool with that, then go right ahead.
If you like Virginia Woolf …
Near to the Wild Heart by Clarice Lispector
New Directions has just released several new translations of books written by one of Brazil's most important writers. She wrote this debut novel when she was only 23, and yet it remains a work of profound and mature beauty. Don't read this book for the plot; read it for the perfect sentences: "And all that was left of the past, trickling inside her, quick and tremulous, was a little of the old water through pebbles, shadowy, cool under the trees, dead brown leaves lining the banks. Dear God, how sweetly she sank into the incomprehension of herself."
If you're looking for something to make your head swim …
Syzygy, Beauty by T Fleischmann
A philosophical look at identity and an unordinary love affair, this book could be viewed as a long essay, but it also could be read as prose poetry. "By describing something we place it at a distance," writes Fleischmann. But as one reads this book, one discovers that it's through this distance that we also see the world up close.
If you love to hate your main characters … 
Lionel Asbo: State of England by Martin Amis
Constantly in trouble with the law and in charge of his nephew, the troublemaking Lionel's greedy nature comes out in full force after he wins the lottery. Amis's latest is nowhere near the perfection of earlier works, but it remains a pleasing and darkly satirical look at contemporary England.
If you like nontraditional immigrant fiction, and who doesn't? 
How to Get Into the Twin Palms by Karolina Waclawiak
Anya is Polish and lives in a Russian neighborhood in Los Angeles. She is determined to get into the Twin Palms nightclub, a local club that caters exclusively to Russian customers. A Russian thug just might be her ticket in. Waclawiak writes about loneliness, isolation, and determination in a refreshing and quirky way.
If you like to read about work when you're away from work …
Radio Iris by Anne-Marie Kinney
Iris is a socially awkward young woman stuck in a dead-end job as a receptionist. One day, people start to disappear from her office. There's almost a noirish feel to this slim book, which offers a surreal look at how tedious and weird modern corporate life can be.
If you're planning on skipping your next therapy session …
Are You My Mother? by Alison Bechdel
Bechdel's Fun Home introduced many non-graphic novel readers to the genre, as she shared the story of her closeted father who ran the funeral home that he grew up in. Her latest is an unexpectedly better book in which Bechdel poignantly examines her relationship with her mother and her therapist.
If you want to scratch that WASP itch …
Seating Arrangements by Maggie Shipstead
Reading about rich people can be boring, or even envy-inducing. But that's not the case in Shipstead's witty first novel, which focuses on a father going through a midlife crisis while on a fictional Nantucket-like island during his daughter's wedding.
If you wanna feel good about books while reading a book …
Why Be Happy When You Could Be Normal? by Jeanette Winterson
"Books, for me, are a home. Books don't make a home — they are one, in the sense that just as you do with a door, you open a book, and you go inside. Inside there is a different kind of time and a different kind of space." Winterson is already well known for her incredible novels. In this memoir, she tells the true story of being adopted and raised by very strict Pentecostal parents. Language is one way she survives, and much of this memoir is a love letter to literature.
Michele Filgate is a writer and events coordinator at Park Slope's Community Bookstore.