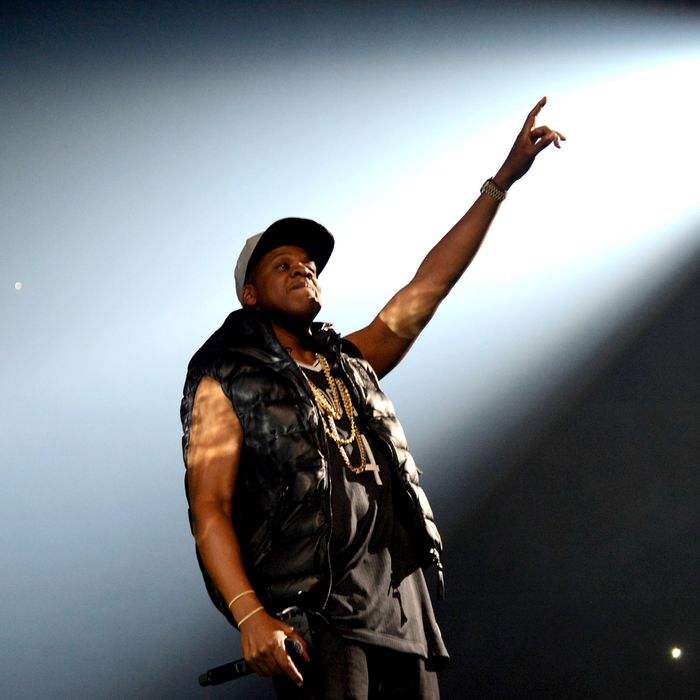 Jay-Z last night. (Kevin Mazur/WireImage)
Photo: Kevin Mazur/2012 Kevin Mazur
Jay-Z's inaugural performance at the Barclays Center may not have been the greatest show, but nobody seemed to mind, because it was Jay-Z's inaugural performance at the Barclays Center. This was a concert with as plausible a claim to long-term historical importance as most people ever get a chance to see. Bruce Ratner, who owns most of the new area, told this magazine that in a hundred years, Brooklyn will be the epicenter of the country, "and [Barclays] will be at the middle of that," and I suppose someone will hoverboard past the place daydreaming about how quaint it must have been to see this turn-of-the-century megastar perform his old-timey rhyming music when it opened.
The rapper described himself, on stage, as overwhelmed. He may also have been pacing himself, since he's playing eight of these shows. "You can stunt like that," he said, "when you own the whole place." He does not exactly own the whole place — less than a percent of it, actually — but whatever: Here is a guy who grew up in Brooklyn projects, got into rap when it was widely viewed as a public-menace vulgarity of the underclass, and is now, as a part-owner of the Nets, heavily involved in bringing this arena, and a major sports franchise, to his home borough, in addition to which he is playing eight sold-out shows inside. It's mind-boggling; it's a wonder he doesn't walk around all day grabbing people by the shoulders and yelling about how remarkable that is. When he spots someone in the crowd with a Jackie Robinson Dodgers jersey, brings it up on stage, displays it, and says "look how far we've come," the symbolism — color lines broken, sports returned to Brooklyn after a 55-year absence people still act personally broken-up about, hip-hop taking a role in giant borough-shaping construction projects instead of getting policed out of small clubs — doesn't seem remotely cheap.
Plus, for the record, the Barclays Center is a little overwhelming. Entrance lines wind under a bulbous canopy with a video screen wrapped inside, so while you're waiting, the entire universe violently changes color as the display shifts from, say, a blue ad for GEICO to a red ad for Rush's "Clockwork Angels" tour. The weirdly brutal Thunderdome of the arena itself stacks people vertiginously up its sides until you get an idea of what it's like to be a single taste bud inside a giant mouth. The staff was suspiciously pleasant, as if workers knew they'd be drawn and quartered for any actions that tarnished the place's reputation — the same reason we all had to take off our belts and file through metal detectors, so no one embarrassed the venue or hip-hop or Brooklyn with unscheduled violence. At the end of the night, Jay-Z would tell us to get home safely, because "they're just waiting for us to fuck up"; for the night this was not just Brooklyn's arena but hip-hop's arena, and neither was allowed to cave to any naysayer's opinion that they can't have nice things.
The show's historical import was conveyed mostly via non-stop heavy-duty boosterism. I don't know how many times the word "Brooklyn" has been spoken, planet-wide, so far this year, but I would almost bet that it doubled during Mister Cee's opening DJ set, an audio collage of Brooklyn-centric hip-hop history, and shouts to the borough. (He did offer one hilariously half-hearted shout "to people not from Brooklyn, people who migrated to Brooklyn — welcome to Brooklyn — BUT THIS IS BROOKLYN'S HOUSE.") Then, introducing Jay-Z, a video collage of Brooklyn history and Brooklyn personages, the Brooklyn landmarks and Brooklyn rappers, set to the Beastie Boys' "No Sleep 'til Brooklyn," culminating in this, Barclays and the Nets and Jay-Z and Brooklyn, though by this point "Brooklyn" didn't even sound like a real word anymore.
The show itself, I imagine, was meant to be "intimate," or as intimate as you can get in a 19,000-capacity venue: Just Jay-Z interfacing directly, and briefly, with the people of his home. He stood alone on stage, joked and freestyled; toward the end he talked to people up front like a stand-up comedian. There were no grand set-pieces, no string of guest stars — except for the part where he handed over about half of his encore to Big Daddy Kane, whose high-risk old-school dance moves (flying splits, at two years older than Jay-Z!) earned some of the warmest crowd enthusiasm of the night. It does not take a lot for a Jay-Z show to be good; there's an immense catalog of tracks to run through, a favorite for every constituency, from the ubiquitous pop hits he leaned on at Carnegie Hall last winter to the mid-nineties Reasonable Doubt tracks that came out for the Brooklyn faithful. But you'd think a Jay-Z show of allegedly historical dimensions could have a crowd reeling and shouting — not politely appreciative and reminding themselves that it was significant to be there.
For the last song, "Forever Young," Jay-Z wanted a specific arrangement of things to happen — the keyboard player holding the song's chords, people in the audience holding up lighters and cellphones, everyone singing the chorus. But when he asked for lights, someone brought up the house lights, and he had to issue a correction. (Not those lights, the other lights.) When he tried to cue the singing, there was mild confusion over what the keyboards were meant to do. Another correction was issued. People probably didn't need that reminder not to get nuts on the way out — the hype level was a little low. But nobody seemed to mind too much, because this was Jay-Z's inaugural show at the Barclays Center. And it was a little like buying a hot dog and a beer at a giant arena: They don't taste as spectacular as the price might suggest, but you get to enjoy them during a real event.