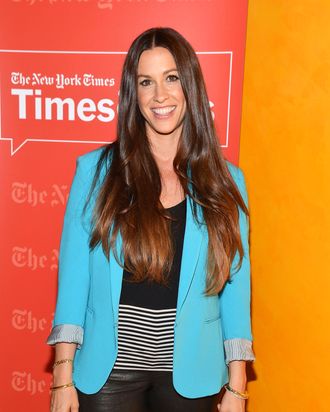 Singer/actress Alanis Morissette attends TimesTalk Presents An Evening With Alanis Morrisette at TheTimesCenter on June 19, 2012 in New York City.
Photo: Mike Coppola/Getty Images
Man, does Green Day's "Basket Case" sound poignant as sung by Alanis Morissette (she did it on Kimmel Tuesday and in concert the following night) in the wake of Billie Joe Armstrong's onstage meltdown and subsequent visit to rehab. Morissette tells Billboard Armstrong "deserves to be bowed down to" and that "he's been in this industry for a long time and so for him to experience the consequence of a system that kind of set it up for him to fail is a travesty to me." Real talk.