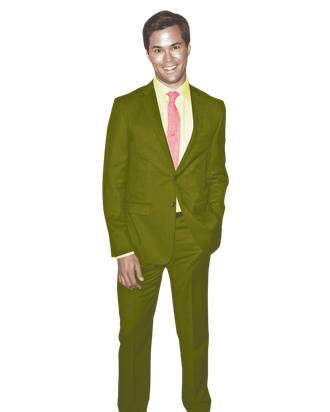 Photo: Jason LaVeris/2012 Jason LaVeris
Andrew Rannells is not allergic to button-pushing material: Since originating the role of Elder Price in Broadway's The Book of Mormon, he's slapped Allison Williams on HBO's Girls and stripped in the raunchy comedy Bachelorette. Now he's the star of NBC's The New Normal, Ryan Murphy and Ali Adler's sitcom about a pair of gay men (Rannells and Justin Bartha) having a baby through a surrogate.
You and Justin have a warm relationship on the show. Did you do anything special to develop that?
There was something very easy about falling into that relationship. I feel very fortunate, and I think he does, too. He's not gay. I am. It could have been something that was hard to achieve.
Is that something you talked about?
No. That's the nice part about Justin. He's not looking for any pats on the back. So often, when straight actors play homosexuals, they get, "He's so brave. That was such a brave decision for him to play this part. What a brave role." And to me that seems like bullshit, because if a part is good, it's a good part.
There's been some concern over gay stereotypes on The New Normal.
I certainly understand. As a homosexual, having watched gays on TV be portrayed, sometimes it's really great and sometimes it's just a punch line. I think Ryan and [co-creator] Ali Adler are very cautious about that. And I can tell you, going forward, they've given me in particular some real range with this character.
Can you tell us anything about upcoming story lines?
I'm assuming there will be a child at some point.
Will you get to sing?
There will be no singing, for now, but I'm gonna keep trying. I keep pitching myself for roles on [Ryan's] other shows. I keep coming up with ideas, like, what I could do on American Horror Story. For Glee, I tried to get myself in there as a sexy substitute teacher.
Speaking of Glee, your character on New Normal has a Kurt look going on.
My wardrobe is kind of all over the map. It's a slippery slope with these clothes. I look at [an outfit] on a hanger, and I'm like, That is asinine. I can't believe I have to wear that. And then I put it on, and after about an hour, I'm like, I look great! And I can imagine myself in everyday situations in which I wear those clothes. I can wear this to The Book of Mormon opening! It happens with every, every show I've been in. When I did Jersey Boys, everything was skinny suits and skinny ties. I was dressed like I was in Mad Men. I was like, Pull it together, Rannells.
Is there anything you just won't wear?
They had me in a lot of cropped Thom Browne pants. But I drew the line at capris. I'm six-two, and a guy [my height] can't win in capris.
You just played a stripper in Bachelorette. How did you prepare?
There was one rehearsal, and it took forever to snap my pants back up. I had to stand there in front of Kirsten Dunst, Lizzy Caplan, and Isla Fisher while wardrobe folks snapped my crotch. I was like, Let's try to minimize this experience, so we didn't [practice much]. But I am happy to say that every time I did it, I got them off in time.
Between The New Normal, Bachelorette, and Girls, you're having a big year.
I enjoy being a part of things that are perceived as controversial. I'm sad to say, while I'm doing them, I never really think they are controversial. I don't know what that says about me. But it always comes as a shock. I'm like, What?! People have opinions?