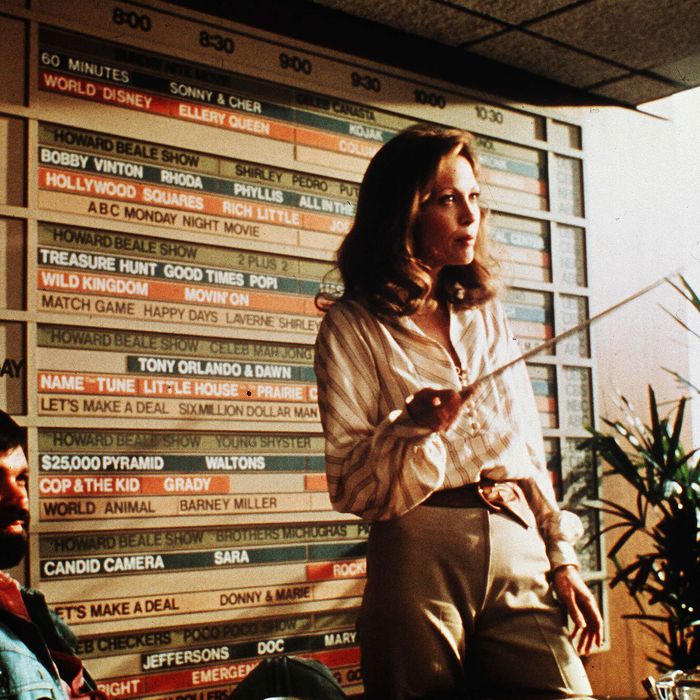 Title: NETWORK • Pers: DUNAWAY, FAYE • Year: 1976 • Dir: LUMET, SIDNEY • Ref: NET002AX .
Photo: United Artists/The Kobal Collection
Kids, back in the days before humans were blessed with DVRs, TV nerds greeted the arrival of the networks' new fall schedules with the sort of (blood-)lusty enthusiasm hoops fans assign to the unveiling of the March Madness brackets. The big grid of shows was a blueprint for battle, all the tiny boxes promising schedule smackdowns of epic proportions: ER vs. Chicago Hope! Frasier vs. Home Improvement! Moesha vs. Buffy! Alas, these once-thrilling match-ups increasingly seem as antiquated as VCRs and rabbit ears. DVRs and digital downloads are so common now that an entire generation seems to be growing up in a world beyond the (timeslot) thunderdome, where download speed and TiVo queues have replaced time slots and lead-ins as the key deciders of what we watch and when. For most viewers, there's no reason to fret about The Big Bang Theory battling 30 Rock; you can watch the former show live and stream the latter at your convenience, or vice versa. But are time slots and schedules completely irrelevant? Maybe not. Vulture talked to the heads of scheduling at three broadcast networks, and while they agreed things have changed, they aren't quite ready to start looking for another line of work. With the 2012-13 TV season set to officially launch on September 24, we break down the new rules of scheduling.
Networks Don't Care About Winning Timeslots (As Much) Because It Takes So Little to Be a Winner

One of last season's biggest hits was Fox's New Girl, a show with tremendous appeal among females under 35 but broad enough to work very well in Fox's overall target audience of adults under 50. In years past, the comedy's success last season would've likely scared off other nets from introducing new comedies in the Tuesday 9–10 hour this fall. But last May, ABC and NBC both announced plans to take on New Girl with tonally similar, young-skewing half-hours. The Alphabet is shifting the buzzworthy Happy Endings to go against it, while NBC threw its big Matthew Perry half-hour Go On into the fray. ABC and NBC's decision to take on New Girl is the sort of move schedulers of yore probably would've avoided, unless they had a blockbuster young hit to use as a weapon (like the time NBC shifted red-hot Frasier against an aging Roseanne, prompting ABC to replace the latter show with Home Improvement). Counterprogramming was their default; it was too dangerous to go against a hit of a similar genre. "[Back then], you might think it would be hard for two hit shows to succeed in the same timeslot. You'd never want to have one hit cop show against another," explains Kelly Kahl, senior executive VP of primetime at CBS. After all, in a world where three or four networks set the programming agenda, it didn't make sense to risk splitting the audience for cop shows when it would be just as easy to shift one to a less competitive slot. You'd be leaving (ad) money on the table. But now, he says, as cable networks have proliferated and no network is hitting the ratings highs they used to, they no longer live in a winner-take-all world or mindset. "It's less of a zero sum game than it was fifteen years ago."

While it's not great that the explosion of viewing alternatives has lowered overall ratings for the Big Four broadcast networks (who doesn't like a near-monopoly?), Kahl and his colleagues say that the changes to the business have made it easier to spin shows as "hits." "The bar is much lower than when there were only three or four choices," says Dan Harrison, Fox's master of the grids. (Or even a decade ago: Friends began its ninth season ten years ago this month by scoring a 16 rating in the under-50 demo; now, as NBC scheduling and research president Jeff Bader notes, a series can be called a hit with just a 3 or 4 demo rating.) "You still have plenty of viewers available," says Bader, who spent nearly 25 years at ABC before bolting to NBC this summer. (Industry insiders say the Peacock wooed him with a lucrative multi-year contract, evidence that maybe networks really do care about scheduling.)  "[And] there are plenty of periods where there is no dominant show. Now that the 18–49 audience is spread across so many outlets, you sometimes [just] need a 2 demo rating to succeed." What's more, that overnight rating — the one that Vulture and other news outlets report on the next day and on which a show is often declared to be thriving or dying — really isn't the full story of a show's success, since advertisers actually give nets credit (and coin) for DVR playback that happens within three days of its premiere. And even that's just the start of how networks wring profits from their programming investments now.  "Fifteen years ago, the battles were hand-to-hand combat in time periods, and that was the be all, end all," Kahl says. In 2012, CBS and its rivals "are content [companies] … We're now in the business of creating assets. We create value in the short-term and in the long term, with international and syndication. Do we still want to win time periods? Yes. But more importantly, we want to launch these shows and sustain them."  

Networks Aren't As Concerned With How Everyone Else Is Doing

Programmers have learned that spending too much time obsessing over what their opponents are up to doesn't make as much sense anymore. "Today the rule is: 'Stay true to your own schedule,'" Kahl says. He concedes he will still take a "look at the competition" as he's putting his grids in place: "If someone else has an absolutely huge hit comedy in a time slot, you do think twice about putting another comedy in." And networks haven't completely given up on the idea of using schedules as a weapon: The main reason NBC added an extra hour of The Voice to its lineup was to try to blunt the season debut of Fox's The X Factor. But Kahl, who in 2001 famously shifted Survivor and CSI opposite NBC's then-mighty Thursday comedy lineup, maintains that his first question when assembling a lineup is always whether or not a move makes sense for CBS. Let's go back to the example of NBC and ABC moving into New Girl's territory: "I can't speak to what other networks' thought processes were, but to me it looks to be an example of them saying, 'We're going to do what's best for our schedule.'" In this case, both NBC and ABC needed to expand their comedy lineups, and they both decided the best available real estate was on Tuesdays, because …

Lead-ins Still Matter

"Shows still get a majority of their audience from their lead-in," Bader says, noting that roughly 50 percent of TV homes don't have DVRs in them (and that about 15 percent of the country still gets their TV over-the-air, sans cable). And even people with DVRs don't always remember to use them, or sometimes simply opt to spend a night randomly surfing channels looking for something to watch. These Luddites (networks actually call them "lean back" viewers, as in "lean back in your La-Z-Boy and zone out in front of the boob tube) are susceptible to promos for upcoming shows ("Don't touch that dial!") or simply forget there's this thing called a remote control which will allow them to avoid having to watch The Neighbors' premiere after Modern Family. (Consider the last half of that sentence a PSA).  If they truly believed that scheduling meant nothing, ABC or NBC could've simply aired their new Tuesday comedies at 8 p.m., facing off against Fox's much weaker Raising Hope and the new contender Ben & Kate. But both nets bet that their popular, established reality shows (The Voice, Dancing with the Stars) would deliver decent-sized audience levels into the newer comedies, and that's exactly what happened this week on NBC when The Voice provided a great platform for Go On: Matthew Perry & Co. took advantage of the 11 million-plus folks watching the singing competition and delivered NBC's most-watched comedy premiere in seven years. Had NBC put Go On Tuesday at 8, odds are it wouldn't have done even half as well as it did. However, while this approach still works, thanks to technology laggers and those with entrenched viewing habits, it's quite possible that a future TV audience will consist of a generation that never lived in a world without digital time-shifting, and will have no comprehension of scheduled TV. But we're not there yet.

Time Slots Are Recommendation Engines

There's one aspect of scheduling that has nothing to do with when a viewer actually watches it: Even if a person has no intention of seeing a show in its time slot, or even on their television, just the series' placement on a grid clues them into whether they'd want to try it or not by the very nature of the familiar shows around it, or seeing what network it's on. "They're an opportunity to showcase your brand," Harrison says. "They're recommendation engines. If you go to buy a book on Amazon, you get that 'If you like this, you might like that' [on the screen] – That's what scheduling is. It's getting audiences to stay with you throughout the night, or throughout the week." Again, take the New Girl example. By positioning Mindy Kaling's The Mindy Project behind it, Fox is strongly suggesting to viewers that they will also like this new like-minded comedy offering. It also helps network marketing departments be heard in an ever-noisier programming arena: "'Fox Tuesday Comedy' is a very easy message for an audience," Harrison says. "People know what they're getting. [And] it's an easy thing to remember." Networks can't always engineer their schedules to have such a seamless sensibility flow (think Happy Endings following Modern Family on ABC), but even something as basic as pairing half-hour comedies can be an effective way to encourage sampling. "As long as there's a world where networks put on shows, there needs to be some order or logic to the way those shows are exhibited," Kahl says. "You need to get people to a show and like it before they press the record button … [or] press 'season pass.' You still have to get people to invest in your show. You have to build a critical mass first. There's still yet to be proven a better way to get people to tune in than by having a show on every week at a certain time." At least for now.
*An earlier version of this story incorrectly attributed two quotes to Jeff Bader; in fact, the quotes were from Kelly Kahl.