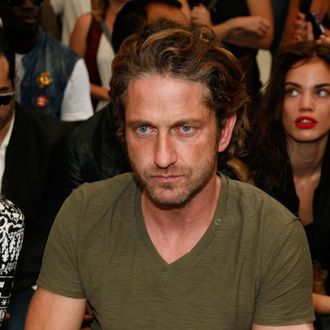 Gerard Butler.
Photo: Andy Kropa/2011 Getty Images
Pre-production of Motor City, which is set to star Gerard Butler and Adrien Brody, has been halted. The crew of the Albert Hughes revenge thriller was sent home today after its financial backers — Emmett/Furla Films, Envision Entertainment, and Mark Damon's Foresight Entertainment — determined that they could not meet the "drop dead" release date set by the studio, Warner Bros., and would therefore not be able to secure a bond for the film. 
In a statement, a spokesperson explained: 
Faced with the realities of a very short post-production schedule and complicated visual and special effects, the producers have decided to push back production on Albert Hughes' Motor City. We are dedicated to delivering top-tier productions such as 2 Guns starring Denzel Washington and Mark Wahlberg which is currently in production and Peter Berg's Lone Survivor which is in pre-production. The circumstances surrounding this project made it impossible to meet the firm March 31st delivery date without compromising the quality of the film." 
It's not clear what this means for the future of Motor City, though Deadline's Nikki Finke reports that, "Insiders tell me they still want to make the picture." At the very least, it looks like those eager to find out what the hero's single line is are in for more of a wait.