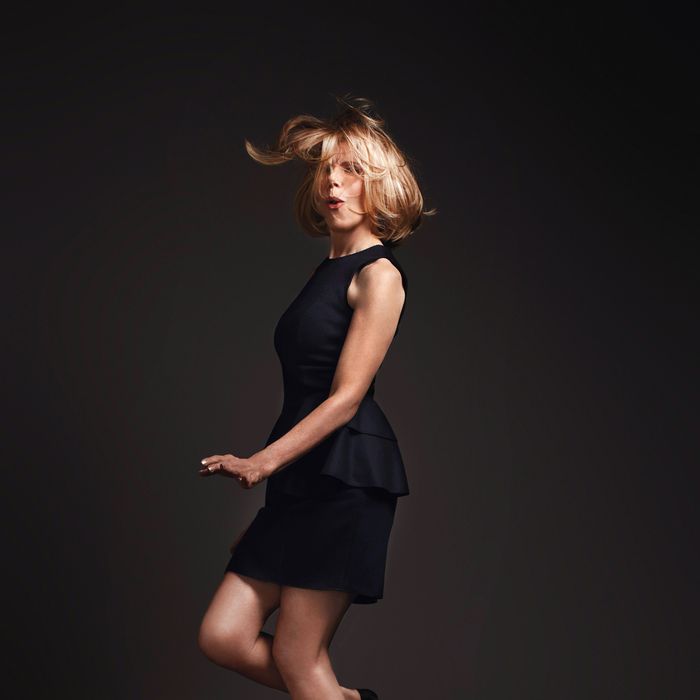 11 Feb 2011 — Christine Baranski — Image by © F. Scott Schafer/Corbis Outline
Photo: F. Scott Schafer/? Corbis. All Rights Reserved.
Christine Baranski just keeps getting discovered. When she graduated from Juilliard in 1974, she went straight to work in the theater and got herself two Tonys before the age of 40. In the mid-nineties, she decided to try TV and won not only a juicy role — Cybill Shepherd's martini-swilling best friend on Cybill — but, thirteen episodes later, an Emmy. So it seemed only natural when, in her fifties, Baranski told her manager, "You know, I'm not sure I need to do any more comedy," and mused about trying a drama-series role, "someone serious and well spoken — someone with dignity." Soon enough, she was playing Diane Lockhart on The Good Wife — and she's up for an Emmy again. It's her tenth nomination in seventeen years.
Curled up in her dressing room on The Good Wife's Greenpoint set, Baranski recounts her odd career path. "Never an ingénue!" she declares, then pauses. "Well, I was, actually. The first thing I did right out of Juilliard was the role of Annabella in 'Tis Pity She's a Whore." That withering humor, onstage and off, is a Baranski trademark, and it's a reason she can toss off remarks like "I always kind of project what I'd like to do, and it usually happens" without inspiring eye-rolls. "After I graduated, I found myself rather like, 'Why am I going up for these skinny, gangly, awkward funny girls?' " Baranski says, waving a skinny, gangly arm awkwardly. "And then I'm like, 'Well, it's because you're kind of a skinny funny girl.' "
Now 60, Baranski has carried off yet another rebirth. Diane Lockhart has, in The Good Wife's past season alone, dealt with her law partner's possible disbarment and not-so-­secret affair, juggled two love interests of her own, and negotiated ­intrafirm tensions, often with little more than a cocked eyebrow. "Raising an eyebrow is huge!" Baranski exclaims. "For better or worse, I have a face — and it's something I've learned watching myself — I can be doing what I think is nothing and, like, ten things seem to be happening. I'm always telling myself, 'No, just think. Don't do anything but think!' "
That her brows move, in fact, seems like a victory for sexagenarian actresses. Diane is "a dream role — I hate to say 'for a woman my age,' because it would be for a woman of any age. The first you see of her, you could so say, 'Oh, she's the bitchy one.' It's been played to death, the woman in power who's sacrificed everything and is uncompromising and goes home miserable. And is probably an alcoholic. I wanted to avoid that."
These days, in addition to her Good Wife job, she also has a recurring role on The Big Bang Theory as Johnny Galecki's emotion-free neuroscientist mother. Baranski sounds incredulous that she's working with so many theater people on TV: Alan Cumming, Kristin Chenoweth, Nathan Lane, and Brian Dennehy are in today's Good Wife episode alone. In her early days — working alongside Dennehy at Manhattan Theater Club — she explains, "to do television seemed like an admission that you weren't going to have a film career." Which may be why Baranski can regard the Emmys archly, though she's hardly blasé. "It gets to be so nerve-racking that you're almost relieved when they don't call your name — Oh my God, I don't have to go up there!" she says. "I was lucky to win immediately, my first time." Then the deadpan: "As my husband likes to say, it's better than a sharp stick in the eye."
This article originally appeared in the Sept. 17, 2012 issue of New York.