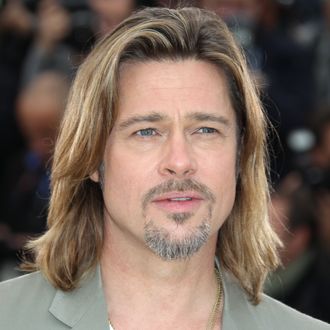 Photo: Valery Hache/AFP/Getty Images
Brad Pitt is taking the Moneyball approach to explaining the Holocaust. Our spies tell us that Pitt is developing a feature based on Edwin Black's New York Times bestseller IBM and the Holocaust, a 2001 book that examined the computer solutions giant's indispensible role in facilitating the Third Reich's extermination of European Jewry.
While the Holocaust obviously predates the personal computer, it did not precede the information age, and Black's book answers one of the Holocaust's most obvious questions: How did the Nazis identify and round up so many Jews with such precision and speed?
The short answer is that IBM's then-chief executive, Thomas Watson, formed a strategic alliance with Nazi Germany starting in 1933. Punch cards were used to help sort through mountains of German census information, cross-referencing data about the mother tongue, religion, nationality, profession, and location of 66 million Germans to quickly and ruthlessly identify, tax, ghettoize, deport, and ultimately exterminate through labor Europe's 6 million Jews.
Pitt's IBM and the Holocaust project had been set up at HBO but was never announced, and as late as last January was still gathering steam as a feature film with a script by Marcus Hinchey (who penned the 2010 Ryan Gosling true crime thriller, All Good Things). But insiders now tell us that the project has left the pay-cable outfit, and Pitt's Plan B production company is shopping the project around to find it a new home on cable TV or, increasingly likely, as a theatrically released feature. Sources familiar with the project say that Pitt has attached himself to star in the project in order to attract directors, even though a Plan B insider insisted that Pitt was not formally attached to star, and might not ultimately.