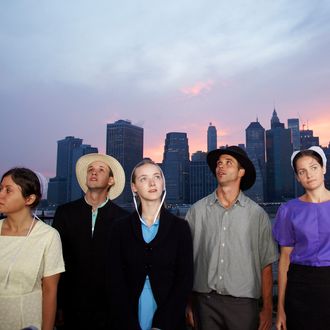 Sabrina, Abe, Rebecca, Jeremiah and Kate from TLC's Breaking Amish.
Photo: Walling McGarity/Discovery Communications
TLC's Breaking Amish seemed pretty phony from the get-go, and now the network and the show's production company have released a joint statement defending the show. "There is a lot of information floating around about the group featured on Breaking Amish. Much of it is not true, but some of it is — and is addressed in upcoming episodes," TLC and Hot Snakes told Variety. Among the information "floating around"? It appears Jeremiah has not been Amish for a really long time and that Abe and Rebecca, who are presented as strangers on the show, are actually a couple. Isn't anything sacred anymore, reality TV?