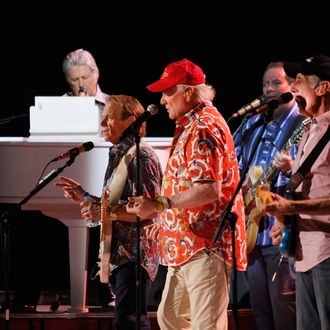 Musicians Brian Wilson, Al Jardine, Mike Love,and David Marks perform during the Beach Boys 50th Anniversary Concert Tour at the Anselmo Valencia Amphitheater on April 24, 2012 in Tucson, Arizona.
Photo: Mike Moore/Getty Images
The nice thing about the Beach Boys 50th Reunion — aside from sunny harmonies and the time they scared the Foster the People guy out of his mind at the Grammys — was that Mike Love and Brian Wilson had buried the hatchet enough to get the whole band back together.  Yeah, that's over: Love has more or less kicked Wilson, Al Jardine, and David Marks back out; Brian Wilson is very sad. Seems like "In My Room" applies right about now.