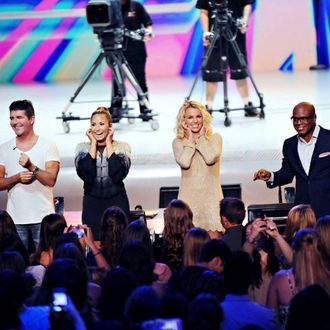 Photo: David Moir / FOX/FOX
Adding two pop divas to The X Factor mix didn't do much for the show's ratings last night. In fact, Wednesday's two-hour season premiere of Simon Cowell's rebel offshoot of American Idol delivered the show's smallest audience ever (about 8.4 million viewers) and resulted in a 3.4 rating among adults under 50, per preliminary Nielsen data. That's off about 25 percent in overall viewership vs. last fall's X debut, and down 20 percent in the young adult demo Fox targets. And despite the high-profile (and high-cost) acquisition of Britney Spears and Demi Lovato as judges, the return of X drew nearly 3 million fewer viewers than last December's season finale (but was on par with its performance in adults under 50). Toxic! Of course, there was an x factor in last night's ratings: The Voice.
NBC made a last-minute decision to slot an extra hour of The Voice opposite the first hour of X's return, and while it may ultimately end up hurting its own show, last night, at least, the scheduling ploy had the desired effect of dampening interest in X. Going head-to-head from 8 to 9 p.m., Voice drew 10.7 million viewers and a 3.3 in the younger demo; for that same hour, X had 7.5 million viewers and averaged a 2.7 in the demo. X quickly bounced back once Voice signed off, jumping a huge 41 percent in the 9 p.m. hour. The damage, however, was already done: NBC successfully blunted the return of Fox's big fall reality competition. And yet, while Fox has to be bummed it didn't get a bigger Brit bounce, Peacock suits might not want to strut too much today. In its first two cycles, The Voice has been NBC's Nielsen life support system, keeping the network's heart beating as it continued to recover from its near-death experience under Jeff Zucker and Ben Silverman. But according to Fox, The Voice is down a shocking 54 percent this week versus its first three episodes last season. (Last season's numbers were boosted by a special post–Super Bowl episode, but since NBC included that number in the show's season average, the comparison is valid).
What's more, Voice has yet to face what might be its toughest competition yet: the return of CBS's female-friendly Monday sitcoms and ABC's all-star edition of Dancing with the Stars. Once those heavy hitters take the field, it's quite possible The Voice could grow even weaker. Not that X Factor doesn't have its own roadblocks ahead: While it (probably) won't have to face The Voice again, it will soon go up against ABC's mighty Wednesday comedy lineup (well, the mighty Modern Family and three other shows of varying Nielsen power). It's still very, very early to make definitive pronouncements about shows so early in the ratings race, but we're pretty sure about the following: The Voice is no longer a ratings phenom, and The X Factor now seems unlikely to ever become one. Ball's in your court, American Idol.