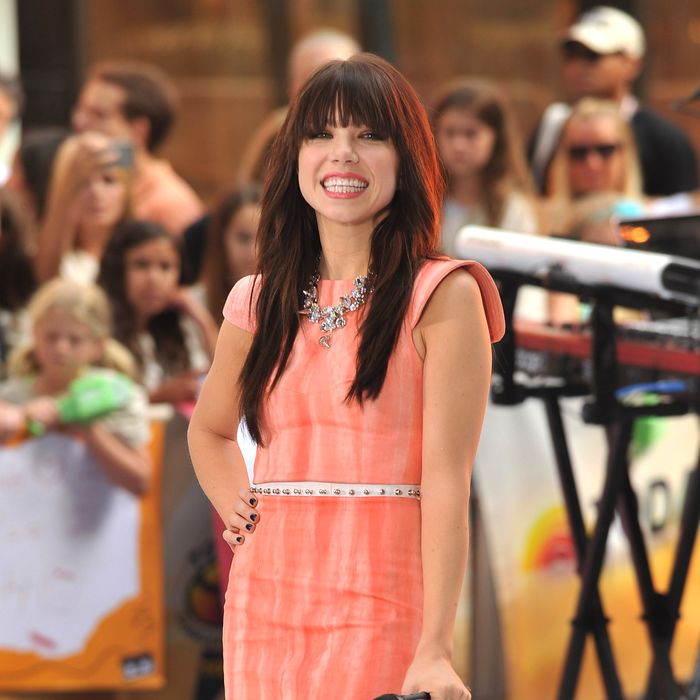 Photo: Theo Wargo/Getty Images
If you had placed a bet on the career prospects of Carly Rae Jepsen last June, the smart money would have been on "nothing." Even with the ubiquity of "Call Me Maybe," Carly Rae Jepsen is not the voice of a generation. She is — though very polite — not a great talker; she does not have the stage presence or the sex appeal to sell the four-to-the-floor anthems that currently dominate American radio. At times this summer, Jepsen seemed like more of a meme than a musician, which is hardly an auspicious professional track (see: Rebecca Black or Grayson Chance). But this week, on the heels of two Billboard Top 10 breakouts, Jepsen releases Kiss, her first full-length album and a surprisingly well-curated collection of potential Top 40 hits. What Jepsen lacks in natural talent, she (or her team, but let's be generous and credit Jepsen) makes up for in taste. And taste is an exceptionally hard thing to come by in pop stars these days.
Shopping for a pop hit is not unlike shopping for a major occasion (say, a prom dress): The song should fit the person, and it should be on-trend, but not so trendy it scares people. There are certain places you go to find it (the Max Martin store, or Katy Perry's hand-me-down pile), and there are certain expectations of the result (danceability; earworms). Like a prom dress, the buying can go embarrassingly wrong. Consider the major pop stars who seemingly cannot pick a decent hit: Nicki Minaj, who had to be talked into releasing "Super Bass," and got heckled from all sides for the overstuffed lazerfest that was "Starships;" or Justin Bieber, whose recent "grown-up" album has yet to land a No. 1 single or real traction outside the devoted Belieber fan base. Even Beyoncé never managed a major chart breakthrough with 4.
Carly Rae Jepsen knows what she is looking for. "Call Me Maybe" was a happy accident — a musical miracle, basically, when you factor in the unknown producer and the Justin Bieber effect — but the Owl City collaboration "Good Time" was as effective, if cheesy, a follow-up hit as Jepsen could manage three months into her sudden stardom. Kiss packs at least four more "Call Me Maybe"-like tracks, all effervescent, inoffensive, and scientifically engineered to make grown adults dance like slumber party attendees. There is Max Martin's "Tonight I'm Getting Over You," for loud siren enthusiasts; the opening track "Tiny Little Bows," for anyone who wondered how long it would take Sam Cooke to show up on this album (four seconds exactly, thanks to a "Cupid" sample); "Turn Me Up" for everyone else. "Guitar String/Wedding Ring" — the only song credited to the original "Call Me Maybe" team — is producer Josh Ramsay's audition for a Taylor Swift album (and she should totally hire him, if she's already on the Max Martin train. Let's go big with the Kennedy break-up record).
It goes without saying that none of these tracks lives up to "Call Me Maybe," but then neither do any other pop songs currently being played in America. If the curse of Carly Rae Jepsen is that "Call Me Maybe" will always precede her, the blessing is that she now has access to the producers who can make her more hits — and the taste to recognize those hits when she hears them. As anyone who has watched Say Yes to the Dress or listened to Roman Reloaded will tell you: This really is a gift.