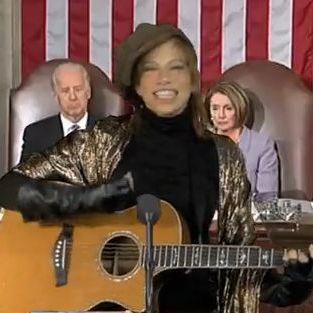 Carly Simon is a voice of a generation, one third of a trio of women (including Carole King and Joni Mitchell) whose cathartic, acoustically driven music helped define a certain period of American pop culture. But one thing that Carly Simon does now is make YouTube videos. Her channel is jam-packed with Carly-centric goodies, vintage interviews and performances and the like. But there's also a hearty helping of homemade videos that Carly uploads with (perhaps?) little to no understanding that anyone can see them. And they are crazy. They are so, so crazy. In fact, here are the thirteen most bananas of the bunch.
Carly plays a sexy, elderly, French Shirley Temple.
She keeps the Shirley Temple wig on, sings "You're So Vain" a cappella, makes sexy faces into the camera.
Carly pretends she's hosting a radio show, asks callers to recite what's printed on a water bottle.
Carly plays with Photobooth, says she can "dance with [her] head" before the video just cuts off.
Carly wears sunglasses indoors, says "Good morning" a bunch.
Carly reenacts a spoken-word verse from "You're So Vain" as an imaginary phone call.
Carly provides a tutorial on how to use makeup to look old/draws on her face.
Apparently, she held a contest in which people submitted their own homemade music video for "You're So Vain," and the entries — one loonier than the next — make karaoke videos look like works of art. (Keep your eyes peeled for some low-budget green-screen action.)