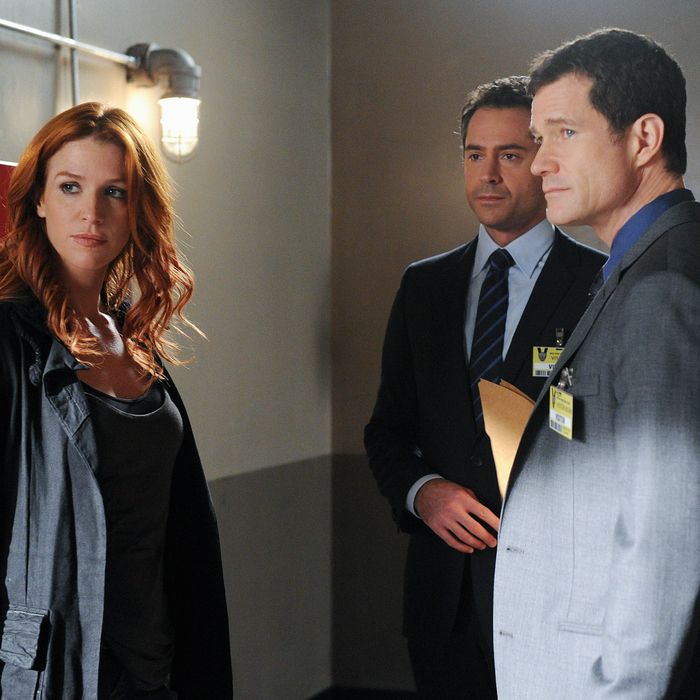 Poppy Montgomery and Dylan Walsh in the resurrected Unforgettable.
Photo: Heather Wines/CBS
Last May, CBS briefly canceled first-year drama Unforgettable, the Poppy Montgomery procedural about a detective with a perfect memory that averaged nearly 12 million viewers, regularly won its Tuesday timeslot, and ended last season as the No. 1 freshman 10 p.m. drama on TV. While Unforgettable would have been considered a hit on any other network, Eye suits at the time told producer Sony Pictures Television that they needed shelf space for new product. But then, barely two months after swinging the ax, CBS unexpectedly announced it had decided to bring Unforgettable back after all. There was just one big twist: Rather than making room for the show in the fall, or even midseason, the Eye would save Unforgettable for summer 2013. While Poppy Montgomery fans probably aren't too concerned with the particulars behind her show's resurrection, the deal CBS and Sony hammered out might end up being about more than saving a single series. If it works, industry insiders say its success could help networks reeling after another post–Memorial Day ratings slump finally figure out how to (successfully) program original scripted series in the historically unsuccessful summer.
It's not as if broadcasters haven't tried before to make scripted comedies and dramas work in the so-called off season. Twenty years ago this summer, CBS tested out the quirky comedy Grapevine, only to see ratings wilt and the show canceled after six weeks. That same year, when Fox was a fledgling network, it moved episodes of young hit Beverly Hills, 90210 to the summer in order to launch Melrose Place. The plan worked, but only because Fox was operating under a different business model than other nets (i.e., Rupert Murdoch spending whatever it took to get his network off the ground), and because Aaron Spelling was able to churn out up to 35 episodes per year of the shows. (And even Fox ultimately reverted to putting both shows back in the regular season in order to maximize profits.) In 1997, Fox tried summer again, holding a big news conference in New York to let the business press (and advertisers) know that the network was going to go all-out to schedule first-run fare. In addition to pre-Survivor unscripted shows such as Beyond Belief: Fact or Fiction?, it aired episodes of soap Pacific Palisades and an expensive-looking medieval actioner called Roar (starring then-unknown Heath Ledger), and the effort was a complete flop. More recently, CBS put the full-cost soap Swingtown on the air after Memorial Day 2008, but the sudsy hour from Revenge creator Mike Kelley didn't produce much Nielsen love. A year later, NBC trumpeted a "summer schedule packed with original scripted series"; unfortunately, nobody showed up for the likes of The Listener, The Philanthropist, and Merlin. And just two years ago, in 2010, ABC rolled out Scoundrels and The Gates, while Fox tried out dramedy The Good Guys. All three struck out.
What's different about what CBS is doing with Unforgettable is that, unlike virtually all of the past attempts at summer originals that attempted to woo viewers with a fresh concept, this show is a known quantity to viewers. Instead of throwing on something new and untested, CBS is taking a successful, big-budget scripted drama and purposely shifting it to summer — not to burn it off, but to see if a significant portion of the viewership that made the show a success during the regular season will come back to watch it again in the off-season. CBS Entertainment chief Nina Tassler told Vulture she thinks this will give Unforgettable a big leg up over past summer contenders. "You're starting with a show that has a proven track record [and] a cast the audience knows and loves," she says. And because 12 million people, on average, made an appointment with Unforgettable last season, "You've done your marketing already. There's a lot of TV out there, and this will already have brand awareness."
CBS and other networks have tried and failed to build that "brand awareness" for summer shows in the past by putting major marketing muscle behind newcomers. Some industry insiders have theorized that those shows flopped because viewers have simply been trained to expect that new programming aired after the regular season must be a leftover or somehow less desirable. In this era of micro-coverage of TV's development process by sites such as THR.com (and, yes, Vulture), viewers knows that a series such as last summer's Love Bytes was originally announced as NBC's big new 10 p.m. Thursday show, then pushed to midseason … and then abandoned in the off-season like a pair of cheap flip-flops forgotten at the beach. (Network insiders even have a name for these kinds of shows: "Summer Burnoff Theater.")  In the case of Unforgettable, the hope is that audiences will remember its past season and thus instinctively know it's not a cast-off, but perhaps just a show that took a long break between seasons (it's worked in the past for irregularly scheduled cable shows such as Curb Your Enthusiasm and Mad Men). "There's a loyal audience and fan base that will come to it," says Zack Van Amburg, co-president of Sony Pictures TV, who calls the migration to summer "uncharted territory" for network TV.
So why haven't they tried moving shows like CSI or Castle to the off-season before? In a word: cost. Because there's no history of summer scripted working on broadcast, and because overall viewership is reduced, advertisers simply won't spend as much for air time in the summer. Established hits carry big price tags, and the economics of the summer ad marketplace means nets would lose money if such shows shifted. This is why most of the aforementioned summer series were made on the cheap, with lesser-known stars and reduced production values, their budgets often a fraction of in-season shows.  Ordinarily, these financial factors would have prevented Unforgettable from moving to the summer. "The networks don't really have a history of committing to big, high-dollar shows" such as Unforgettable, Van Amburg says. So when Sony execs realized their only option to keep the crime drama on the air at the Eye was to go for a summer berth, they quickly learned that CBS wasn't going to shell out full freight for the series. And so Sony found a way to make up the budget themselves so season two didn't look markedly cheaper: Van Amburg pledges that "not one penny" has been cut from the Unforgettable production budget (some minor characters are departing in advance of season two, but he says those decisions are about a "creative reset," not economics).
Two industry insiders familiar with the new deal say the Eye will pay about half of what it had previously given the studio for each episode of Unforgettable; a third source added that the network's price tag for the show was "not much more" than the roughly $350,000 per episode networks have shelled out for Canadian imports such as ABC summer veteran Rookie Blue. But Sony was able to make up much of the deficit through international sales. Historically, studios have always produced network shows at a loss, bleeding money early on before making it all up if and when a show hits syndication. But that's changed in recent years: The booming global market for U.S. shows (particularly procedural cop shows such as Unforgettable) has reduced those budget gaps and in some cases even made it possible for studios to go into profit before syndication. After CBS initially pulled the plug on Unforgettable, Sony surveyed its international partners on the show and discovered that most considered the freshman series to be "very important" to their schedules, which, Van Amburg explains, gave the studio the leverage to negotiate higher license fees with some partners and expand the show into new territories. "The (global) money shook itself out so that we could back into a number at CBS that was less than what they had been paying," he says. He won't say whether Sony was able to make up all the money lost from CBS, but noted that the studio has often worked hard to support bubble shows it believes have long-term financial potential.  "We have a track record for keeping our shows on the air," Van Amburg accurately boasts, noting it managed to keep Damages in production via a deal with DirecTV and extended the life of Til Death on Fox by pretty much giving latter seasons of the show to the network so that Sony could collect enough episodes for syndication.
It's no wonder Tassler quickly took Sony up on its offer: There's "a diminished risk" for CBS, as Van Amburg puts it. In exchange for a relative bargain basement price, the network is getting an established drama with well-known stars and a proven ability to draw as many as 12 million viewers. Even if Unforgettable loses half its audience next summer, that will still put it on a par with the audience attracted this summer by long-running CBS reality hit Big Brother. If the series optimistically maintains, say, 75 percent of its season one average, CBS will have one of the most-watched shows of the summer, period. Either way, advertisers will pay more to appear on Unforgettable than Big Brother because it's not a reality show. And since Eye sister company CBS Studios has an ownership stake in Unforgettable, CBS figures to win again if the show can somehow survive long enough to make it into syndication.  Other broadcasts believe CBS and Sony may have found the right path to cracking the summer code. "I love the idea of taking a show with a recognizable title and putting in the summer," says Jeff Bader, NBC's president of program planning and strategy, adding that "everyone is doing everything they can to do year-round programming. You'll be seeing more and more of that."
But while experimenting with Unforgettable may be something of a no-brainer, it's not necessarily a sure thing — or a sign that repeats and reality shows will suddenly vanish from broadcasters' summer schedules. CBS still does well with many of its comedy and drama repeats: Encores of NCIS, The Big Bang Theory, and The Mentalist were among the ten most-watched shows on network TV this summer (with between 7 and 8 million viewers most weeks) and drew bigger (albeit older) audiences than the top three new cable dramas this summer (TNT's Major Crimes, Perception, and Dallas, with about 6 million viewers each). And because the episodes have already been paid for, they're essentially "free" programming. Reality shows are also still generally cheaper (though they don't do as well generating ad revenue as scripted and have lately been in a commercial and creative rut). And as this summer's diminished ratings for many first-run cable scripted shows proves, increased competition has made it harder than ever for original series to stand out, no matter what the season. All that said, what CBS and Sony are trying to do with Unforgettable offers at least the possibility of a new path toward the summer scripted success that has thus far eluded broadcasters. For one thing, if Unforgettable manages to do really, really well in the ratings — retaining most of its season one audience, despite the less favorable summer environment — it will likely force advertisers to entertain the idea of higher rates in summer. And if that happens, nets might be more willing to consider moving select shows into summer even if a studio can't supply it for the low, low price Sony is selling Unforgettable to CBS. However it happens, network bosses like Tassler insist they're really, truly committed to making scripted originals a part of their summer programming diet. "These shows are the bread and butter for cable," she says. "There's no reason we should be excluded."