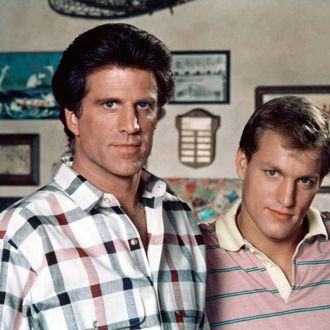 Photo: Paramount Television /Everett Collection
GQ has a massive oral history of Cheers, and the whole thing is worth obsessing over. (Oooh, we will never tire of Shelley Long scuttlebutt.) But there are a few parts that are especially worth reading, like how the male cast members reacted when Woody Harrelson joined the show.
[Ted] Danson: I don't know if I went to the gym, [but] Woody is 24, and at that point I was like 37, which is when you realize you're no longer 24. So in walked Woody, who was instantly great, but offstage, it was [all] testosterone. There was a half-court [on the lot], and the guys used to play basketball right before the show. We took him out to give him a lesson, and he kicked our asses. All right, we'll arm-wrestle. I still have, like, tendinitis in my elbow. He was just wiping the floor with me. John, who has good, strong legs, leg-wrestled him. Woody cleaned everybody's clock in everything. Then we got less physical and went to chess, and he whipped our asses with chess. 
Leg-wrestling! Harrelson was eventually welcomed into the fold, though, and that's when things got a little crazy.
Danson: I'll tell you about the worst day of my life. Shelley and Rhea were carrying that week's episode, and the guys were just, "Let's play hooky." We'd never done anything wrong before. John had a boat, so we met at Marina del Rey at 8 a.m. We all called in sick, and Jimmy caught on and was so pissed. Woody and I were already stoned, and Woody said, "You want to try some mushrooms?" I'd never had them, so I'm handed this bag and I took a fistful. On our way to Catalina, we hit the tail end of a hurricane, and even people who were sober were getting sick. Woody and I thought we were going to die for three hours. I sat next to George, and every sixty seconds or so he'd poke me and go, "Breathe." [gasp] And I'd come back to life. 

Harrelson: I was a little worried about him. It looked like his face was melting. I think I may have been freaking a little myself, but I had to be cool about it.
Oh, just read the whole thing.